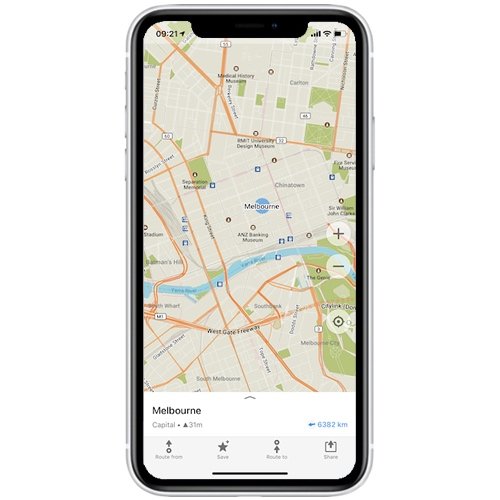 I have been using the MAPS.ME Offline Map and Navigation App for smartphones in my travels for more than 5 years now, and haven't found the need to find anything else better, simply because it is better than good enough and fits all my travel map needs perfectly. MAPS.ME Offline Map and Navigation App was […]
Continue reading...

If you ever feel the rush to drive a hot and fast supercar but can't afford one in real life, give Need for Speed Hot Pursuit on the iPad, iPhone or iPod touch a go! And even if you do already own a Ferrari F430, there are reasons you could still want to play this […]
Continue reading...

If you have used TripAdvisor online on your desktop, then using TripAdvisor on your iOS device becomes a natural progression. TripAdvisor Hotels Flights Restaurants is a free app to help you plan your holiday or business trips. With over 60 million reviews and opinions by travellers and app users, you will find the best venues […]
Continue reading...

I first encountered Bejeweled on a resistive-screen PocketPC machine about a decade ago, and I can tell you, Bejeweled on the capacitive screen of any iOS device is certainly a joy to play. Bejeweled now comes with four additional new incredibly exciting game modes. With a light touch and swipe, you could move jewels to […]
Continue reading...

Snapseed is a feature-rich photo editing app made for the iPhone, iPad and iPod touch. Brought to you by Nik Software, Snapseed makes any photograph taken on iOS devices come alive and extraordinary. Photos can easily be improved and enhanced with just one tap. Photographs taken with the higher resolution camera on iOS devices such […]
Continue reading...

UNO HD is a popular card game that has been around for a few decades now, and was recently ported by Gameloft to the iOS platform in a very fitting manner. If you think that playing this classic card game on a computing device may not bring the same joy and fun as its hard […]
Continue reading...

DK The Human Body is a very comprehensive and highly detailed reference app on the human body by Dorling Kindersley. As expected by anything from DK, this app consists of highly accurate descriptions and accessible information created by leading doctors and medical practitioners. The wonders of the human body and anatomy are vividly captured, explored […]
Continue reading...

The Chemical Touch Lite Edition is a free periodic table for the chemistry student and people working with the elements. TCT Lite is the ideal periodic table for the user who enjoys colour-coded reference. Numerical data for mass, density, melting point, boiling point, radii and electronegativity for each element is indicated by colour codes tallied […]
Continue reading...

Ferrari GT Evolution is the game to get if you love race car driving games on the iPhone. With 33 different Ferrari models to choose from, feel the exhilaration as you speed your choice of Ferrari down the streets of Paris, New York, Berlin, to name a few…and the race track.  Graphics are realistic with […]
Continue reading...

Dictionary.com offers a free Dictionary App that is highly recommended for users of the iPhone, iPad and iPod touch. A reference material which you will likely find yourself using rather frequently as I have, it is a reliable tool for checking definitions, spelling, or simply to find an alternative word for that essay or article […]
Continue reading...

Killing two birds with one stone? What about killing a few pigs with one bird while you're at it? Meet the wrath of birds of variety here, and you will never look at birds the same way again! The story goes: The survival of the Angry Birds is at stake. Dish out revenge on the […]
Continue reading...

The core Camera iPhone app takes reasonably decent photo shots in daylight. Photo images look crisp, clear and rich in colour. In dark or low-light environment, photo quality tends to get a little grainier compared to a standard mobile phone camera due to the lack of flash. In situations such as this, the camera shutter […]
Continue reading...