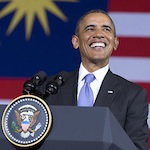 The last time a US President visited my country Malaysia was on 30th October 1966 when the 36th President Mr Lyndon B. Johnson came and spoke about living together peacefully in a nation of diverse race, religion and culture. President Obama Visits Malaysia On 26th April 2014, after almost 50 years since that visit in […]
Continue reading...

Having just finished watching all 10 seasons of Beverly Hills 90210, and seeing the cast in more recent movies and TV series, I felt motivated to do an article showing photos of the original cast back in the early 90s, and how they look today. I had to watch the entire series again on DVD, […]
Continue reading...

"At 30, one stands firm. Yet, I couldn't even support myself. What could I do?" People in theatre and the arts don't usually make it easy. To achieve success and to be at the pinnacle of their careers, the journey there is usually a long and arduous one. Opportunities may be few and far in […]
Continue reading...

Joshua Bell (b. 9 December 1967), an American Grammy Award-winning violinist, was born in Indiana, USA. He won the award for the recording of the Nicolas Maw Violin Concerto, a piece dedicated to him by the composer, which he premiered in 1993. Bell was later to appear with a number of other violinists including Itzhak […]
Continue reading...

Maxim Vengerov (b. 20 August 1974) is an acclaimed violinist, violist and conductor who was born in Novosibirsk, Russia to a musical Jewish family. He began violin lessons at the age of five, and at seven began learning from the famous pedagogue Zakhar Bron. With a daily practice schedule of seven hours, Vengerov managed to […]
Continue reading...

Yehudi Menuhin OM, KBE (22 April 1916 – 12 March 1999) was considered one of the greatest violinist of the 20th century. He was born in New York City, USA to Jewish parents who emigrated from Belarus, and he became a citizen of Switzerland in 1970 and of the United Kingdom in 1985. Through his […]
Continue reading...

Ruggiero Ricci (24 July 1918 – 6 August 2012) was born Woodrow Wilson Rich in the Presidio Army Base near San Bruno, California to Italian immigrants to the United States of America. An American violinist famous for his performances and recordings of works by Paganini, Sarasate, Wieniawski, Ysaye and other technical showpieces, he was first […]
Continue reading...