If you're familiar with silver bullions as forms of investment or insurance, chances are you'd have come across an American Silver Eagle. These are silver coins in .999 silver purity issued by one of the US mints. Today we will look at the 2017-W American Silver Eagle PR70DCAM in a First Day of Issue PCGS slab.
Shown below is one of my better American Silver Eagles, issued by the West Point Mint (hence the "W") in 2017. It sits in a First Day of Issue slab, and is graded by Professional Coin Grading Service (PCGS) as PR70 DCAM.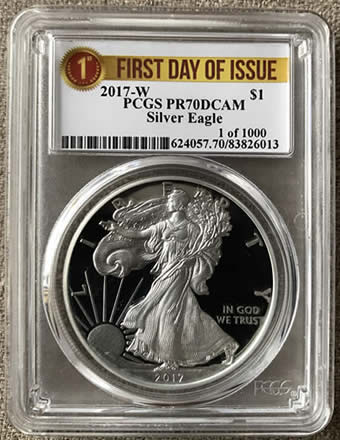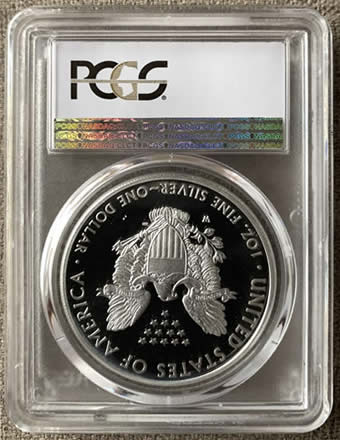 For the uninitiated, PCGS is one of the few companies around that serves as the industry standard in third-party certification of collectibles. PCGS provides impartial grading and authentication by the world's top experts, and a collectible item usually goes through a couple of graders to ensure that gradings given are more accurate and less prone to human errors.
What the Grading Means
The grading of PR70DCAM consists of 3 parts – PR, 70, and DCAM.
PR stands for Proof. Proof coins are struck in limited numbers from a specially prepared coin die on a specially prepared planchet. They are usually given more than one blow and are struck with presses operating at slower speeds and higher striking pressure. This results in much sharper detail than regular strikes. We will look at the difference between proof and normal strikes below.
70 indicates that a coin is in mint state at the highest grade, i.e. a flawless sample. A coin is graded on the Sheldon Scale, a grading scale developed by a renowned numismatist named Dr William Sheldon in 1948. A number from "1" to "70" is assigned to a coin viewed under a loupe by graders. A coin which is graded at "70" is fully struck and free of visual marks. At the other extreme end, one which is graded at "1" is in poor state, and barely identifiable as to its type, date and mintmark. Interesting to note, the basis of Dr Sheldon's theory was that a "70" would be worth 70 times as much as a "1".
The last part of the grading designation is DCAM, which stands for Deep Cameo. Coins are graded as Deep Cameo when they exhibit a high level of contrast between the frosted and reflective parts of the coin. In the example of this coin, the field (or background) of the coin is highly reflective due to its highly smooth surface, and the relief (image or bust over the surface) is frosted, creating a high contrast between these two areas of the coin.
See the following video on how a coin is graded at PCGS.
Insurance or Investment?
Graded silver bullion coins are usually not considered good choices for the purpose of hedging or insurance due to the much higher premium commanded for the quality of strike, and the grading service. For the purpose of wealth protection using precious metals, a normal and ungraded silver coin is probably best. The idea is to acquire your silver at the cheapest price possible, i.e. at the lowest premium over the spot price of silver.
Nevertheless, for certain valuable or rare coins, grading can sometimes be necessary. For one, grading authenticates the coin to be genuine, and in the case of rare coins, the higher the grade, the more expensive the coin will be.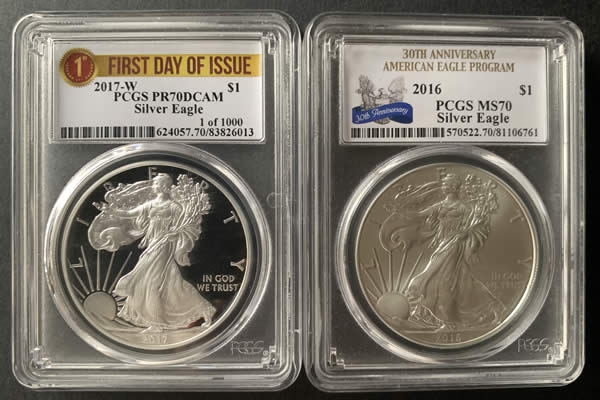 Obviously, the need for grading is quite redundant for a normal American Silver Eagle purchased for the value of its base metal. However, in the case of this Proof Eagle, grading is one way to provide verification that the coin meets its numismatic grade.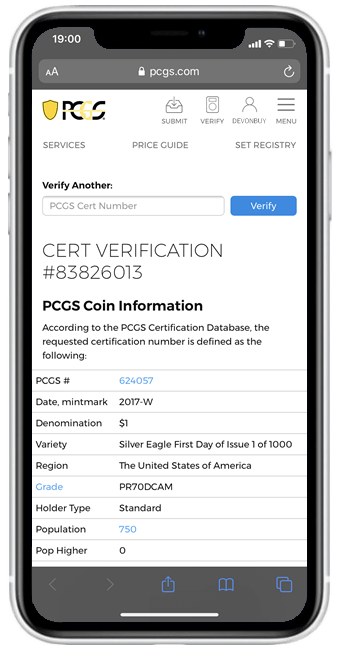 How Much is an American Silver Eagle PR70DCAM
The price of investment-grade silver bullion depends on the spot price of silver at any given moment. At time of writing in June 2020, the spot price of silver is about $18 per troy ounce. A regular 2020 American Silver Eagle is sold for about $26. That means there is a premium of about $8 over spot for Eagles at this time. Honestly, this was a bit too much of a premium to pay, no less fueled by the increase in demand and shortage in supply during the period when the world was plagued by the Covid-19 crisis.
The 2017-W American Silver Eagle PR70DCAM costs between $130 to $150 at this time, depending on where you're buying it from. And depending on what you're buying your silver for, this could either be a good or bad decision. Why so? If you're buying silver strictly for its melt value or metal price, then you won't be getting the best value out of this investment. As a collectible, it may just be one of the better buys around, and you can find some really good deals on eBay (see links below).
I don't usually buy graded coins for the purpose of insurance against inflation. However, I bought this particular one because I wanted to have a proof silver coin in my collection. I don't plan to sell this any time in the foreseeable future, but who knows…que sera sera.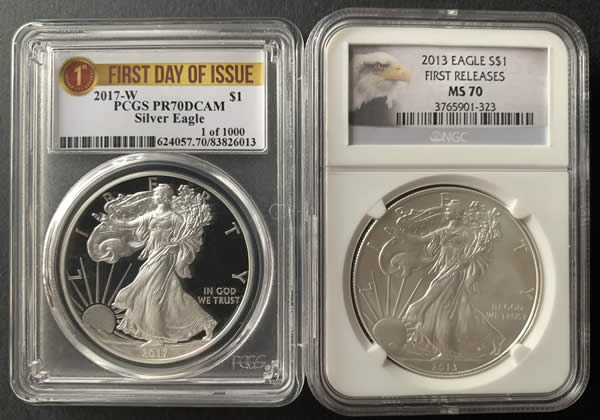 A Different Kind of Silver Eagle
As beautiful as proof silver eagles are, I have found the enhanced reverse proof versions to be distinctively way more appealing to the eyes. They are very expensive, and I don't personally own one to show here, but I will attach links of some with prices at eBay below.
---
GET IT on eBAY
BUY AMERICAN SILVER EAGLE