If you're a keen DIY enthusiast, having more power tools is always a good thing.
"I have been collecting power tools for a while now, for DIY jobs every now and then, capable of tasks of all sorts here and there…"
I have been collecting hand tools since 1992, and power tools since the early 2000s. However, I have acquired more power tools in these last few months than I have in my entire life, thus resulting in this article.
The power tools in my collection are listed below, with a brief description on each of these corded and cordless tools. Where available, links are included to a page with more details, photos and specifications.
The Power Tool Collection – An Overview
Listing by their job category and function – my collection of power tools is categorised into:
Drilling and Driving
Power Tools that bore holes into various materials and drive fasteners such as screws and nails – these include rotary hammers, hammer drills, drill and driver combos, impact drivers, brad nailers, drill presses etc.
Sawing
Power Tools that cut through various materials by repetitive reciprocating or circular motion – these include circular saws, reciprocating saws, jigsaws, marble cutters etc.
Sanding, Grinding and Cutting
Power Tools that sand, grind and cut through various materials by repetitive motion and by attrition – these include sanders, grinders, high-speed rotary tools, multitools etc.
Miscellaneous
Power Tools that do none of the above, like vacuum cleaning, and provide illumination and air delivery.
1. DRILLING AND DRIVING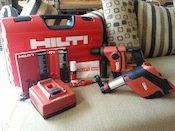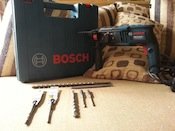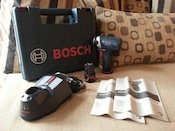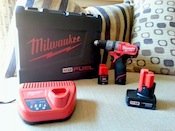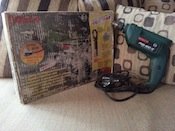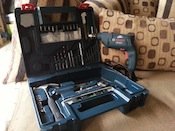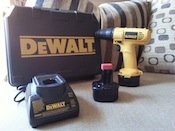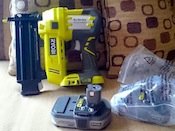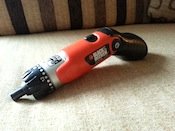 2. SAWING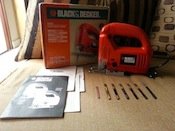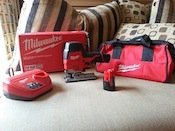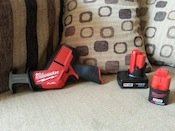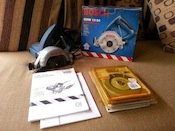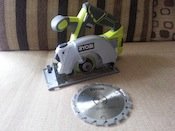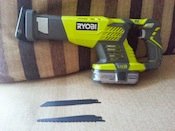 3. SANDING, GRINDING AND CUTTING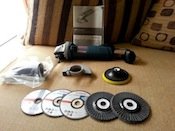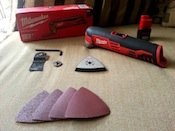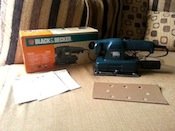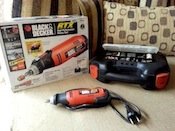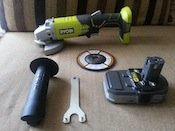 4. MISCELLANEOUS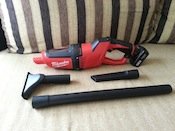 ---
The Collection – by Brand and Manufacturer
Brief specifications of each power tool is provided in the tables below. Tools are grouped and ordered by manufacturer.
For each power tool and machinery below, click on the Photo or Make/Model (blue link) for a review or article with more details, photographs and further specifications.
Recommended Retail Price (RRP) of each power tool is given below as at time of purchase, and approximate conversion to local currency based on exchange rate as at end of first quarter of 2015 (USD1.00 = MYR3.70 approx).
HILTI
| | |
| --- | --- |
| Make: | HILTI |
| Model: | TE 6-A36 AVR |
| Type: | Rotary Hammer Drill |
| Accessory: | Vacuum Dust Removal |
| Category: | Drilling |
| Cord: | Cordless |
| Battery Voltage: | 36 V Lithium-ion |
| Battery Capacity: | 3.0 Ah |
| No-load Speed: | 1,040 rpm |
| Hammer Freq: | 5,283 impacts/min |
| Bit Diameter: | 6 – 16 mm |
| Weight: | 4 kg |
| RRP w/ battery: | US$1,790.00 (MYR6,623.00) |
DEWALT
| | |
| --- | --- |
| Make: | DEWALT |
| Model: | DW926 |
| Type: | Drill Driver Combo |
| Category: | Drilling and Driving |
| Cord: | Cordless |
| Battery Voltage: | 9.6 V Nickel-Cadmium |
| Speed 1: | 0 – 300 rpm |
| Speed 2: | 0 – 1,100 rpm |
| Hammer Freq: | 5,283 impacts/min. |
| Chuck Torque: | 15 settings |
| Chuck Size: | 10 mm |
| Weight: | 1.5 kg |
| RRP w/ battery: | US$129.95 (MYR480.80) |
BLACK & DECKER
| | |
| --- | --- |
| Make: | BLACK & DECKER |
| Model: | RTX-1 |
| Type: | High-Speed Rotary Tool |
| Category: | Grinding and Cutting |
| Cord: | Corded |
| Rated Voltage: | 220 – 240 V AC |
| Current: | 0.4 A |
| No-load Speed: | 0 – 30,000 rpm |
| Collet Size: | Standard 1/8" |
| Alt. Collet: | 1/32", 1/16", 3/32" |
| Accessories: | 55-piece set |
| Weight: | 0.8 kg |
| RRP: | MYR280.00 |

| | |
| --- | --- |
| Make: | BLACK & DECKER |
| Model: | KC9039 |
| Type: | Cordless Screwdriver |
| Category: | Driving |
| Cord: | Cordless |
| Battery Voltage: | 3.6 V DC Nickel-Cadmium |
| Charge Time: | 12 hours |
| Clutch: | 23 positions |
| Spindle Lock: | Automatic |
| Speed: | Single rpm |
| No-load Speed: | 180 rpm |
| Max. Torque: | 3.9 Nm |
| RRP: | MYR150.00 |

| | |
| --- | --- |
| Make: | BLACK & DECKER |
| Model: | KS630 |
| Type: | Jigsaw |
| Category: | Sawing |
| Cord: | Corded |
| Rated Voltage: | 220 – 240 V AC |
| Power: | 370 W max. |
| Blade Shank: | U-shank type |
| RRP: | MYR199.00 |

| | |
| --- | --- |
| Make: | BLACK & DECKER |
| Model: | KA175 |
| Type: | Sander |
| Category: | Sanding |
| Cord: | Corded |
| Rated Voltage: | 220 – 240 V AC |
| Rated Power: | 135 W |
| Sandpaper Size: | One-third sheet |
| RRP: | MYR199.00 |
BOSCH
| | |
| --- | --- |
| Make: | BOSCH |
| Model: | GBH 2-20 DRE |
| Type: | Rotary Hammer |
| Category: | Drilling and Driving |
| Cord: | Corded |
| Rated Voltage: | 220 – 240 V AC |
| Power Input: | 600 W |
| Impact Energy: | 0 – 1.7 J |
| Rated Speed: | 0 – 1,400 rpm |
| Impact Rate: | 0 – 4,400 bpm |
| Tool Holder: | SDS-plus |
| Weight: | 2.3 kg |
| RRP: | MYR480.00 |

| | |
| --- | --- |
| Make: | BOSCH |
| Model: | GDR 10,8-LI |
| Type: | Impact Driver |
| Category: | Driving |
| Cord: | Cordless |
| No-load Speed: | 0 – 2,600 rpm |
| Impact Rate: | 0 – 3,100 bpm |
| Torque: | 105 Nm |
| Battery Voltage: | 10.8 V lithium-ion |
| Collet Size: | ¼" internal hexagon |
| Screw Diameter: | M4 – M12 |
| Weight: | 0.960 kg |
| RRP: | MYR460.00 |

| | |
| --- | --- |
| Make: | BOSCH |
| Model: | GSB 500 RE |
| Type: | Hammer Drill |
| Category: | Drilling |
| Cord: | Corded |
| Rated Voltage: | 220 – 240 V AC |
| Power Input: | 500 W |
| Power Output: | 250 W |
| No-load Speed: | 0 – 2,600 rpm |
| Impact Freq: | 0 – 41,600 bpm |
| Rated Torque: | 1.5 Nm |
| Spindle Collar: | 43 mm |
| Chuck Range: | 1.5 – 10 mm |
| Weight: | 1.5 kg |
| RRP: | MYR230.00 |

| | |
| --- | --- |
| Make: | BOSCH |
| Model: | PSB 400-2 |
| Type: | Hammer Drill |
| Category: | Drilling |
| Cord: | Corded |
| Rated Voltage: | 220 – 240 V AC |
| Power Input: | 500 W |
| Power Output: | 250 W |
| No-load Speed: | 0 – 2,600 rpm |
| Impact Freq: | 0 – 41,600 bpm |
| Rated Torque: | 1.5 Nm |
| Spindle Collar: | 43 mm |
| Chuck Range: | 1.5 – 10 mm |
| Weight: | 1.5 kg |
| RRP: | MYR400.00 |

| | |
| --- | --- |
| Make: | BOSCH |
| Model: | GDM 12-34 |
| Type: | Marble Cutter |
| Category: | Sawing |
| Cord: | Corded |
| Rated Voltage: | 220 – 240 V AC |
| Power Input: | 1,250 W |
| Idling Speed: | 13,000 rpm |
| Disc Diameter: | 110 mm |
| Depth at 90o | 34 mm max. |
| Depth at 45o | 22 mm max. |
| Weight: | 2.8 kg |
| RRP: | MYR380.00 |

| | |
| --- | --- |
| Make: | BOSCH |
| Model: | GWS 8-100 CE |
| Type: | Angle Grinder |
| Category: | Grinding |
| Cord: | Corded |
| Rated Voltage: | 220 – 240 V AC |
| Power Input: | 850 W |
| No-load Speed: | 2,800 – 11,000 rpm |
| Spindle Thread: | M10 |
| Disc Diameter: | 100 mm |
| Weight: | 1.8 kg |
| RRP: | MYR280.00 |
MILWAUKEE
| | |
| --- | --- |
| Make: | MILWAUKEE |
| Model: | M12 FUEL CPD-202C |
| Type: | Hammer Drill Driver |
| Category: | Drilling and Driving |
| Cord: | Cordless |
| Battery Voltage: | 12 V Lithium-ion |
| Speed Gear 1: | 0 – 450 rpm |
| Speed Gear 2: | 0 – 1,700 rpm |
| Perc. Gear 1: | 0 – 6,750 bpm |
| Perc. Gear 2: | 0 – 25,500 bpm |
| Max. Torque: | 37 Nm (1.5 – 2.0Ah batt.) |
| Max. Torque: | 39 Nm (3.0Ah batt.) |
| Max. Torque: | 44 Nm (4.0Ah batt.) |
| Weight: | 1.3 kg (with 2.0Ah batt.) |
| RRP w/ battery: | £349.00 (MYR1,954.40) |

| | |
| --- | --- |
| Make: | MILWAUKEE |
| Model: | M12 2445-21 |
| Type: | Jigsaw |
| Category: | Sawing |
| Cord: | Cordless |
| Battery Voltage: | 12 V Lithium-ion |
| Stroke Length: | ¾" |
| Stroke Freq: | 0 – 2,800 strokes/min |
| Blade Shank: | T-shank type |
| Blade Clamp: | Keyless blade clamp |
| Max Bevel: | 45o |
| Bevel Stops: | 0/90o, 45o |
| Weight: | 3.8 lbs |
| RRP w/ battery: | US$179.99 (MYR665.95) |

| | |
| --- | --- |
| Make: | MILWAUKEE |
| Model: | M12 FUEL 2520-20 |
| Type: | Reciprocating Saw Hackzall |
| Category: | Sawing |
| Cord: | Cordless |
| Battery Voltage: | 12 V Lithium-ion |
| Stroke Length: | 5/8" |
| Stroke Freq: | 0 – 3,000 strokes/min |
| Illumination: | White LED Light |
| Blade Clamp: | QUIK-LOK® Universal |
| Weight: | 3.2 lbs |
| RRP w/o battery: | US$140.00 (MYR518.00) |

| | |
| --- | --- |
| Make: | MILWAUKEE |
| Model: | M12 2460-20 |
| Type: | Rotary Tool |
| Category: | Grinding and Cutting |
| Cord: | Cordless |
| Battery Voltage: | 12 V Lithium-ion |
| No-load Speed: | 5,000 – 32,000 rpm |
| Speed Settings: | 6-speed |
| Collet Size: | Standard 1/8" |
| Alt. Collet: | 1/32", 1/16", 3/32" |
| Weight: | 0.9 lbs |
| RRP w/o battery: | US$134.00 (MYR495.80) |

| | |
| --- | --- |
| Make: | MILWAUKEE |
| Model: | M12 2426-20 |
| Type: | Multi-Tool |
| Category: | Sanding and Cutting |
| Cord: | Cordless |
| Battery Voltage: | 12 V Lithium-ion |
| Osc. Angle: | 3o end-to-end |
| Speed: | 5,000 – 20,000 osc/min |
| Speed Dial: | 12 variable speed |
| Weight: | 1.63 lbs |
| RRP w/o battery: | US$166.50 (MYR616.00) |

| | |
| --- | --- |
| Make: | MILWAUKEE |
| Model: | M12 0850-20 |
| Type: | Compact Vacuum Cleaner |
| Category: | Miscellaneous |
| Cord: | Cordless |
| Battery Voltage: | 12 V Lithium-ion |
| Air Delivery: | 33 cfm |
| Run-time: | up to 29 mins (4.0 Ah batt) |
| Filter Type: | 42-pleat conical reuseable |
| Length: | 470 mm (18.5″) |
| Weight: | 1.02 kg (2.25 lbs) |
| RRP w/o battery: | US$85.00 (MYR315.00) |
RYOBI
| | |
| --- | --- |
| Make: | RYOBI |
| Model: | One+ 18GA P320 |
| Type: | Brad Nailer |
| Category: | Driving |
| Cord: | Cordless |
| Battery Voltage: | 18 V Lithium-ion |
| Nail Gauge: | 18-gauge |
| Magazine: | 105-nail capacity |
| Nail Range: | 5/8" to 2″ |
| Nails per Charge: | 800 shots (P108 battery) |
| Weight: | 5.0 lbs |
| RRP w/o battery: | US$145.00 (MYR536.50) |

| | |
| --- | --- |
| Make: | RYOBI |
| Model: | One+ P506 |
| Type: | Circular Saw |
| Category: | Sawing |
| Cord: | Cordless |
| Battery Voltage: | 18 V Lithium-ion |
| Blade Size: | 5½-inch |
| Arbor Size: | 10 mm |
| No-load Speed: | 4,700 rpm |
| Cutting Depth: | 19/16" at 90o |
| Cutting Depth: | 11/8" at 45o |
| Guide: | Laser-guided |
| Weight: | 4.7 lbs |
| RRP w/o battery: | US$65.00 (MYR240.50) |

| | |
| --- | --- |
| Make: | RYOBI |
| Model: | One+ P514 |
| Type: | Reciprocating Saw |
| Category: | Sawing |
| Cord: | Cordless |
| Battery Voltage: | 18 V Lithium-ion |
| Blade Stroke: | 7/8 inch |
| No-load Speed: | 0 – 3,100 strokes/min |
| Weight: | 4.1 lbs |
| RRP w/o battery: | US$65.00 (MYR240.50) |

| | |
| --- | --- |
| Make: | RYOBI |
| Model: | One+ P421 |
| Type: | Angle Grinder |
| Category: | Sawing |
| Cord: | Cordless |
| Battery Voltage: | 18 V Lithium-ion |
| No-load Speed: | 6,500 rpm |
| Disc Diameter: | 4½-inch |
| Spindle Thread: | 5/8 x 11 UNC |
| Weight: | 4.8 lbs |
| RRP w/o battery: | US$79.99 (MYR295.95) |
---
MILWAUKEE M12 CORDLESS POWER TOOLS
RYOBI 18V ONE+ CORDLESS POWER TOOLS
BOSCH POWER TOOLS
DEWALT POWER TOOLS
BLACK & DECKER POWER TOOLS
HILTI POWER TOOLS
DRILLING AND DRIVING
SAWING
SANDING, GRINDING AND CUTTING
OTHER POWER TOOLS