"Red is simply fast and furious! This is no less found in Milwaukee's credo…"
There is somewhat of a perceived correlation between the colour red and high performance – from the red of a Ferrari 458 Italia to the red of a Ducati 1199 Superleggera…from the red of Tony Stark's Ironman suit and now, to the red of the complete line of Milwaukee power tools. Red is simply fast and furious! This is no less found in Milwaukee's credo: "Nothing but HEAVY DUTY", and "Driven to Outperform" for the M12 FuelTM line of power tools!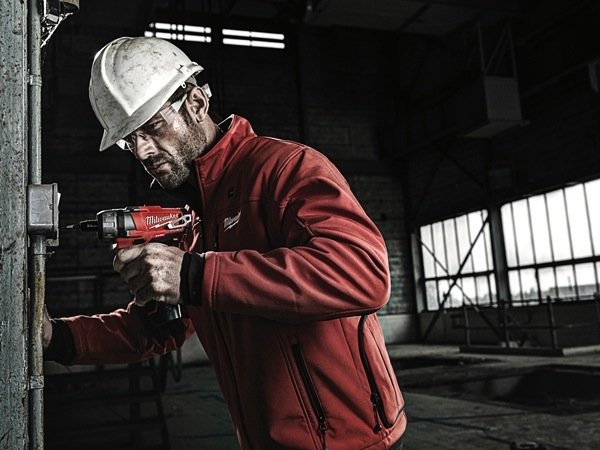 The Milwaukee M12 Fuel Hammer Drill CPD-202C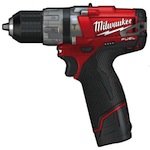 Looking for a cordless hammer drill for convenience to replace my Bosch corded hammer drill, I did a little research and finally shortlisted my choices down to 18V models by both Bosch and Dewalt. Having owned a Dewalt 9.6V cordless drill driver for about 10 years now as well as an excellent tool box, Dewalt has always been my favourite choice for power tools, but a particular one I was considering – the Dewalt DCD985L2 – was a little above my budget at RM1,380 (RRP US$314.00). I had decided to go with the Bosch GSB-18-2-LI Professional then, priced at about RM670 (RRP GBP260.00). Somewhere along the way to buying the Bosch, I stopped by at another shop and came across the Milwaukee M12 Fuel Hammer Drill CPD-202C at a retail hardware store, priced at almost RM700 (cheaper than the listed RRP GBP349.00), and fell head over heels with it (if that's one valid way to describe it) almost immediately! It was as much an emotional as well as a logical buying decision, as explained further below.
"At this point, the Milwaukee then isn't all that expensive."
At this price, the 12V Milwaukee is certainly considered quite costly, considering that you could get an 18V Bosch model at about the same price (reduced, not retail). It is also more expensive than a higher-rated voltage 14.4V Bosch model at slightly below RM600. But then, voltage is only one of the parameters, and if you consider other attributes and bottom-lines like power and efficiency, the two are not quite an apple-to-apple comparison. At this point, the Milwaukee then isn't all that expensive.
First Impressions of the Milwaukee M12 Fuel Hammer Drill
The Milwaukee M12 Fuel Hammer Drill Driver CPD-202C is equivalent to the model kit no. 2404-22 in the US (with a part red carry case instead of all black), which the following review applies to as well.
These photos are not exactly the unboxing, but first impressions when it was first brought home:
The front of the box cover…

…and the rear side.

A sturdy molded box with Milwaukee boldly emblazoned in red.

Fonts and badges are not merely printed, but embossed.

Bold red handle highlights an otherwise unassuming black box…

…with the company logo engraved on the latches upon closer inspection.

A Milwaukee hammer drill says hi when the box is opened.

Top part of the box has a slot for 3 booklet manuals.

The hammer drill and charger sit in their respective spot…

…with a spare lithium-ion battery tucked snugly at a corner.

The front side of the Milwaukee M12 Fuel Hammer Drill Driver CPD-202C.

The reverse side of the Milwaukee M12 Fuel Hammer Drill Driver CPD-202C.
What I Like about the Milwaukee M12 Fuel Hammer Drill
While love at first sight is quite an accurate description of the nature of this purchase, it wasn't made entirely out of blind faith. Some of the features which were immediately apparent that cinched the deal were:
Red.

I know, it's superficial. But it's my favourite colour, over blue or yellow. It's like a preference for a red Alfa Romeo over a blue Lancia or yellow Fiat. And I wasn't planning on buying a blue Bosch or a yellow Dewalt just to spray-paint it red. Milwaukees already come in my favourite colour, with the performance to boot! OK, now that we've gotten superficial out of the way…

Smaller and lighter 12V cylindrical pod-type battery, vs the square-type 18V.

One of the main factors that led me to decide upon this make and model was the 12V lithium-ion battery size, which was the cylindrical pod type that follows the form of the handle, as opposed to the square-type 18V which I was trying to avoid. Although it is not a fair comparison per se as a 12V is certainly expected to have a smaller form factor, from my research, this 12V Red Lithium-Ion performs almost or equally as well as other 18V models in the market. With this model, I can confidently opt for a lower voltage for portability and weight advantages (less fatigue on the arms during operation), and still work like it's running on an 18V. To put some figures in perspective, this 12V 2.0Ah battery gives the Milwaukee a torque of 37 Nm, while the 18V 2.0Ah battery gives the Bosch just a little bit more torque at 39 Nm. I found this out before putting money down for the Milwaukee.

Sturdy metal chassis with rubberised body and handle.

While it does feel a little heavy in the hands, its weighty feel says nothing but solid build and heavy duty. Certainly have nothing to complain about this. Rubberised handle grip is comfortable, just slightly more comfortable than the wholly-plastic handle on my old Dewalt. But I suspect during use, the rubberised grip would help dampen the vibrations in hammer drill mode so that the old hand doesn't suffer the effects of 25,500 beats per minute (which can be pretty uncomfortable after 20 holes or so if you've used a hammer drill installing shelves on Grade 35 concrete wall!), and likely provide insulation against electrical shock (if you accidentally drill into electrical wires). All drills in the market have insulating materials for the handle anyway.

Large ½" or 13 mm ratcheting locking chuck

Many compact drills in the market are fitted with a 10 mm chuck. With a sizable 13 mm on this Milwaukee, it will take larger drill bit diameters, and produce more power proportionally for the smaller bit diameters which I normally use, typically the 6 to 8 mm drill bits. The chuck is an all-metal ratcheting locking chuck, which provides maximum grip, bit retention and durability.

| | |
| --- | --- |
| As stated: from 1/16″ to 1/2″… | …or from 1.5 mm to 13 mm. |

Battery fuel gauge on the tool, not on the battery.

The indicator lights up red, but somehow appears more orange in the photo above.

Some manufacturers place the battery power and remaining charge indicator on the battery. I personally prefer indicators to be on the main equipment itself rather than on a disposable consumable item. The fuel gauge on the Milwaukee appears just right above the handle on the left side where the right thumb would be, and displays the remaining charge in 4 parts – 100%, 75%, 50% and 25%.

LED light.

The Milwaukee M12 Fuel Hammer Drill Driver CPD-202C comes with an LED light just under its chuck and clutch selector to provide illumination on the work space – something which I have recently come to appreciate since using the Bosch Impact Driver GDR 10,8-LI Professional. But the LED has some design issues which I will touch on later.
These were the first impressions I got when holding and operating a display unit. When my new unit was finally taken down from the store's storage shelf at the back and handed to me, I learnt a few more important key features, some of which set it apart from the competition:
POWERSTATETM Brushless Motor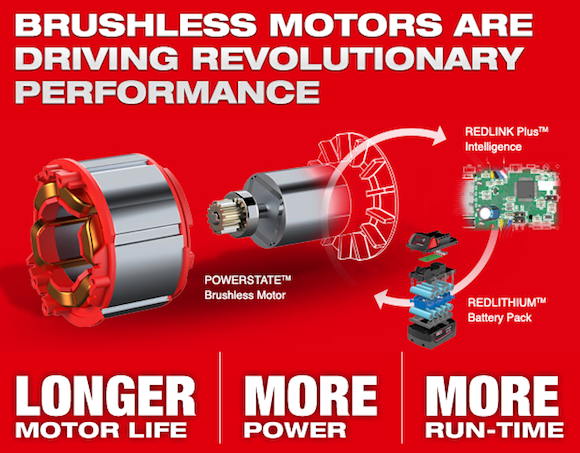 "Combine an uber-efficient brushless motor and super-smart electronic intelligence with lithium battery power and what do you get?
…The benefits are lots more power, longer run-time and unmatched durability – in an ever shrinking, light-weight tool."
HANDYMAN CLUB OF AMERICA MAGAZINE
Tools on Steroids
The Milwaukee M12 Fuel Hammer Drill Driver CPD-202C is equipped with a brushless motor that allows it to run more efficiently with less heat. Instead of wearable brushes, Milwaukee engineered more steel and copper into its POWERSTATETM brushless motor, resulting in longer motor life as a result of reduced friction, less heat buildup, and higher efficiency.
Milwaukee remains the performance leader in brushless motor now. These motors are packed with four times the amount of power generating components with higher grade rare earth magnets, resulting in over 60% more torque than competitor's brushless motors.
Brushless motors do not produce sparks the way conventional brushed motors do, and are therefore suitable for use at petrol stations and in the oil and gas industries.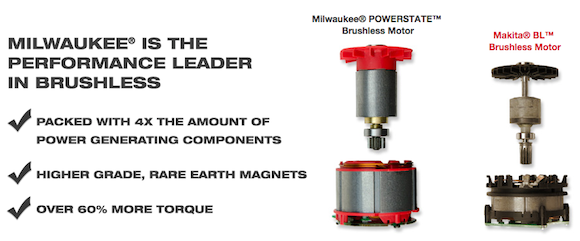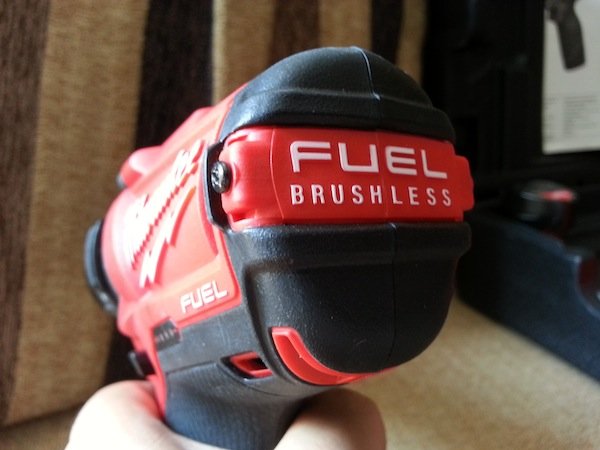 REDLITHIUMTM 2.0 Battery Pack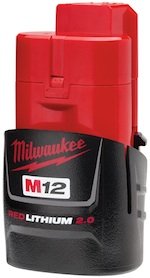 The Milwaukee M12 Fuel Hammer Drill Driver CPD-202C comes with 2 nos. of 2.0Ah lithium-ion batteries by default. These are not just any lithium-ion battery, but a set of M12 REDLITHIUMTM batteries which deliver up to twice the runtime, 20% more power, and double the recharging capacity of standard lithium-ion batteries. These batteries feature excellent pack construction, electronics and performance to deliver more work per charge than any battery on the market, and run cooler, even performing in climates below -18 deg.C. The battery is equipped with an overload and discharge protection to prevent damage to the power tool and to the cell. Battery temperature and individual lithium-ion cells are also monitored to ensure that battery life is maximised. This is managed by Milwaukee's exclusive REDLINK PLUSTM Intelligence (see next section below).
REDLINK PLUSTM Intelligence
This is probably best described by Milwaukee in their press release:
REDLINK PLUSTM Intelligence delivers a high-efficiency commutation for longer run-time. This hardware and software is the world's most advanced system of cordless power tool electronics that will maximize performance and protect the user's investment. REDLINK PLUSTM Intelligence is a best-in-class system that integrates full-circle communication between tool, battery and charger, and constantly monitors the internal network to maintain ideal conditions.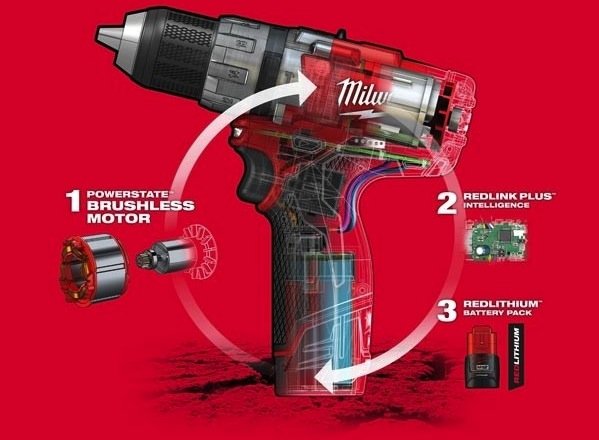 First Tests, Observations and Specifications
Unfortunately, the device is still very new and has not been tested. I will be installing a ceiling fan over the next few days, and will report on the performance of this Milwaukee M12 Fuel Hammer Drill Driver once I'm done with it. But what I would really want to test, is how the hammer drill function handles concrete walls and slabs. It will be some time before I have a project requiring this – can't foresee one in the near future. Maybe I'll just find a reason to hang something on the wall, and report it here.
UPDATE: I have since used this power tool for a variety of jobs, and my opinion is given under the section Performance and Conclusion below.
Brushless Motor
However, operating the drill without any load was able to give a feel for the power of the brushless motor within. There is a slight jerk during start and stop, and the stop resulted in a very sudden stop in the rotation of the chuck. The brushless motor is truly a powerhouse! Recently, I had the privilege of inspecting the entire dismantled motor assembly at the local distributor:
| | |
| --- | --- |
| The trigger switch is in my left hand, and the motor is in my right hand, with the REDLINK PLUSTM Intelligence in between. | The POWERSTATETM brushless motor is indeed very well-made, and the copper windings are thicker than normally found on conventional motors. |
| Inserting the motor into his housing assembly… | …resulted in a magnetic lock that proved difficult to remove! |
Honestly, the whirring of the brushless motor in operation, if you ever get the chance to hear it, suggests that the Milwaukee M12 Fuel Hammer Drill Driver CPD-202C means serious business!
Speed Setting Switch
The Milwaukee M12 Fuel Hammer Drill Driver comes with 2 speed settings, set by a switch located at the top of the tool. Gear 1 drives the motor between 0 to 450 rpm, and Gear 2 drives it between 0 to 1,700 rpm. Depending on the nature of the job, these gear settings allow the appropriate speed to be used to get the job done right.
| | |
| --- | --- |
| Gear 1 setting: 0 – 450 rpm | Gear 2 setting: 0 – 1,700 rpm |
Clutch Selector Ring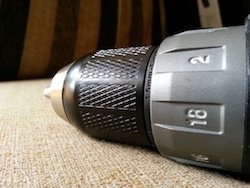 There are 18 different torque settings on the clutch selector. This normally won't make much of a difference, as the minimum and maximum torque would be quite similar for drills of this calibre, and the more settings on the clutch just means that finer adjustments of torque is possible. Still, it doesn't hurt, and 18 is a good figure.
Mode Selector Ring
The Milwaukee M12 Fuel Hammer Drill Driver operates on three different modes – normal drilling, screwdriving, and hammer or percussion drilling. This is set on the Mode Selector Ring located between the Speed Setting Switch and the Clutch Selector Ring.
| | | |
| --- | --- | --- |
| Normal drilling | Screwdriving | Hammer drilling |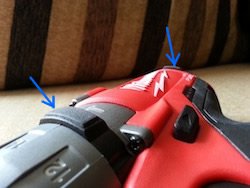 The Mode Selector Ring is also fitted with a rubber pad on both left and right side, and in conjunction with another sliver of rubber pad on both sides towards the rear of the tool (see arrows on photo at left), these provide padding when resting the tool down on its sides. This keeps the tool body in pristine condition when laid on a hard flat surface.
LED Light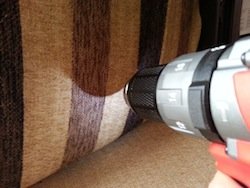 The LED light is rather bright, and does hurt the eyes slightly when looking directly at it. However, its location on the tool is at quite a disadvantage. Located just above and in front of the trigger switch and below the clutch selector ring, it is placed too far behind the chuck, and when turned on, the chuck casts a shadow on the workspace at drill-point, due to obstruction of the light path. This would be a problem for short screwdriver bits, but for longer bits, the light does reach just barely at drill-point. Not a big issue – as some light is better than no light. However, I was a little disturbed that the light remained switched on long after the chuck has stopped spinning – for a full 8 seconds. 2 or 3 seconds would have been more appropriate, in my opinion.
Waist Belt Clip
| | |
| --- | --- |
| The location of the waist belt clip towards the rear end of the tool. | A closer view of the clip and its exquisite finishing. |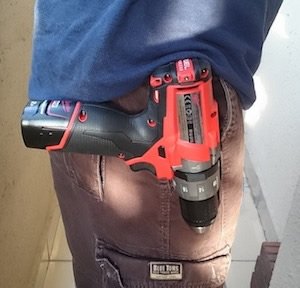 The Milwaukee M12 Fuel CPD-202C comes with a waist belt clip attached near its rear end, which works very well without any worries of it falling off. This is useful when you need both your hands, especially when you're on a ladder, and need to mount the hammer drill somewhere safe and reachable. To demonstrate its function, I've placed the tool on my waist belt as shown at left. However, I have removed the clip as I have little use for it, and find it a little obstructive.
Charger and Batteries
| | |
| --- | --- |
| Through a pair of red and green LEDs, the battery charger is able to indicate when the battery is charging, fully charged, damaged, or overheating. | The battery charger is designed with key guides, to ensure that the battery is inserted in the correct orientation, although given the shape of the battery, you can't really get this very wrong. |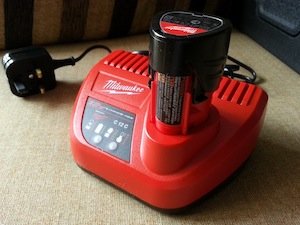 The Milwaukee M12 Hammer Drill Driver is bundled with a very capable battery charger that charges the 2.0Ah REDLITHIUM-ION batteries full in under 40 minutes. An extended capacity XC 4.0Ah lithium-ion battery takes proportionally twice as long to charge at 80 mins. In my test, I managed to fully charge a half-depleted 2.0Ah lithium-ion battery in 20 minutes. As these batteries are high-capacity types giving extended run-time during the course of the work (with efficiency no doubt contributed largely by the REDLINK PLUSTM Intelligence), the charger can and will charge your depleted first battery faster than you can drain the second, hence minimising battery charging downtime. Two batteries are all one really needs while working with this power tool. Really.
Quick Specifications
| Specifications | Technical Data |
| --- | --- |
| Maximum drilling capacity in masonry and concrete | 13 mm |
| Maximum drilling capacity in brick and tile | 13 mm |
| Maximum drilling capacity in steel | 13 mm |
| Maximum drilling capacity in wood | 25 mm |
| No load speed gear 1 setting | 0 – 450 rpm |
| No load speed gear 2 setting | 0 – 1,700 rpm |
| Percussion rate gear 1 setting | 0 – 6,750 bpm |
| Percussion rate gear 2 setting | 0 – 25,500 bpm |
| Maximum torque (1.5Ah or 2.0Ah lithium-ion battery) | 37 Nm |
| Maximum torque (3.0Ah lithium-ion battery) | 39 Nm |
| Maximum torque (4.0Ah lithium-ion battery) | 44 Nm |
| Sound pressure level, uncertainty K = 3 dB(A) | 91 dB(A) |
| Sound power level, uncertainty K = 3 dB(A) | 102 dB(A) |
| Vibration emission value drilling into concrete, uncertainty K = 4.06 m/s2 | 30.8 m/s2 |
| Voltage Class | 12V |
| Weight with 2.0Ah lithium-ion battery pack | 1.3 kg |
| Weight with 4.0Ah lithium-ion battery pack | 1.5 kg |
Some Needed Accessories
There were a couple of items I took home with me from the shop with the Milwaukee. With a RM100 top-up, I got an additional M12 3.0Ah REDLITHIUM-ION battery. While the bundled 2.0Ah battery produces 37 Nm of torque, the 3.0Ah battery brings it up to 41 Nm. It is a worthwhile upgrade purchase, for those times when more torque is required, especially during hammer drilling time.
| | |
| --- | --- |
| The retail packaging which contains… | …the M12 3.0Ah lithium-ion battery. |
| The underside of the M12 3.0Ah REDLITHIUMTM lithium-ion battery. | With the battery mounted on the hammer drill, which also serves as a stable base support. |
I also got the Milwaukee Shock Wave Impact Duty PH2 50 mm driver bit. This was given as a free accessory by the hardware shop-owner, and will be a much needed accessory to go with the hammer drill, although I already have most of the bits I require in a separate kit at home. Nevertheless, the Shock Wave Impact Duty bit consists of a shock zone which permits it to handle more stress than usual, with a rated max. 10x lifespan.
| | |
| --- | --- |
| The 50 mm Milwaukee Shock Wave Impact Duty PH2 driver bit… | …with the shock zone and details shown on the rear of the packaging. |
The Milwaukee M12 Fuel CPD-202C/2404-22 in Action
Performance and Conclusion
As mentioned, I have used the Milwaukee M12 Fuel Hammer Drill Driver in a number of DIY work since I last updated this article, and here are some observations: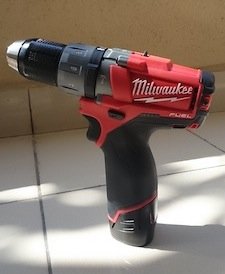 At a weight of 1.3 kg, the Milwaukee M12 Fuel Hammer Drill Driver CPD-202C appears to be heavy in my small hands, but is considered of reasonable weight for this class of power tool. The balance feels right in the hands, and the torque capability is more than you could ask for, for a power tool at this voltage class.
For screwdriving applications, especially at high areas where the tool may need to be lifted high for overhead work, the weight becomes more noticeable. Still, it is manageable, although for quick screwdriving, a smaller and lighter 10.8V driver without hammer drilling function would be more suitable. The hammer drill feature, for its percussion ability, adds quite a bit of weight to any power tool. Yet, it is still a few hundred grams lighter than a small corded hammer drill, considering it has speed gear settings, torque control and battery weight that an electric corded one doesn't.
"The point is the Milwaukee is extremely capable as a hammer drill on hard Grade 35 concrete wall, and was comfortable to use with its minimal vibrations."
Before I bought this power tool, I had doubts about the capability of a battery-powered hammer drill on hard concrete wall, despite an explanation from the shop owner in the most convincing manner. My doubts were finally put to rest when I used the Milwaukee and drilled through a concrete wall to mount a remote holder (see photo below). The concrete wall of the condo where I live is extremely hard – it is not the same hardness as that of regular concrete blocks. Maybe it was the professional Alpen masonry bit and its excellent cutting ability, maybe it was the highly usable torque put forward by Milwaukee's brushless motor, either way or both, the drilling went extremely smooth and well, and seemed easier than with my corded Bosch GSB 500 RE hammer drill when I did a number of holes with that a few months ago. In one phrase, it exceeded the expectations I had on this cordless tool. Then again, it was three times the price of the Bosch. I understand that this is not a fair comparison – totally unscientific. The point is the Milwaukee is extremely capable as a hammer drill on hard Grade 35 concrete wall, and was comfortable to use with its minimal vibrations. I suspect the rubberised grip on the handle could have something to do with that.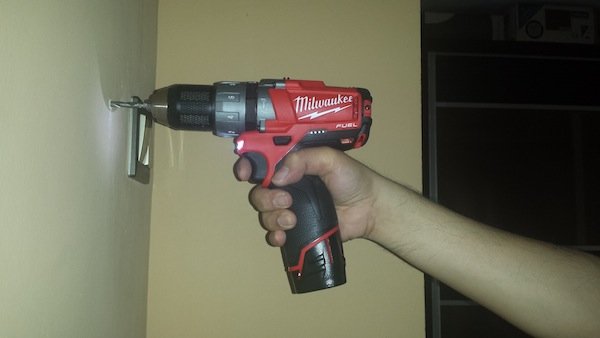 "At the end of a hardworking day, I went back home to another stone base drilling work, with the battery gauge at one bar left."
The M12 2.0Ah lithium battery lasts long. With a fully charged battery, on the first night, I did some repair work on my salt crystal stone base which required drilling a couple of holes through a stone base, first with a tile bit, followed by a masonry bit. The next day, I performed the afore-mentioned hammer drilling into concrete wall. The following day, I did a kitchen remodelling work for a friend, using the Milwaukee for drilling and driving screws. For drilling, a variety of work was carried out, from making pilot holes for screws with drill bits, to cutting out entire holes with hole saws and spade bits for faucets. At the end of a hardworking day, I went back home to another stone base drilling work, with the battery gauge at one bar left. I am quite sure it will still last long enough for some further drilling and driving work. Again, it exceeded my expectation of what a battery-powered tool could do and how long it can last. Normally, for this amount of work, my Dewalt would have required at least two battery charges in between. Then again, the Dewalt runs on a 9.6V Ni-Cad battery, versus the 12V Li-ion on the Milwaukee. Unscientific comparisons aside, I know I can count on my Milwaukee to provide uninterrupted service, with a battery that lasts long, and a capable charger that charges a depleted battery faster than I can deplete the spare.
"There was no binding with the wood material around the bit, and the motor did not falter one bit even as the hole saw was going 40 mm deep into the MDF countertop."
On the kitchen remodelling work mentioned earlier, I find that drilling larger holes using a 50 mm hole saw and a 12 mm spade bit was not a problem at all for the Milwaukee. There was no binding with the wood material around the bit, and the motor did not falter one bit even as the hole saw was going 40 mm deep into the MDF countertop. My only regret was I could not secure a Milwaukee ice-hardened bi-metal hole saw for this gig, as I couldn't purchase and get hold of a set on time. I was using one of the cheaper bits, but those worked fine as well. Would love to try out those white hole saws for their advertised faster cuts for real. All in good time.
SEE ALSO:
---
MILWAUKEE M12 CORDLESS DRILL DRIVERS
MILWAUKEE M12 POWER TOOLS
MILWAUKEE POWER TOOLS FOR DRILLING AND DRIVING
MILWAUKEE POWER TOOLS FOR SAWING AND CUTTING
MILWAUKEE POWER TOOLS FOR GRINDING
MILWAUKEE MEASURING TOOLS AND INSTRUMENTATION
OTHER MILWAUKEE POWER TOOLS
MILWAUKEE POWER TOOL COMBO SET
MILWAUKEE POWER TOOL ACCESSORIES AND POWER PACKS