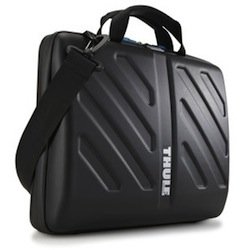 Oh this attaché case has certainly left me undecided for years! I make a trip down to Singapore once or twice every year, and I come across the Thule Gauntlet 13″ MacBook Pro Attaché every time I visit a certain shop – The Planet Traveller. And every time, I'd leave the shop without buying it, thinking to myself that I already have 6 bags for the same laptop, no need to spend money on something I don't need. This year was different. I decided it was time to put my unsettled doubt to rest. I went ahead and bought it. Yesterday.
First Looks at the Thule Gauntlet MacBook Pro 13″ Attaché
What first drew me to this bag was it's stiff and rugged exterior shell. It is made of semi-rigid high-density molded EVA foam – not too hard and not too soft – that keeps the contents protected from sudden impact and knocks. Having said that, the case won't guarantee your laptop will escape harm from a fall, but will nevertheless offer some level of impact protection. It gives a sense of confidence in its protection, and looks good at the same time. No doubt, the design looks futuristic enough to be featured in a sci-fi movie!
Then there's the other thing – it's brand – Thule. I've always known Thule to be great makers of vehicle mounts for bikes and other items. When I first chanced upon this item a few years back, I was surprised to learn that Thule also made bags, backpack, and carry cases, and they are all well-designed bags functionally and aesthetically, in my opinion.
The Thule Gauntlet MacBook Pro 13″ Attaché serves as a replacement for an Incase Sling Sleeve for MacBook Air 11-inch reviewed earlier. Purchased at a price of S$109 in Singapore, this attaché case was by no means cheap, and cost more than the already expensive Incase Sling Sleeve I was using for my MacBook Air. Yes, despite the designation of this Thule attaché case in the title of this article, it was bought to house my MacBook Air 11″, and not for my MacBook Pro 13″. There isn't an 11-inch version of this bag anyway, and with it's tight-fit design, I think a 13-inch space would offer some leeway and a little more flexibility for an 11-inch laptop. A 15-inch attaché case is also available from Thule, and surprisingly, for the same price. Anyway, a 13-inch suits me just fine, as I wouldn't want it to be much bigger than the Incase I was already using.
The Contents in my Thule Gauntlet MacBook Pro 13″ Attaché
The photos below show the contents of my Thule Gauntlet MacBook Pro 13″ Attaché and describe where they are kept:
| | |
| --- | --- |
| | |
| | |
| | |
| | |
| | "The Thule Gauntlet MacBook Pro 13″ Attaché looks surprisingly compact from the outside, but yet has the capacity to hold more hardware and items within than one would expect…" |
There has been a number of complaints from users that the zip gave way after months of use, and I have not used it long enough to encounter this. I did notice that the zippers on one other case at the shop were a little tight, and ultimately chose one with more "smooth and easy" zipping action. I also suspect that the damaged zipper experienced by some users was due to an exertion of the zip on an already tight case, and this damage could be minimised by zipping slowly and gently without too forceful a tug and pull, which I notice is what most people do with zips. Nothing wrong with that, but perhaps this bag require a little more tenderness than it's outer appearance would suggest. I guess I will know for sure in the months to come.
UPDATE 1 SEPT 2014: I have since used the Thule Gauntlet MacBook Pro 13″ Attaché outdoor a number of times and I am very pleased with it. The shoulder strap with padding makes it comfortable to carry it around. A few people have commented that it is a very beautifully designed case. And just last night, I had accidentally spilled some oily and gravy-laden noodles on the case as I was eating standing up with the case hung from my shoulder. Thanks to the non-absorbent nature of the molded EVA foam, the mess was easily removed with a quick serviette wipe. A similar occurrence like this on the Incase Sling Sleeve would have required some water and soap to remove the stains and odour.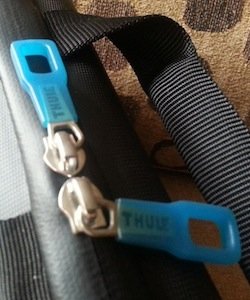 I am also pleased to report that the zip has not given me any problem even after the countless times I have opened and closed the case. I have also confidently walked in the rain, umbrella-less, with this attaché case, with the water-resistant zip cover keeping the contents dry. Nevertheless, I would suggest some precautions taken when walking in heavy rain, like partially shielding the case with parts of your body or clothing.
---
THULE LAPTOP BAGS AND SLEEVES on eBAY
THE THULE GAUNTLET ATTACHÉ AND SLEEVE FOR MACBOOK
OTHER THULE CARRY BAGS AND PRODUCTS