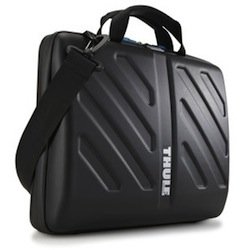 Oh this attaché case has certainly left me undecided for years! I make a trip down to Singapore once or twice every year, and I come across the Thule Gauntlet 13″ MacBook Pro Attaché every time I visit a certain shop – The Planet Traveller. And every time, I'd leave the shop without buying it, thinking to myself that I already have 6 bags for the same laptop, no need to spend money on something I don't need. This year was different. I decided it was time to put my unsettled doubt to rest. I went ahead and bought it. Yesterday.
First Looks at the Thule Gauntlet MacBook Pro 13″ Attaché
What first drew me to this bag was it's stiff and rugged exterior shell. It is made of semi-rigid high-density molded EVA foam – not too hard and not too soft – that keeps the contents protected from sudden impact and knocks. Having said that, the case won't guarantee your laptop will escape harm from a fall, but will nevertheless offer some level of impact protection. It gives a sense of confidence in its protection, and looks good at the same time. No doubt, the design looks futuristic enough to be featured in a sci-fi movie!
| | |
| --- | --- |
| The front sports clear diagonal grooves. Another groove runs vertically down the centre, with THULE and Sweden stated near the bottom. | The rear of the attaché case carries the same motif. These diagonal grooves are what make the overall design truly appealing. |
| The top handles are made of nylon, with very adequate padding where the hands go when you're holding and carrying the case. A very comfortable hold indeed. | In case you missed the big bold THULE on the front of the case, here's another one engraved into a metal plate hung at the top by a nylon band. Yes, the little details do matter. |
| The zips are nicely designed, again, with the word THULE engraved in perspective view, giving it a 3D effect. The zips are wrapped in soft light blue silicone, which not only provides good grip but adds an interesting highlight to an otherwise monotonous dark case. | The zipper line is protected by a water-resistant cover which forms part of the attaché case, and when fully zipped, protect the contents within from water splashes and light rain. This feature was a deciding factor which led to the purchase. |
| Unzipping and opening the case fully, the inside is split into two compartments by a divider – the first compartment keeps the main hardware – the laptop to be held by the black elastic band seen above… | …and facing the laptop compartment, is a tight turquoise-base nylex-lined pocket for an iPad or iPad mini. Or any tablet up to 10″ wide. Or documents, if you wish. Contents in this pocket are held securely by a short velcro-fitted nylon band. This entire pocket is a divider; on its reverse side… |
| …you will find three separate mesh pockets meant for accessories. These are quite tight pockets – my thoughts on this in a bit. And facing these three mesh pockets… | …is a large loose mesh pocket for power cable, phone chargers and other large items. This pocket is also where the shoulder strap is kept during time of purchase. Let's examine the shoulder strap! |
| The strap is fitted with a shoulder pad to ease the weight on the shoulders, and the word THULE is boldly printed on it. No surprise there! | The hook on each end of the strap is made of strong durable impact-resistant plastic, with a spring-loaded steel gate. |
| On the attaché case, loops made of similar impact-resistant plastic are attached at opposite ends of the case by nylon bands. | Placing each hook into each loop on the attaché case… |
Then there's the other thing – it's brand – Thule. I've always known Thule to be great makers of vehicle mounts for bikes and other items. When I first chanced upon this item a few years back, I was surprised to learn that Thule also made bags, backpack, and carry cases, and they are all well-designed bags functionally and aesthetically, in my opinion.
The Thule Gauntlet MacBook Pro 13″ Attaché serves as a replacement for an Incase Sling Sleeve for MacBook Air 11-inch reviewed earlier. Purchased at a price of S$109 in Singapore, this attaché case was by no means cheap, and cost more than the already expensive Incase Sling Sleeve I was using for my MacBook Air. Yes, despite the designation of this Thule attaché case in the title of this article, it was bought to house my MacBook Air 11″, and not for my MacBook Pro 13″. There isn't an 11-inch version of this bag anyway, and with it's tight-fit design, I think a 13-inch space would offer some leeway and a little more flexibility for an 11-inch laptop. A 15-inch attaché case is also available from Thule, and surprisingly, for the same price. Anyway, a 13-inch suits me just fine, as I wouldn't want it to be much bigger than the Incase I was already using.
The Contents in my Thule Gauntlet MacBook Pro 13″ Attaché
The photos below show the contents of my Thule Gauntlet MacBook Pro 13″ Attaché and describe where they are kept:
| | |
| --- | --- |
| I had initially bought a 13″ case thinking I could fit my 11″ MacBook Air into the divider pocket meant for the iPad as I thought this pocket would be the safest since it is not in contact with the out-sides of the bag, but as you can see, there is no way even the smallest and thinnest laptop from Apple would fit in this. | So, I'm just gonna have to put the 11″ MacBook Air at the designated compartment of the attaché case… |
| …and the iPad into the tight pocket it was meant to be. I usually place the iPad with the screen facing the soft turquoise surface, although either way is fine. | Everything in its rightful place – the iPad in the pocket secured in place by the velcro-fitted nylon band, and the MacBook Air held in place in its compartment by the elastic band. |
| Out of curiosity, I removed the 11″ MacBook Air and replaced it with my bigger and thicker 13″ MacBook Pro, just to see how it would fit. Well, it's a snug fit, and especially tight around the corners… | …which means that there isn't much room to absorb impact during a fall. But then again, the case wouldn't normally fall against these top corners, and the soft yet rigid foam material itself do offer some form of protection. This case is after all designed for the 13″ MacBook Pro. |
| On the other side of the divider, the adapter, phone charger and cables sit in the loose mesh pocket, while the three tight pockets can hold (from L to R) my Ultimate Ears in-ear monitors in its case, a Magic Mouse, and an iPod classic. | I find the three pockets a little too tight, and usually prefer to keep the mouse (within a red pouch) in the compartment area outside, and keep smaller items like USB thumbdrives, card readers and rolled-up charger cables in the tight pockets. The iPod seen here isn't kept in this case permanently. |
| | "The Thule Gauntlet MacBook Pro 13″ Attaché looks surprisingly compact from the outside, but yet has the capacity to hold more hardware and items within than one would expect…" |
There has been a number of complaints from users that the zip gave way after months of use, and I have not used it long enough to encounter this. I did notice that the zippers on one other case at the shop were a little tight, and ultimately chose one with more "smooth and easy" zipping action. I also suspect that the damaged zipper experienced by some users was due to an exertion of the zip on an already tight case, and this damage could be minimised by zipping slowly and gently without too forceful a tug and pull, which I notice is what most people do with zips. Nothing wrong with that, but perhaps this bag require a little more tenderness than it's outer appearance would suggest. I guess I will know for sure in the months to come.
UPDATE 1 SEPT 2014: I have since used the Thule Gauntlet MacBook Pro 13″ Attaché outdoor a number of times and I am very pleased with it. The shoulder strap with padding makes it comfortable to carry it around. A few people have commented that it is a very beautifully designed case. And just last night, I had accidentally spilled some oily and gravy-laden noodles on the case as I was eating standing up with the case hung from my shoulder. Thanks to the non-absorbent nature of the molded EVA foam, the mess was easily removed with a quick serviette wipe. A similar occurrence like this on the Incase Sling Sleeve would have required some water and soap to remove the stains and odour.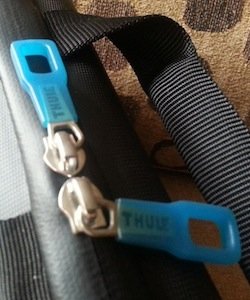 I am also pleased to report that the zip has not given me any problem even after the countless times I have opened and closed the case. I have also confidently walked in the rain, umbrella-less, with this attaché case, with the water-resistant zip cover keeping the contents dry. Nevertheless, I would suggest some precautions taken when walking in heavy rain, like partially shielding the case with parts of your body or clothing.
---
THULE LAPTOP BAGS AND SLEEVES
THULE BACKPACKS
THE THULE GAUNTLET ATTACHÉ AND SLEEVE FOR MACBOOK
OTHER THULE CARRY BAGS AND PRODUCTS