My lifelong fascination for the Swiss Army Knives, typically those by Victorinox, began when I was 9 or 10 years of age. This was in no doubt greatly influenced by the TV series MacGyver, which began airing in my country in August 1985.
Victorinox Swiss Army Knives were expensive those days – not something the average ten-year-old could afford – and they remain pricey to this day. But then, quality comes at a price, and Victorinox Swiss Army Knives are an epitome of this axiom.
As a kid, I would spend hours at retail shops looking through the glass cabinet doors, sometimes requesting for the knives to be taken out for my inspection, much to the chagrin of the salesperson who had hoped this little kid wouldn't have been so persistent.
I have a deep love for the Victorinox brand and its legacy, and kept in touch with some of the staff over at the Victorinox HQ in Switzerland during my teenage years.
At the age of 16, I wrote to them requesting for accessories and catalogues, and at 18 I sent them a letter with a design on incorporating a retractable tape ruler, and as a token of appreciation for my efforts, they sent me a SwissChamp with a removable Swiss watch.
The retractable tape ruler was never implemented, and as explained in their reply, Victorinox had felt the cost to manufacture this to be prohibitive. Perhaps they were just kind enough to lay it upon me gently, so as not to discouragingly disrupt the inventive spirit of a young lad (who incidentally grew up to be a mechanical engineer).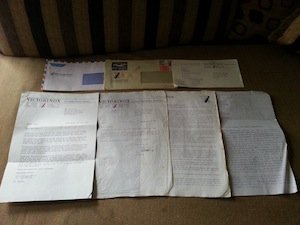 I still have all the letters and catalogues to this day. Yes…those days, emails and the internet were technologies unheard of. Snail mail was the way to go.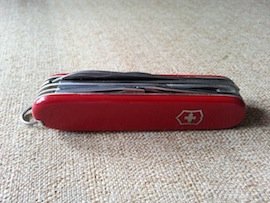 Incessantly bugging my dad for a genuine Swiss Army Knife over the years, daddy finally relented and got me my first Swiss Army Knife – the Victorinox Huntsman – when I was 12 years old. It was more than an early teenage kid could ask for.
I would have been thoroughly satisfied with a basic Standard or Spartan model, but a whole Huntsman?! It is hard to describe a joy such as this, for a wait that had taken so many years to be fulfilled.
I learned early in life to never give up asking or hoping to get something desired so badly.
"I brought my Huntsman to school every day since the age of 12 (final year of primary school) and throughout my 5 years in secondary school. The Huntsman had been confiscated by teachers and school prefects a number of times, but would always be returned to me at the end of the school day. No one had the heart to remove a Victorinox from a sweet lovely boy. I eventually found a way to conceal my Huntsman, and it was always amusing to see a few prefects spending a crazy amount of time going through my bag, pockets, desk, under the chair etc. searching for the elusive Huntsman. A spot check in my class had always seemed more like a prefect's personal vendetta than out of disciplinary duty."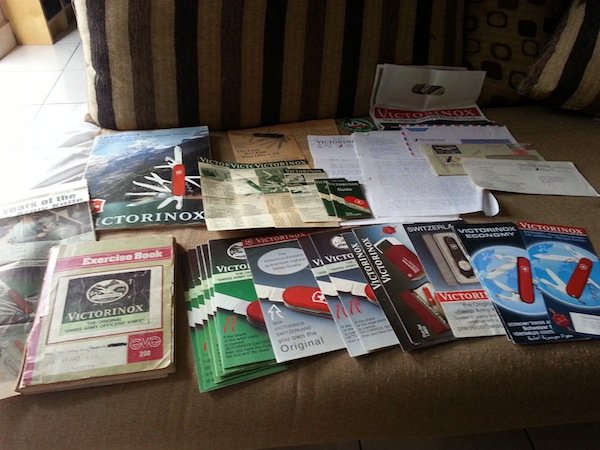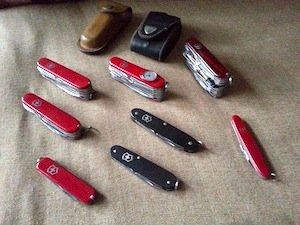 Over the years, I upgraded knives as my needs grew.
Once, I'd find that you need a pair of pliers, and maybe a metal file, so an upgrade was quite the next thing.
A Victorinox Swiss Army Knife accompanies me daily from my early secondary school days to this very day, every day without fail – except for days when I travel by air for single-day trips.
I have been carrying one every day for the past 25 years. It is hard to think of a day when I don't use it to carry out tasks or solve problems, whether those of mine or others.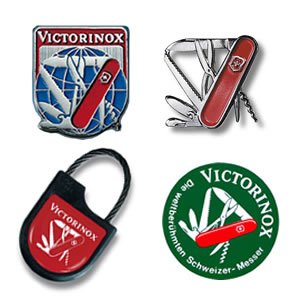 I still have the Huntsman to this day, and will list the knives I own down in chronological order below, with the estimated year of acquisition.
Not all are considered upgrades, and some smaller models were purchased for specific purposes. One model from the Economy series in my collection had been misplaced though.
The collection isn't a sizeable one, but each has its story to tell.
Victorinox Swiss Army Knives – A Quick Glance at the Collection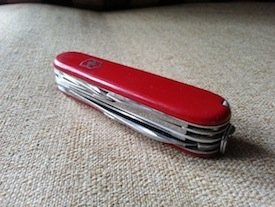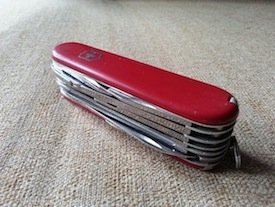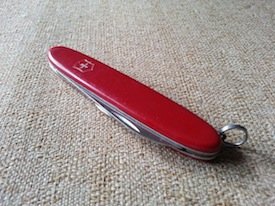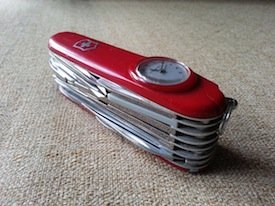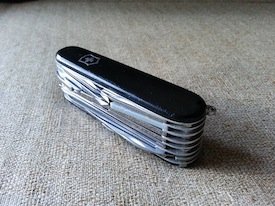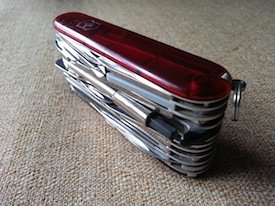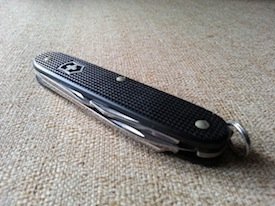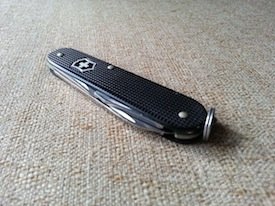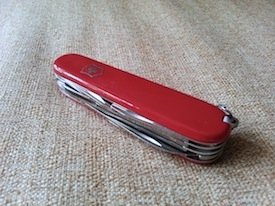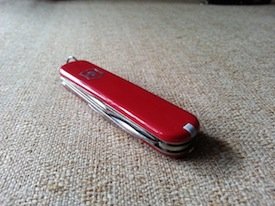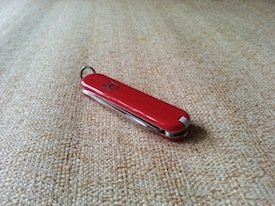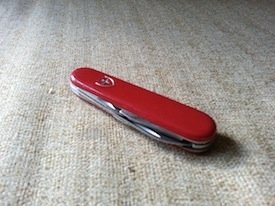 Huntsman, 1989
| | |
| --- | --- |
| | Victorinox Huntsman |
Dad bought the HUNTSMAN for me when he realised I wasn't going to give up asking for a Swiss Army Knife. This was my very first Victorinox, which literally made me a happy camper. It was a family trip on a weekend afternoon – we went to the NAAFI (Navy, Army and Air Force Institute) at TUDM Sungai Besi. A relative was working for the Royal Malaysian Air Force then, and we were extended the privilege of buying goods there where prices are below retail. I remember my family getting our first microwave oven there (these ovens were still quite new those days – only about 25% of households in the US had one), and the Huntsman sitting in a glass cabinet was selling for about RM90.00 from its then retail price of RM114.00. Today, the Huntsman sells for RM239.00 retail (ref. Ace Hardware 25 Jan 2015).
---
Handyman, 1991
| | |
| --- | --- |
| | Victorinox Handyman |
Mum doesn't usually like spending money on me, but she really surprised me on this occasion when she agreed to buy me the HANDYMAN as an upgrade over the Huntsman. The Handyman would eventually be the Swiss knife that accompanied me through my student years in Singapore in the early 90s. The large blade is one that would be most used amongst all the Swiss knives I own, evident from the excessive sharpening that has worn the blade narrower over the years. This was the blade that ultimately honed my knife sharpening skills, with practice on varying pressure and in keeping the grinding angle constant. The Victorinox sharpening stone (see below) was only used for this, sometimes with a Gerber Honing Oil.
The patented mini-screwdriver seen in the photo above did not come as standard with this model, and was a personal addition as an accessory.
---
Pocket Pal, 1993
| | |
| --- | --- |
| | Victorinox Pocket Pal |
Up until this point, all my Swiss Knives were either gifts from parents or from Victorinox HQ. PocketPal was the first knife I bought with my own money – not exactly my own money, but allowance given by dad.
I purchased this from Uncle Charlie, a man I was very fond of, who ran a shop called Paris down at Lucky Plaza along Orchard Road in Singapore. I used to visit his shop very often during my Singapore student days, and he was always generous with his discounts, perhaps out of pity for a boy who loved knives so much even though this boy couldn't afford much. I bought many other gear from Uncle Charlie, including torches and survival kits.
Sadly the shop is no longer in business, at least not in that location, and I'm not sure if he has moved. We have lost touch.
The POCKET PAL is a simple and very basic model from Victorinox, with only one large blade and one small blade. It was what I could only afford those days. This knife now sits in my violin repair tool case for use in bridge cutting and other wood whittling works, still functioning after 21 years.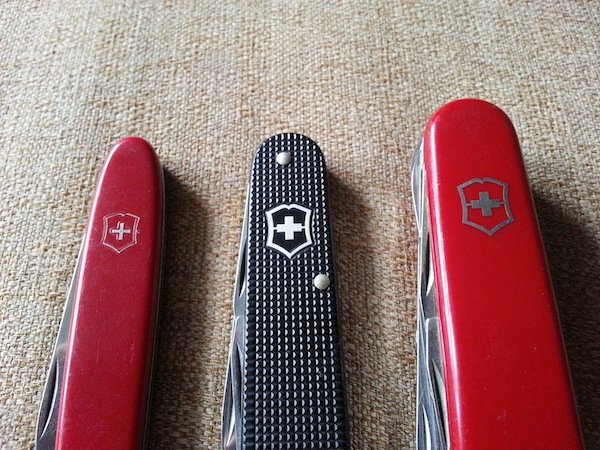 ---
Super Timer – SwissChamp with Swiss Watch, 1994
| | |
| --- | --- |
| | Victorinox Super Timer |
This marked an important milestone in my collection of Victorinox knives. I had sent an airmail with brief details and a diagram on incorporating a retractable tape measure into a Victorinox flagship model, and was pleasantly surprised when a reply of gratitude from Victorinox was accompanied with a token of appreciation for my meagre efforts (whatever an 18-year-old could come up with) in the form of the then flagship model SWISSCHAMP with SWISS WATCH, also known as SUPER TIMER.
The special thing about this model was that it came with a removable battery-powered watch embedded in its top scale. And not just any watch, for this one bore Arabic numeral markers.
All the models I have seen at retail shops so far had Roman numerals. Personally, I prefer Arabic numerals over Roman ones, and this unique markings made this model endearing and all the more special.
The following is the letter sent to me from the then-Sales and Export Manager Mr Walter Mathis which had accompanied this SwissChamp. The fourth paragraph states:
"Thank you for your suggestion to include a measuring tape. This idea is not new to us as we already have deposited a design within the International Bureau of Intellectual Property a number of years ago but we cannot take decisions purely on the point of view of ingenuity but it must be also handy and of irreproachable quality. Besides, any new part needs enormous investment in tools and machinery."
Nevertheless, thank you Victorinox…for equipping me with your flagship model in 1994.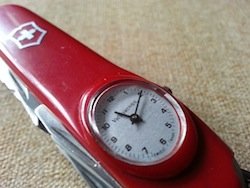 I had used this Super Timer for a very long time, from my college days in 1994 all the way through university in 1998, and beyond. The Super Timer had also accompanied me on my travels across eight European countries in the summer of 1998.
It is quite hard to understand the need for a multi-tool like this, until you carry and use one for a period of time. It grows on you, and becomes an indispensable part of your life.
I had misplaced this knife a number of times, not just at home but also when I'm out of the house, often falling out of my shallow pockets when I sit. I was always fortunate that I never strayed too far before realising it was missing on my person.
Twice, I accidentally brought this with me to the airport. On both occasions, they were single-day trips, and I wasn't checking in any luggage. The first time, I rented a small locker and kept just this Super Timer in there for the entire day, and retrieved it at night when I returned to the airport. The second time, again it unintentionally went with me to the airport – it's a habit of mine to always put it in my pocket before leaving the house! Luckily, I realised that before getting off the cab, and the cabbie was kind enough to drive ol' Super Timer home (all 60 km of the journey!) after dropping me off, and place it in my mailbox.
It came to a point when I got worried that I might lose it forever, and decided to retire it after 13 years of faithful service. An upgrade was in order, and this came in the form of the SwissChamp XLT purchased in 2007.
---
SwissChamp, 2000
| | |
| --- | --- |
| | Victorinox SwissChamp |
The SWISSCHAMP was bought in July 2000 as a gift for my brother who will be travelling to the US for further studies.
As a person who has carried a Victorinox Swiss Army knife for most part of life and especially through the student years (myself), I strongly believed that my brother could do well to follow suit. My brother is one who doesn't like spending money unnecessarily, so this SwissChamp was on me.
This SwissChamp is not exactly in my collection, but it's one bought with my hard-earned money for someone whom I felt deserved it.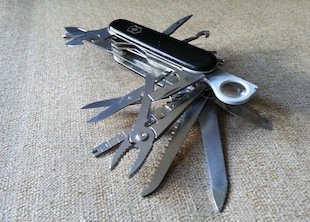 ---
SwissChamp XLT, 2007
| | |
| --- | --- |
| | Victorinox SwissChamp XLT |
The SWISSCHAMP XLT was purchased as an upgrade to retire my original SwissChamp above, and is now my EDC (Every Day Carry). Truly an EDC in every sense of those words, the SwissChamp XLT follows me everywhere these days, whether it is a brief walk to the car outside the house, or to my travels over seven countries across Europe at the end of 2013.
The SwissChamp XLT has seen me through thick and thin over the last 8 years, and for many years to come I'm sure. I have used every single tool on this model, including the spatula when I made coffee at a self-service counter at a hotel during a seminar. Somehow, the hotel staff had forgotten to include spoons for the guests.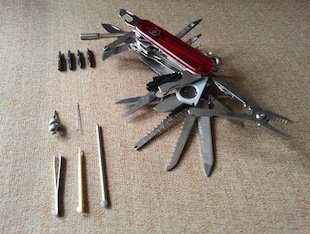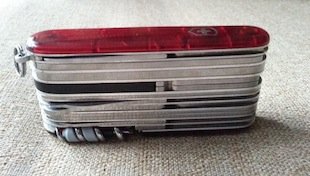 ---
Pioneer, 2007
| | |
| --- | --- |
| | Victorinox Pioneer |
I bought the PIONEER on a whim while I was shopping for the SwissChamp XLT above. This model caught my eye and was sold by the same online seller. Since I was having a larger Swiss knife sent to me, I though why not include another smaller knife along with it.
This knife now sits in my drawer just waiting to be used. It is seldom used, and hence remain in very mint condition even after 8 years.
---
Cadet, 2007
| | |
| --- | --- |
| | Victorinox Cadet |
The CADET, which resembles the Pioneer above (differs only in length and one bladed implement) was bought to complement my SwissChamp XLT. The two alox-handle knives mainly sit at home looking pretty. Sometimes they find themselves in a pouch or bag for quick utility use. But this particular one I leave in my bathroom for cutting open shampoo packaging and stuff.
Alox scales are a deviation from the common standard Cellidor scales of the Swiss Army Officer's Knives, but the anodised aluminium is always cool to the touch and is sturdy enough to take a good beating. Not that I would allow it to.
The model Cadet of today does not come with a key ring by default, but strangely the model I own sports one. Perhaps the older model does.
---
Classic SD, 2007
| | |
| --- | --- |
| | Victorinox Classic SD |
Surprisingly, I have bought at least 2 or 3 Classic SD in my life, and all seemed to have disappeared, except for this one.
This CLASSIC SD was purchased at the same time with the other few models above, and was meant as a gift for my wife, who always wanted a small Victorinox to carry in her purse. However, this Classic SD was hijacked by my mum when it arrived. My wife had to wait a little longer for her own Swiss Army Knife…
---
Executive, 2014
| | |
| --- | --- |
| | Victorinox Executive |
…and so she had to. A whole lot longer! She waited for 7 years before I finally bought her this EXECUTIVE model. For small models, I have always preferred the Executive over the Classic.
I find the Classic SD at 58 mm too diminutive in blade length, and the Executive at 74 mm has a number of additional tools that makes it all the more useful in a small compact package. The MiniChamp is another good small-sized model, and I suspect I will be buying that too, soon enough.
---
Mountaineer, 2015
| | |
| --- | --- |
| | Victorinox Mountaineer |
While the Executive model mentioned above is certainly a capable and functional multi-tool for its size, my wife eventually wanted something bigger, and the closest model in features and tools is the MOUNTAINEER.
It is similar to the Huntsman, but with a combination blade of nail file, nail cleaner, metal file and metal saw in place of the wood saw. The Mountaineer now also incorporates a multi-purpose hook, a tool which was not found in the earlier version of this model sold in the late 80s.
---
Economy, 1994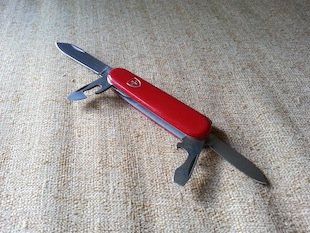 Other Victorinox Paraphernalia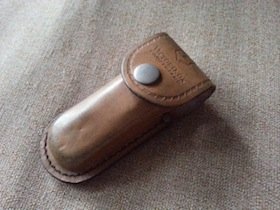 This brown leather pouch was the very first one I bought for the Huntsman. It kept the Handyman safe after that. And yes, I still have it to this day. Worn but still functional.
A green utility pouch (photo unavailable at present) was purchased to house the Handyman and SwissChamp when worn on the waist. Most times, these knives were carried with me in my pocket when I go out. The wonderful thing about this pouch was its many pockets that kept things such as a ruler with compass, matches, sharpening stone and other survival kit items in one place. I bought this more for keeping these items than for holstering the knife.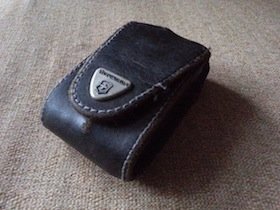 This black leather pouch was bought at the same time as the SwissChamp XLT, as the XLT was an abnormally thick model which wouldn't fit in any of the other two pouches above. The belt loop has worn over the years, and I have replaced it with another pouch to carry the XLT around.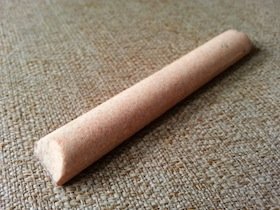 I find the sharpening stone from Victorinox to be very effective and easy to use, and use it not only to sharpen my Swiss Army Knives (which rarely need sharpening as I am always careful not to abuse the blades), but also the bigger blades in my collection of knives and bladed instruments.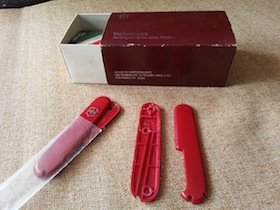 In the early 90s, Victorinox was very kind to send me replacements of the red cellidor scales, to replace those which had worn, and to install one which has the slot for the flat-head stainless steel pin. It was ingenious to include the pin into the scales just behind the cockscrew, for those times when a pointy object is needed. The pin has indeed been used countless times.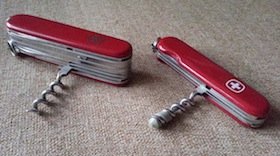 The tweezer and toothpick were the only standard detachable accessories found in the early Swiss Army knives during the 80s. The mini-screwdriver was included only in certain models, but I buy this separately to fit in all my knives with a cockscrew as this screwdriver has come in very handy in many instances.
The ballpoint pen came slightly later, but is a useful addition with most knife models.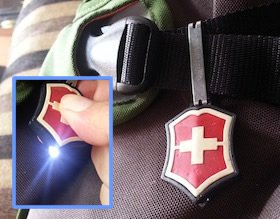 Here's a flat little LED flashlight from Victorinox that I have placed hooked securely on the strap of my Crumpler rucksack. The stainless steel hook is designed in such a way that it is unlikely to disengage accidentally or unintentionally. The big bold insignia of white cross over red, a familiar emblem, is a testament to the owner's affection towards this manufacturer of fine Swiss craftsmanship. This LED flashlight came bundled with one of the knives purchased above, quite likely the Cadet. It's been around for quite a while, and if you look closely, you would be able to see teeth marks on the red surface – bite marks from my doggie.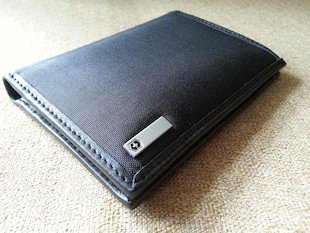 I was looking for a nylon wallet recently, and decided to get something from Victorinox. There are not many offerings from Victorinox when it comes to nylon with a coin pocket, and I only found one which fits the bill – the Victorinox Calgary. This nylon bi-fold wallet (right) was purchased in Singapore in February 2015. This is still kept in its box, waiting to be used one fine day. I am, at the moment, wearing down my Pacsafe RFIDsafe Z100 Bi-Fold Wallet.
Another Kind of Swiss Army Knife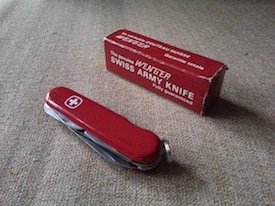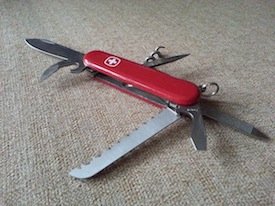 I have another Swiss Army Knife, one which is made by Wenger, which I bought in 1994 as it was at a promotional price. I cannot remember how much I paid for it, but would make a good first addition for a model from Wenger. This was is named the Alpine Backpacker.
The MacGyver Phenomenon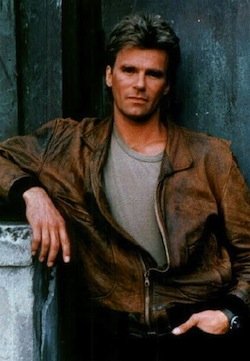 As mentioned above, Victorinox Swiss Army Knives became very popular when the TV series MacGyver began airing worldwide in the mid-1980s. In every episode, the programme title character would use his Swiss Army knife and put it to handy use to get him out of trouble. He used a Wenger only occasionally, but most times were models from Victorinox. The Swiss Army knife was featured so well in this TV programme that one would wonder if the company that made these knives had anything to do with the show. I sat religiously in front of the television for many years from the late 80s through to the early 90s, compiling a whole exercise book of MacGyver material with episode synopses, newspaper clippings, photos…including an "Obstacles and Solutions" section for each episode, listing down in detail his methods of getting out a fix using his Swiss Army knife. Each listing specifies the particular blade or tool used. Kids who were born in the 90s would have missed this, but these episodes could still be obtained via DVD in the links given at the bottom of this page or from here.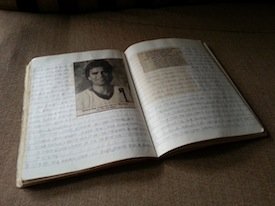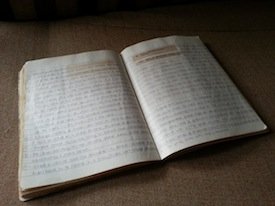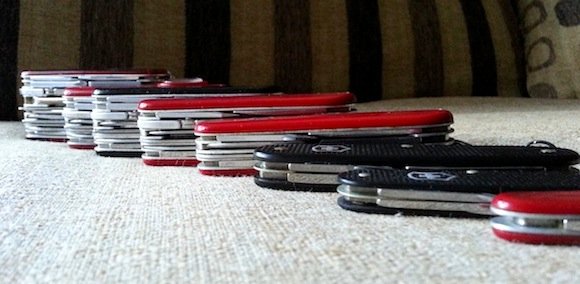 Many people have often asked me about the need to carry such a multi-tool out on a daily basis, but many a time these are the very same people who had first looked for me when an obstacle or problem occurs – one that can often be solved with a Swiss Army Knife. A Swiss Army Knife is an indispensable tool, and I always make sure one accompanies me in my travels, or even if it's just a quick trip out of the house. I know MacGyver would have done the same.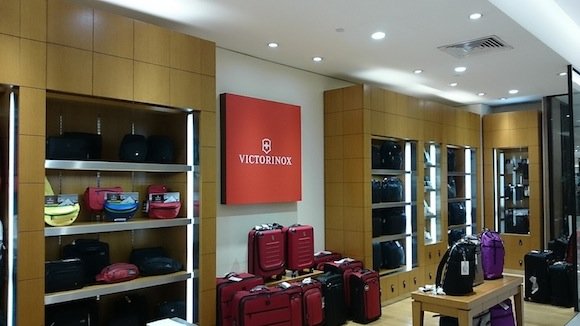 ---
VICTORINOX SWISS ARMY KNIVES on eBAY
VICTORINOX MODELS IN THIS COLLECTION
OTHER VICTORINOX MODELS OF INTEREST
ACCESSORIES FROM VICTORINOX
VICTORINOX LEATHER POUCH
MACGYVER TV SERIES on DVD
VICTORINOX SWISS ARMY KNIVES on eBay
---