This is an article on the Cold Steel Hold Out II, with photos and description of this knife.

DIMENSIONS:
Open Overall Length: 9 in
Closed Length: 5 in
Weight: 4.2 oz
BLADE:
Blade Length: 4 in
Thickness: 3.5 mm
Material: Japanese AUS8A Stainless Steel
Blade HRC: 58-59
Finish: Satin-polished
Grind: Flat
Style: Skean Dhu (Gaelic)
Edge: Plain
HANDLE:
Material: American G-10
Liner: None
LOCK:
I had first bought the Cold Steel Hold Out I which is reviewed here, and was impressed with the design and ergonomics of the knife that I decided a similar but smaller version could work well as an EDC (Every Day Carry).
With that in mind, I went ahead and bought the smaller sibling – the Cold Steel Hold Out II.
Much of what that has been written on the Hold Out I earlier applies to the Hold Out II as well, so this article will be a short one.
You may refer to the article on the Hold Out I for a review of its features.
The Hold Out series of knives by Cold Steel is fashioned after the Black Knife or Skean Dhu, after the knives used by ancient Scottish warriors. The Hold Out series of knives is Cold Steel's interpretation of this classic.
First Looks at the Cold Steel Hold Out II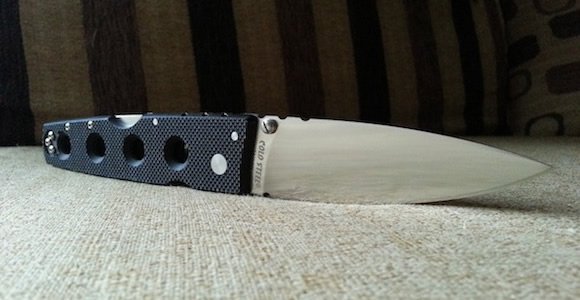 Get It On eBay
---
Brief Description of Features on the Hold Out II
The following are photos with brief description of the features of the Cold Steel Hold Out II.
A more detailed write-up of these features is given in the review of the Hold Out I, which sports similar parts and characteristics, mostly only different in terms of dimensions.
Kindly see the Cold Steel Hold Out I article for a more thorough account of these features.
The American G10 handle is lightweight yet stiff and strong enough without the need for a steel liner within for reinforcement.

Blade is made of 3.5 mm-thick
Japanese AUS8A steel with a
Rockwell Hardness of 58-59.

The Tri-Ad lock located on the handle spine is robust, with both hands required when closing the knife.

The Tri-Ad lock on the Hold Out II somehow requires less effort to depress than the one on the Hold Out I.

As with the Hold Out I, the thumb stud is not ambidextrous but may be removed and replaced to suit left- or right-handers.

Jimping on the spine is laid out quite well on the blade, and extends almost an inch-and-a-half into the handle.

Like the Hold Out I, the Hold Out II has a similarly stiff steel clip with the words Cold Steel engraved on it…

…which can be removed and replaced on the other side of the handle, or as in my case, removed completely altogether.
Comparisons in Size with the Hold Out I
This is best described visually in the photos below: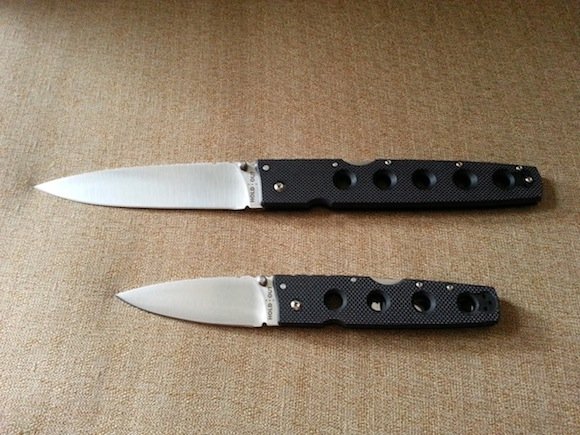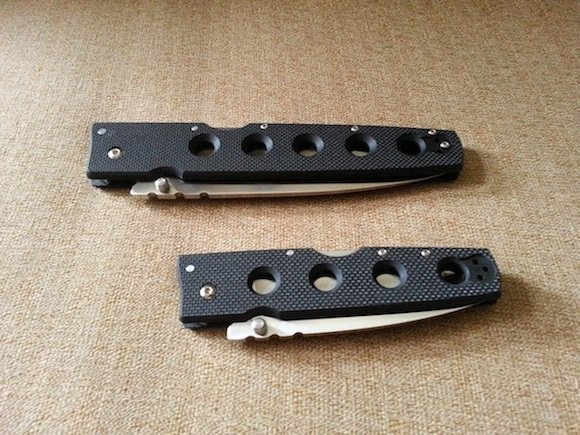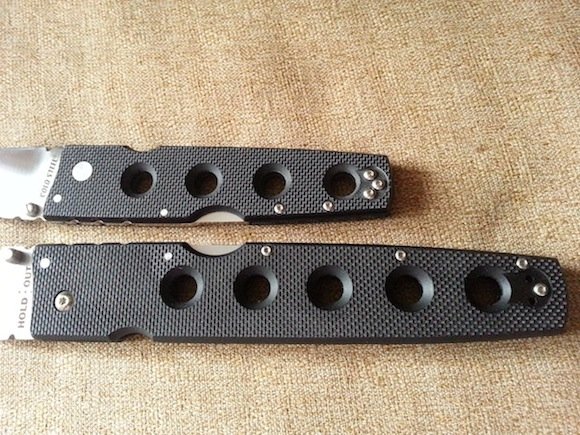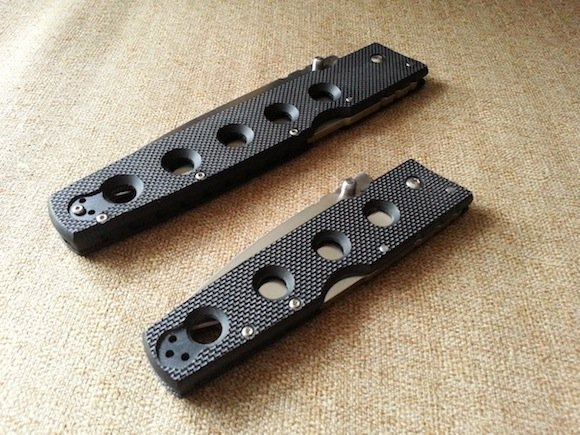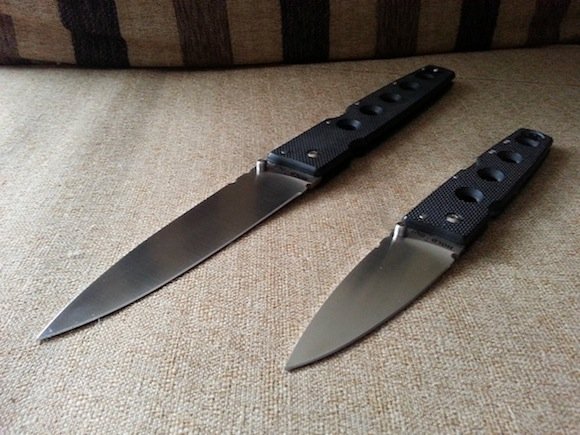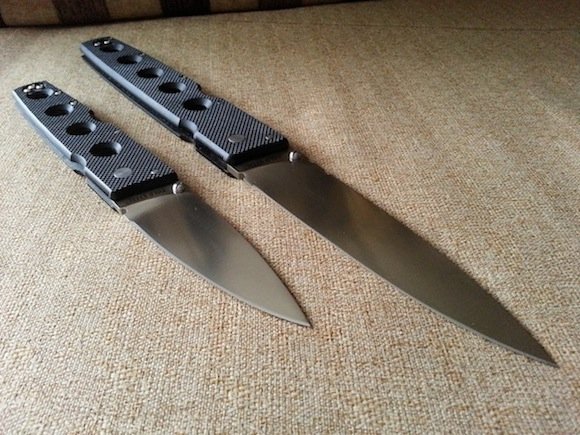 Cold Steel's President Lynn Thompson introduces the Hold Out Series
The Hold Out Knives Undergo Some Rigorous Tests
Conclusion
I have been carrying the Cold Steel Hold Out II daily for about a month now and it has certainly proven itself to be worthy of an EDC knife for me.
Its dimensions are just about right – a 4-inch blade is for me the ideal length for a tactical folder, which at this length is longer than a blade in a multi-tool (which is often about 3 inches in length), and shorter than a Bowie and other fixed-blade knives often at over 5 inches in length. 4-inch is great for making pocketable and yet practical folding knives!
At 4.2 ounces, the Hold Out II doesn't weigh down in your pockets, and the 3.5 mm-thick AUS8A blade spells tough, stiff and strong that can withstand some rigorous use.
The Hold Out II retails for US$115 and I got mine for a little less than that. That is a lot of knife for the money, a high performance folder that bears Cold Steel's trademark quality at great value. To buy this knife and other products from Cold Steel, please refer to the links below.
---
SEE ALSO:
---
COLD STEEL HOLD OUT KNIVES
OTHER FOLDING AND FIXED BLADE KNIVES
COLD STEEL HOLD OUT SERIES KNIVES
OTHER COLD STEEL KNIVES