This is an article on the Cold Steel Hold Out I, with photos and description of this knife.

DIMENSIONS:
Open Overall Length: 133/16 in
Closed Length: 73/16 in
Weight: 7.7 oz
BLADE:
Blade Length: 6 in
Thickness: 3.8 mm
Material: Japanese AUS8A Stainless Steel
Blade HRC: 58-59
Finish: Satin-polished
Grind: Flat
Style: Skean Dhu (Gaelic)
Edge: Plain
HANDLE:
Material: American G-10
Liner: None
LOCK:
Ohh I am on a roll, and this is the third blade that I am adding to my collection of knives this month. And it sure as hell ain't gonna be the last. Because, as much as the Cold Steel Hold Out I is lethal and strikingly gorgeous to look at, it's smaller sibling the Hold Out II is more portable and pocket-friendly.
And yes, I had just bought the Hold Out II as well – it is making its way to my place as I write this. [UPDATE: The Hold Out II has finally arrived and is my EDC these days!]
The Hold Out I, with its proportionally longer handle, feels like a mini-sword in the hand, especially in small Asian hands like mine.
The Hold Out series of knives by Cold Steel is fashioned after the Black Knife or Skean Dhu, after the knives used by ancient Scottish warriors.
With its slim and lightweight design, it is an ideal knife to be concealed within shirt sleeves or in socks. Not that I do, of course.
The Hold Out series of knives is Cold Steel's interpretation of the classic, and has become the personal favourite folder of Cold Steel's President Lynn C. Thompson.
First Looks at the Cold Steel Hold Out 1
Even in its closed position, the handle of the Cold Steel Hold Out I is a terrifying 7-plus inches long, and only hints of the menace which is concealed within.
Get It On eBay
---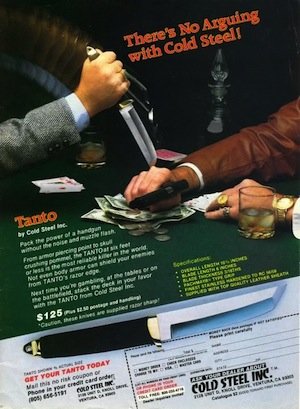 I first got to know about Cold Steel way back in the late 80s – one magazine ad featuring their famous San Mai III fixed blade tanto knives piercing through a car door was particularly memorable.
It seems Cold Steel is still doing pretty very well these days, and some of their older knives have reached collector status, demanding prices far above an average collector like myself could afford.
The Cold Steel Hold Out I is the largest of three knife models in the Hold Out series by Cold Steel. This knife also marks my first purchase and ownership of a product by Cold Steel, and I am glad to say that I am now a proud owner of a Cold Steel knife.
Let's look at some of the features of this knife.
Handle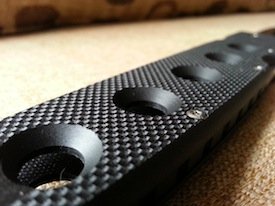 I'll start with the handle, as it's one of the most striking feature of the Hold Out series.
The CNC-machined G10 material and knurled grip design make it look somewhat Japanese – can't quite explain why but that's the impression I get! It's knurly handle is aggressively rough and well, grippy. Tender hands may find this a little harsh on the skin – almost feels like you could file off callouses on the ball of your feet – but a good grip in the hands is certainly assured!
Another important feature to highlight is that the G10 handle is stiff and strong enough without any steel liner reinforcement, making the entire knife very lightweight and carry-able at 7.7 ounces – certainly not an initial impression when you first look at how big this knife really is!
Blade
The blade is a remarkable Japanese AUS8A stainless steel with a Rockwell Hardness of between 58 and 59. At 3.8 mm, it is proportionally thick, and stiff-strong like all well-made Cold Steel knife products.
The strength of the blade is best demonstrated in the video attached towards the end of this article below.
The 3-notch jimping found on the spine of the blade extends well into the handle region by an inch and a half, with a further 3 notches.
Tri-Ad Lock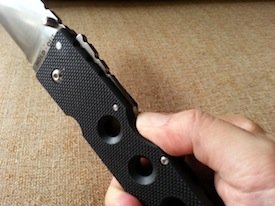 The Hold Out I and others in the series employ a Tri-Ad lock that secures the blade firmly in position.
The Tri-Ad lock is touted as superior to most other blade-locking mechanisms in the market, and keeps the blade locked without a wobble even after repeated abusive knocks and whacks of the blade against a hard surface. Again, this is demonstrated in the attached video below.
My only gripe with this locking mechanism is that it requires both hands to operate and close the knife. A rigid and truly reliable lock, at the expense of speed and convenience.
Thumb Stud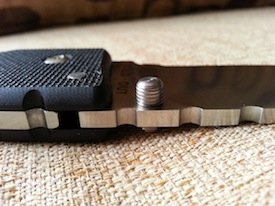 The thumb stud near the blade spine is slightly longer on one side of the blade and protrudes further out than the other side.
Nevertheless, the blade can still be comfortably operated with either hands, making the Hold Out I an ambidextrous knife. The reason for such a design is unknown.
A screw slot on the shorter side makes it possible for the thumb stud to be removed from both sides of the blade. I suppose with this, the stud could be removed completely and the longer side swapped to the other side of the blade, changing it from a right-handed knife to a left-handed one.
The thumb stud is designed with a screw-thread throughout, and the thread edges can be slightly uncomfortable on the thumb skin as the blade is being opened.
Belt Clip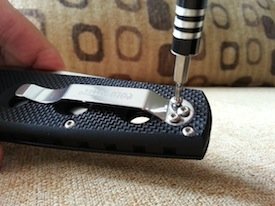 The belt clip with the words "Cold Steel" engraved on it, is a strong and stiff steel clip instrumental in keeping the knife firmly attached to your gear and bag side pockets. It is positioned in place on the handle by three small Torx screws, which makes it easily removable so that it can be installed on either side of the handle.
I usually prefer to keep my knives loose in the pocket, and chose to remove the belt clip completely.
Cold Steel's President Lynn Thompson introduces the Hold Out Series
The Hold Out Knives Undergo Some Rigorous Tests
Conclusion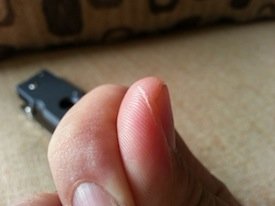 The Cold Steel Hold Out I sports a tough razor-sharp blade typical of Cold Steel knives. In taking the photographs for this article whilst closing the knife, the blade had accidentally "touched" (quite gently I might add) the skin on my thumb, resulting in a deep cut into the flesh. My initial guess that the cut was only skin-deep turned out to be wrong when I realised I could pull my flesh apart. You need only to handle a Cold Steel blade first hand to know how sharp it can be!
While the Tri-Ad lock has been proven to be a highly effective and robust locking mechanism (see video above), it is also difficult to operate and requires both hands when closing the knife.
If you're looking for a blade that can be quickly opened and closed with one hand, you're not going to experience such convenience with this knife.
However, if you're looking for a solid and reliable locking mechanism for tactical purpose, the Tri-Ad lock comes quite close in keeping the Hold Out I open like a fixed-blade knife!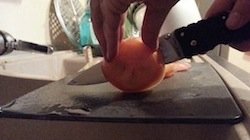 Being too lethal to carry around for everyday use, I thought I could use the Hold Out I as a kitchen knife instead. While its sharp blade is quite efficient in handling cuts, its thick blade isn't quite so.
One quickly realises that a thick blade is not ideal for such tasks as slicing tomatoes and onions. Believe me, I tried. The Hold Out I is just a tad too thick to be used as an all-rounder kitchen knife.
The Cold Steel Hold Out I is ultimately a beautiful and well-designed knife, but it isn't a blade that you would want to consider as an EDC given its very lengthy dimensions, unless you have literally very deep pockets and words like aggressive, menacing, hostile, and intimidating describe your style.
It is very lightweight for its size though, and makes a great tactical knife, which I believe is the purpose and target market for this knife.
To buy this knife and other products from Cold Steel, please refer to the links below.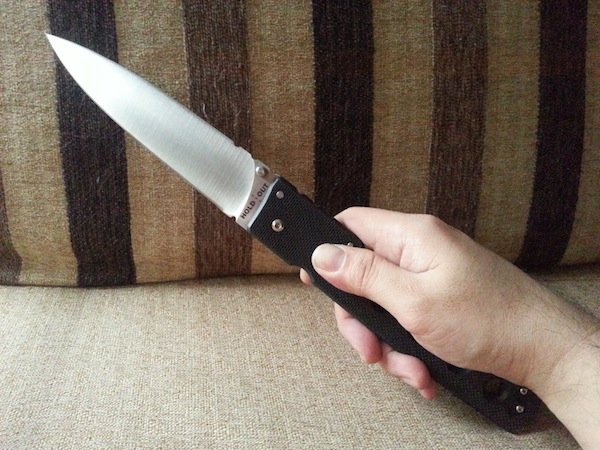 ---
SEE ALSO:
---
COLD STEEL HOLD OUT KNIVES
OTHER FOLDING AND FIXED BLADE KNIVES
COLD STEEL HOLD OUT SERIES KNIVES
OTHER COLD STEEL KNIVES