I have been using the MAPS.ME Offline Map and Navigation App for smartphones in my travels for more than 5 years now, and haven't found the need to find anything else better, simply because it is better than good enough and fits all my travel map needs perfectly.
MAPS.ME Offline Map and Navigation App was initially developed by Zurich-based MapsWithMe GmbH with a development office in Minsk.
In 2012, MapsWithMe came in first in the Startup Monthly competition in Vilnius. The team won a nine-week traineeship in Silicon Valley as a prize.
In November 2014, Maps.me was acquired by Mail.Ru Group to be integrated with My.com, and the app was made free of charge.
I first discovered this app when I was searching for a good offline map app for my Europe backpacking trip in 2013. Knowing that I won't have a data plan for my phone and that I will be at places without Wi-Fi, I know I couldn't rely on an online navigation map such as Google Map or Waze.
I found Maps.me (it used to be called MapsWithMe back then) on the Google Play Store – I was using an Android smartphone at that time. The app cost $4.99, and I found it be so good I purchased it for my iPad and my wife's smartphone as well. Downloading this app for 3 devices came up to quite a sum, but the good news is, this app is now free of charge to download and use (as of November 2014).
I will briefly run through the features of the app below, using the city of Melbourne as an example on my iPhone XR. The links to download this free app for your iOS or Android smartphones are provided at the end of this page.
MAP.ME App Features
A. Overview and Points of Interest
We first take a look at how the street maps are rendered on the screen, and the information that is made available for Points of Interest.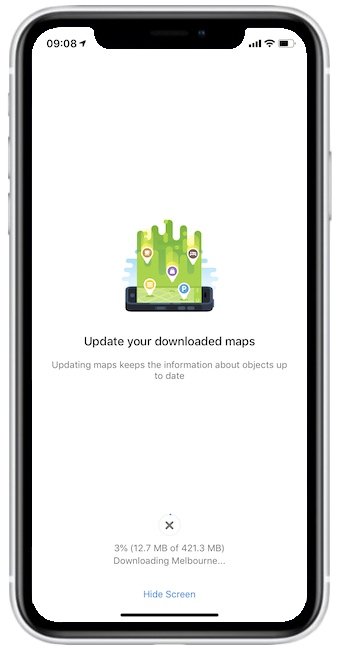 A1. The maps for nearly every important city in the world is available for this app, which are downloaded from within the app. These offline maps are filled with details and as such, some city maps can be quite large in file size. Depending on how much space you have in your device, you may want to download only the maps you will be using (or the cities you will be visiting).
For maps which are already downloaded, whenever new features or changes are introduced, the updated version of these maps are made available for download, as seen above.
---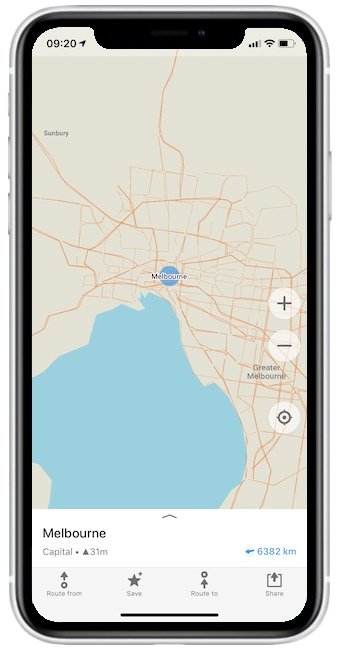 A2. We will use the city map of Melbourne in our examples below.
---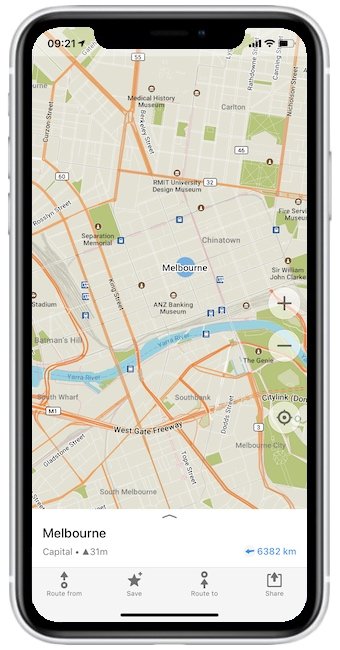 A3. The map is zoomable down to street level detail, by using your fingers to pinch zoom or via the "+" and "-" buttons on the right of the screen.
---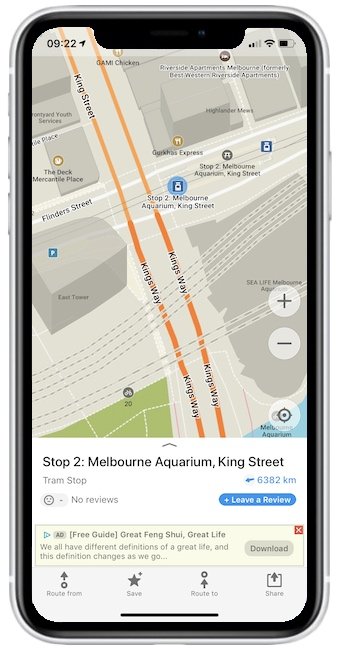 A4. You can also do a search for Points of Interest (POI) by clicking on the magnifying glass icon on the bottom left of the screen (not visible above). Here, we did a search for Melbourne Aquarium along King Street.
---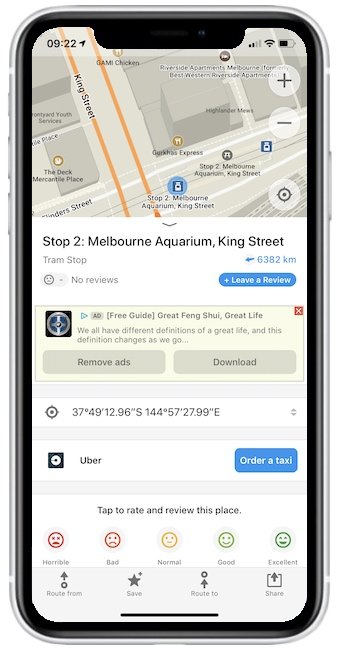 A5. Swipe the info panel up to reveal more information about the Point of Interest. You can also call for an Uber ride from here. Ads appear for the free version of this app, which can be removed by paying for the premium version.
---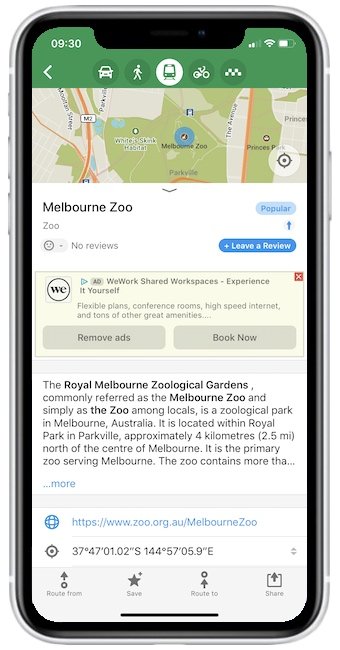 A6. Here is another Point of Interest – the Melbourne Zoo. The information about the POI is provided in a travel guide fashion.
---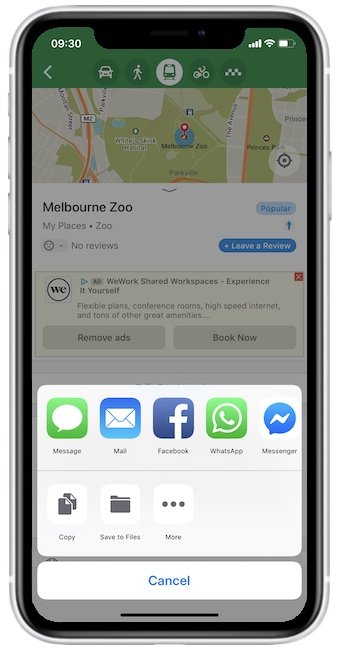 A7. Clicking on the Share button at the bottom right of the screen brings up the option of sharing this location with someone else via one of the communication apps such as WhatsApp, Facebook Messenger, email, or SMS.
---
B. Navigation
With Maps.me, you can also get navigation directions to your choice of POI. In the example below, we set our course for Queen Victoria Market from Flinders Street Railway Station. To start, first do a search for your POI (using the magnifying glass icon as we did in A4. above. After that, click on the Route to button in the option at the bottom of the screen. If your GPS or Location Service is turned on, the app will automatically plan a route from where you are standing to this POI. If your GPS is turned off, the app will ask to Add a starting point to plan a route at the bottom of the screen.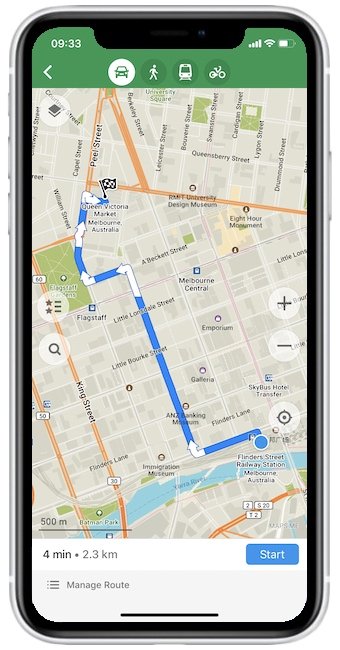 B1. In the screen above, we see a route planned from our selected Point of Origin to our Point of Interest. With the Car icon selected at the top of the screen, the blue solid line shows the driving route to the destination.
---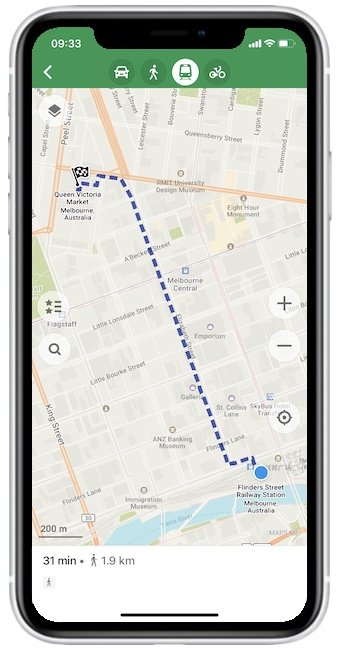 B2. Select the Walking icon to show the route to be taken on foot. In the screen above, selecting the Transit icon also showed the walking route (indicated by the dashed line), as Transit information was not available at time of writing.
---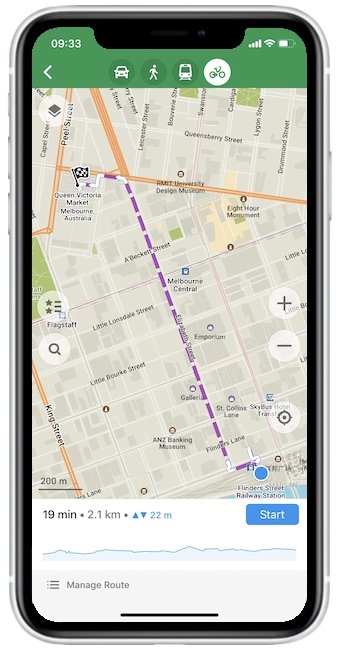 B3. Select the Bicycle icon for the best-suggested route by bike (which in this case is similar to the walking route).
---
C. Guides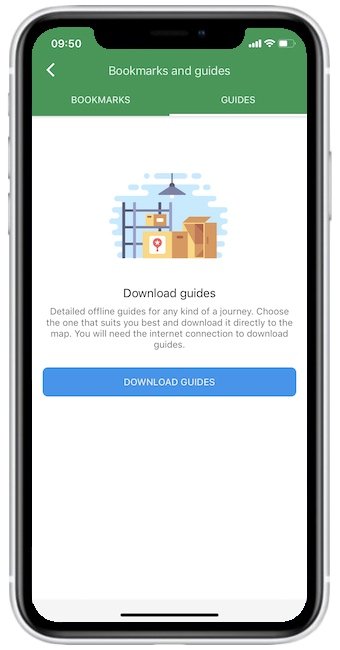 C1. Look for the Guides section within the app to download offline guides that offer suggestions for places to visit for sightseeing and detailed information about specific POIs.
---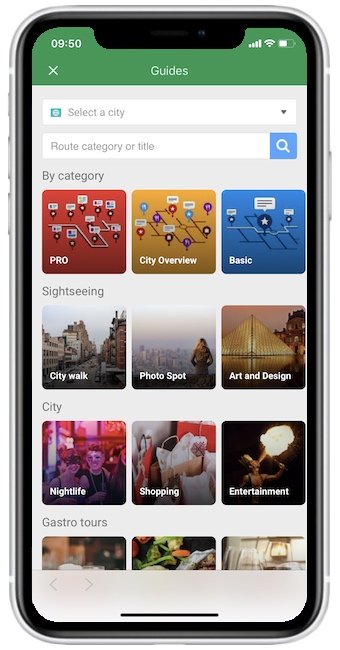 C2. Choose by category, from city overview and sightseeing to shopping and nightlife. There are also Gastro Tours for certain cities.
---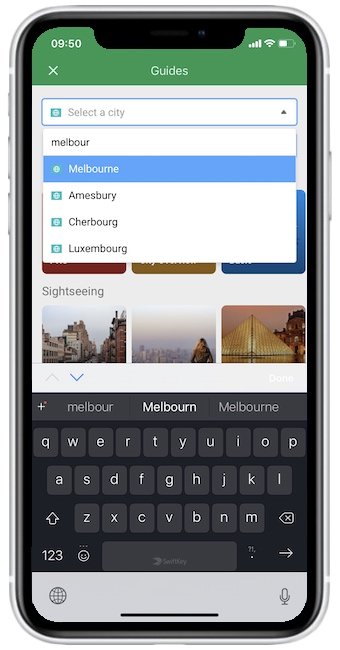 C3. Go to Select a city at the top and key in the name of the city you wish to explore. Since we're at Melbourne…
---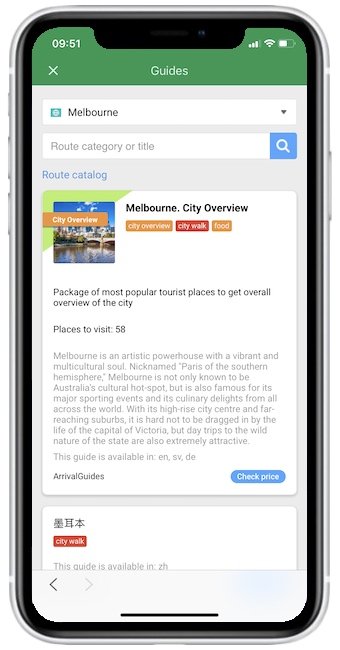 C4. A list of guides will be shown for the city of choice. While most are free downloads, the first one shown here is a paid guide. Click on Check Price…
---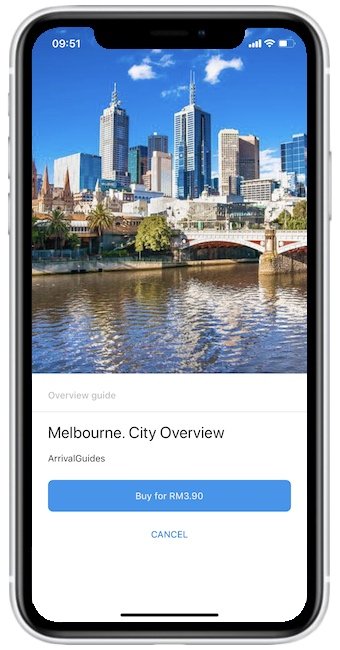 C5. …to see the price of the guide in your local currency. For RM3.90 (US$0.99), it is quite reasonable.
---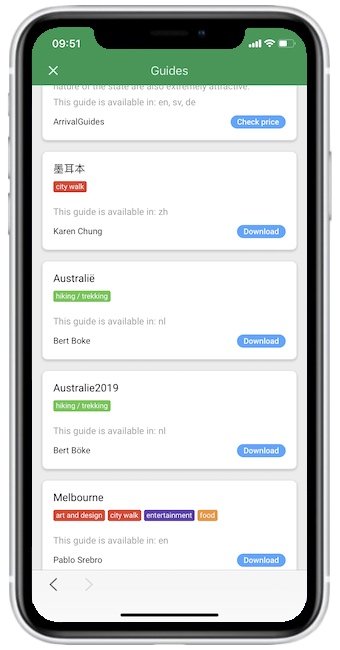 C6. Check out the other free guides to see if any suits you.
---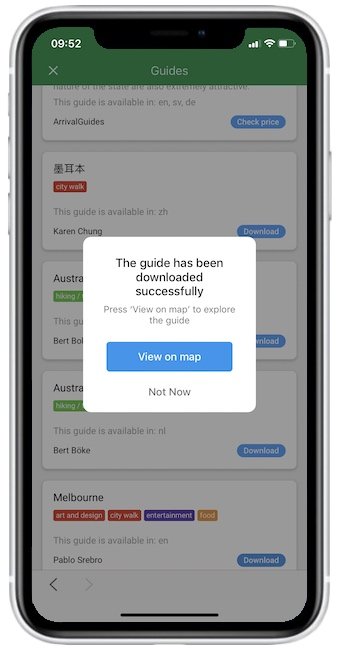 C7. Many of the free guides were created by other app users who would like to share their favourite POIs with other app users. Clicking on View on Map…
---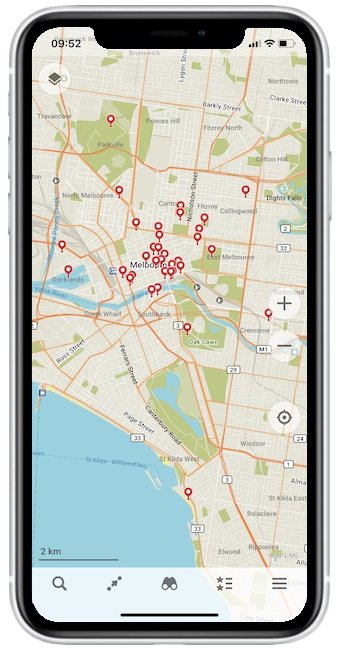 C8. …pull up the main map with pins where the suggested POIs are. You can there use the navigation feature of the app to guide you to these places.
---
Key Features of Maps.me
Maps.me is quite a simple travel app to use. Its advantage is it does not require a data plan or internet connection during use.
However, you will need to download the maps of the cities you are planning to visit with your home internet connection before leaving for your trip. If not, you can always use the WiFi at your hotel room or a cafe to download the maps and guides.
With an offline map complete with POIs and information, you only need to turn on your GPS (Location Service) on your smartphone, and you'd be ready to explore a foreign city.
Here is a summary of the key features of this app:
Free offline maps that work without an internet connection or data plan when you're travelling in a foreign country
120 million downloads around the world
12 million users monthly choose Maps.me for their trip
70 million Points of Interest across many different countries
Travel guides available as in-app downloads to explore over 600 cities on your own
Hotel bookings available right on the map
Ridesharing (Uber) bookings option within the app
Download Links
The Maps.me offline map app is available for both iOS and Android, and can be downloaded from the respective App Store and Google Play. If you're reading this page on your smartphone, you may click one of the buttons for your device below to head to the store to download this app for free, directly to your mobile device.
---
iPHONES
TRAVEL STORIES for KINDLE
---
SMARTPHONES AND MOBILE DEVICES