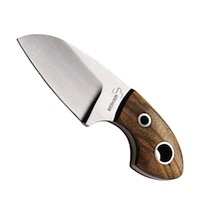 This is a collage of the Boker Plus Gnome Olive, with photos and description of this knife. If you have arrived here from a search engine, kindly note that this article is linked from The Devon Buy Collection of Knives and Bladed Instruments. To open the main page in a new browser tab, click here. […]
Continue reading...

As shown in the photos above, we have an example of a crack that runs about 2 inches above the left f-hole of a viola. There are two ways to go about this: The proper way would be to remove the entire top by separating it from its ribs, apply animal glue to the crack […]
Continue reading...

WHAT YOU WILL NEED: a 3 mm-thick fiberboard or particle board of dimensions as large as you want the knife to be, from handle tang to the tip of the blade regular creaseless kitchen aluminum foil a block of timber wood of at least 150 mm (L) x 60 mm (W) x 40 mm (D) […]
Continue reading...