Having recently bought the 11″ MacBook Air, I was in the market for a suitable bag for transporting it from place to place. I had scoured many shops, computer and non-computer shops, for such a carry case, and had set criteria that the case had to:
Be not much bigger than the MacBook Air 11″ otherwise it defeats the purpose of carrying a highly portable device in the first place.
Be lined with a plush interior that could keep the aluminium surface of the MacBook Air safe from scratches, which meant that there should not be any hook, latch or zip in the interior compartment.
Be of a durable material on the exterior so canvas or nylon is ideal, and in this case, nylon being preferred for its lighter weight.
Have sufficient basic pocket space for a Magic Mouse and the power adapter, at the very least.
There were not many choices available that met all the criteria above, and dismissing a similar model by Tucano (see links at bottom of page), I finally settled with one by Incase. The Incase Sling Sleeve for MacBook Air 11-inch. Let's take a look at a few photos.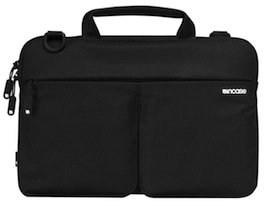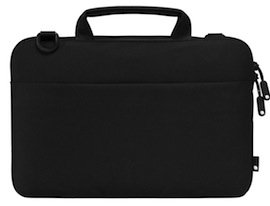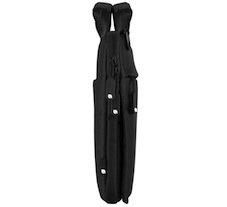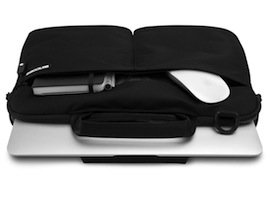 The Incase Sling Sleeve for MacBook Air 11″ retails online for USD40. However, I had purchased it off a retail shop for approximately USD80. That's twice the usual price; call me silly but I had wanted to buy it the old-fashion way and to walk out of a retail shop with it in hand! Plus, I needed it real quick and couldn't wait for the normal delivery time an online purchase would take.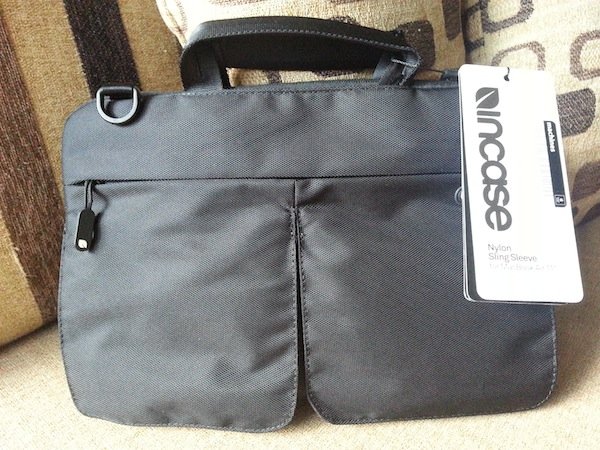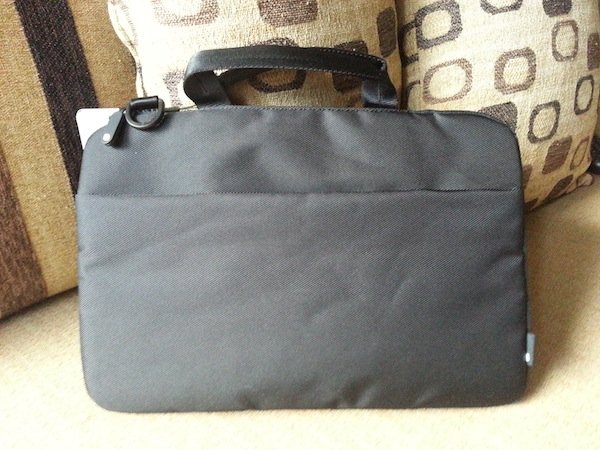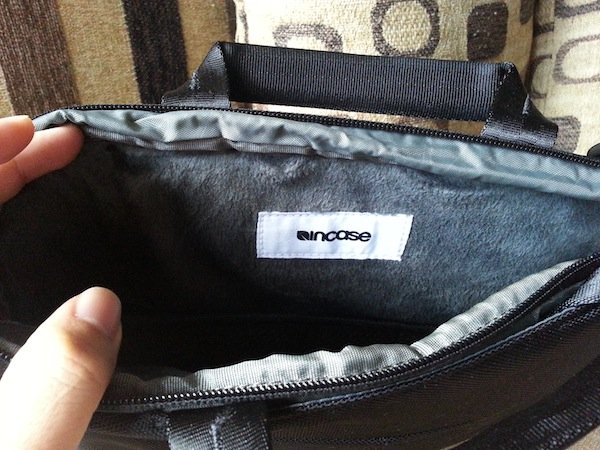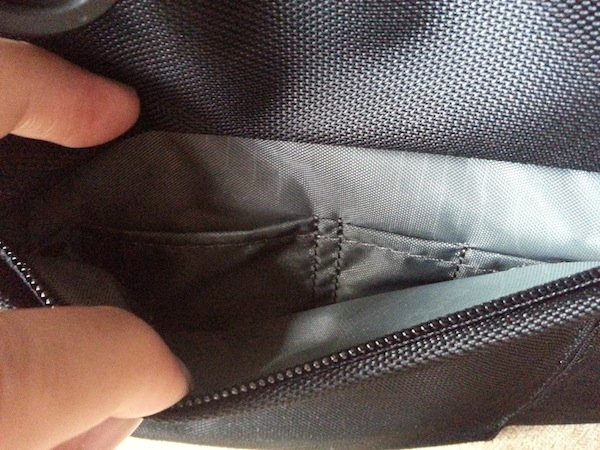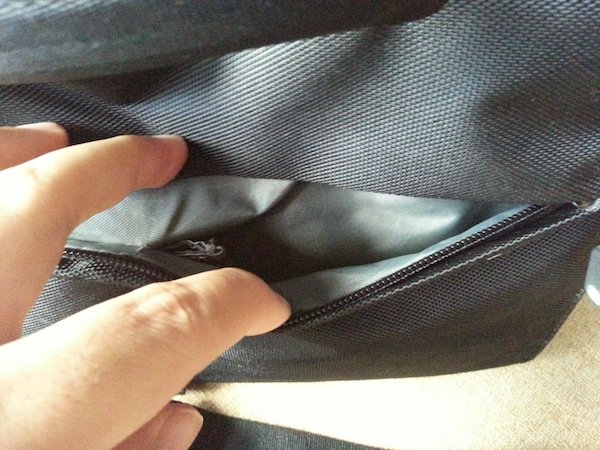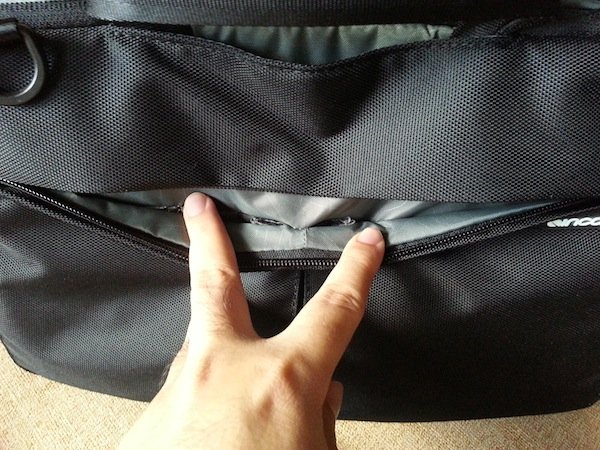 Another important feature is two minor compartments which flank the main compartment at the top, allowing the handles to be stowed away, effectively converting the bag into a sleeve. I sometimes carry a leather bag to work, and having a sleeve means that I could carry my MacBook Air within my leather bag protected by the Incase Sling Sleeve without the handles getting in the way. That way, I do not need to invest in another sleeve case.
Think of this as a two-in-one – A sling tote bag and a convertible sleeve. Simply fantastic!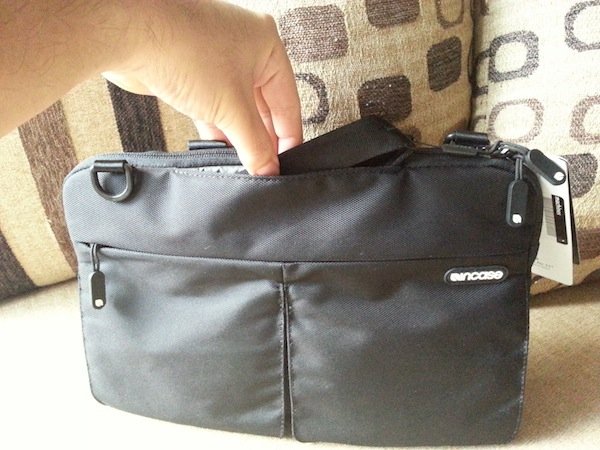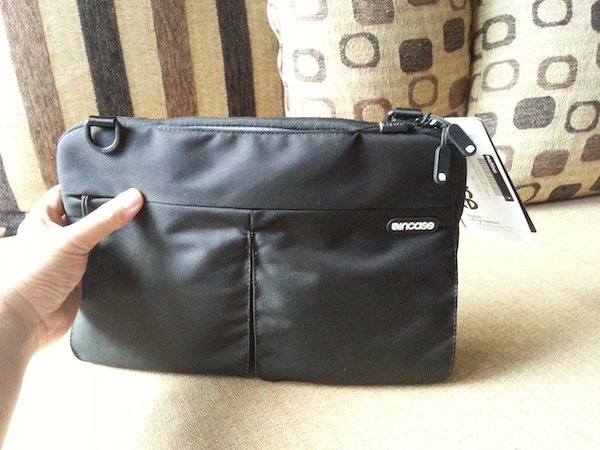 "Love my Incase Sling Sleeve for MacBook Air in more ways than one.
Small yet stylish.
Casual yet formal.
Looks great with more features than meet the eyes…"
– Devon Buy, September 2013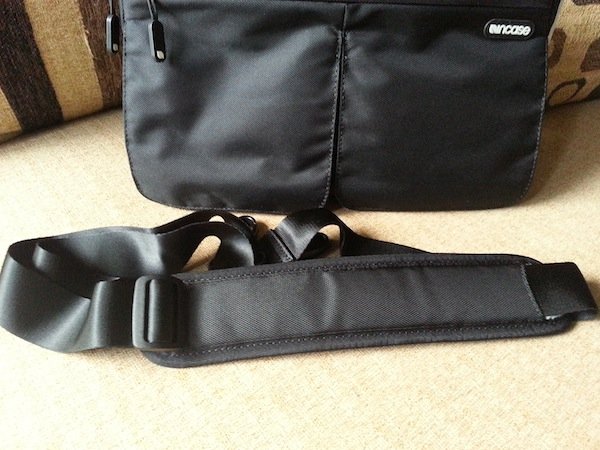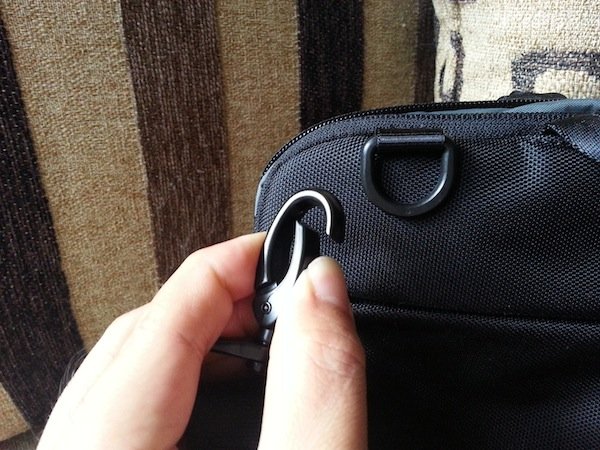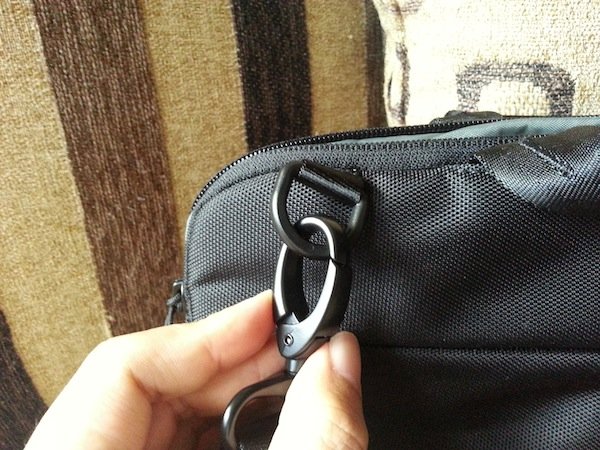 I love the Incase Sling Sleeve for its simplicity in design and yet effective function and features. It packs tightly, especially with the adaptor in, and serves as both a sling tote bag and sleeve. I think I paid an unreasonably high price for it (a penalty for my impatience), but at the price found online as given in the links below (subject to availability – product may be out of stock), it is a worthy recommended buy.
See also Thule Gauntlet series for MacBook.
---
INCASE BAGS FOR LAPTOPS
INCASE SLEEVE SERIES FOR MACBOOK AIR 11″