What is there to know about TV wall mounts, really?
If you're looking for one, there are a few things to consider before heading out to buy one. I will touch on this shortly.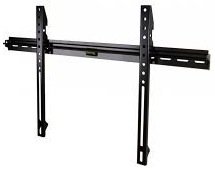 Recently, in an endeavour to remodel my home, I found that the Panasonic Viera Plasma TV which has been sitting on the console for the last 5 years would be more ideally placed on the wall. Where I live, the reputable branded ones available were OmniMount and Sanus. OmniMount was sold at Best Denki outlets, and Sanus could be found at Harvey Norman. There was a moment of OmniMount vs Sanus for me. In the end, I went with the OmniMount OC150F Extra Large Fixed Mount (see right) – a basic flat one without tilt and swivel adjustments. The product proudly declared that it was "designed and engineered in the USA" and was a convincing push factor, I should add. But as with most products, they are often made in China, and this product was no different.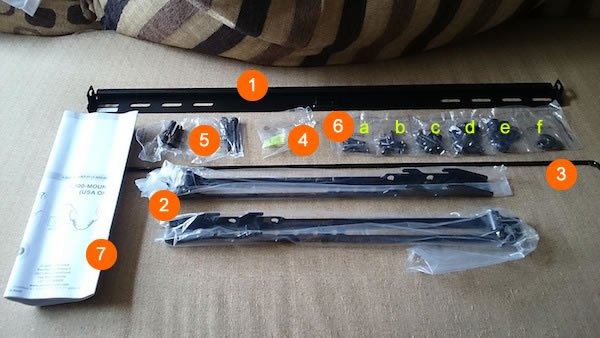 The OmniMount OC150F Extra Large Fixed TV Wall Mount set includes (refer to numbers in the photo above):
wall plate (1 no.)
vertical rails (2 nos.)
locking bar (1 no.)
bubble level (1 no.)
8-mm lag bolts, steel washers and wall anchor/plugs (2 sets)
screws and hardware for flat panel
a. Philips screws M4 x 15mm (4 nos.) and M4 x 30mm (4 nos.)
b. Philips screws M5 x 15mm (4 nos.) and M5 x 30mm (4 nos.)
c. Philips screws M6 x 15mm (4 nos.) and M6 x 30mm (4 nos.)
d. Philips screws M8 x 15mm (4 nos.) and M8 x 30mm (4 nos.)
e. round spacers M6 – M8 x 5mm (4 nos.) and M6 – M8 x 10mm (4 nos.)
f. round washers M4 – M5 (4 nos.) and M6 – M8 (4 nos.)
instruction manual
The Variables
In the process of buying a TV wall mount, the following were some of the things I learned – information you may need to know before going out to buy one.
Type
Before moving on to the factors and specifications further below, you will need to decide on which of the following types of flat panel TV wall mounts would suit your purpose best:
Fixed/Flat Type

The benefit of the fixed/flat type is that it keeps the flat panel TV closest to the wall (about an inch between rear of TV panel and wall), effectively making it the most low profile in appearance amongst the four types presented here. It is also the simplest to install, and is the cheapest amongst the four types. This type is also suitable for smaller living rooms, and when multiple viewing angle is not required.
Tilt/Flat Type

The tilt/flat type is similar to the fixed/flat type above, except that it is tilt-adjustable in one plane, upwards and downwards (on average about 12- to 15-degrees) from its flat position. This is useful in applications where the TV has to be mounted on a higher-than-normal viewing angle, e.g. above a fireplace, cabinets or other obstructions in front of the mounting wall. The ideal viewing angle is at eye-level, and the tilt/flat type allows for compensation when eye-level viewing is not possible. The tilt/flat type also makes it possible to adjust the angle of the TV to prevent glare and unwanted light reflections from windows and other light sources.
Tilt/Swivel Type

The tilt/swivel type allows the flat panel TV to be adjusted for multiple viewing angles left and right, often when either the living room is large, or if the TV is required to be viewed from an adjacent space such as from the dining room. It also allows the TV to be permanently positioned at a tilt sideways away from a window or light source, to prevent unwanted glare.
Swivel/Cantilever Type

The swivel/cantilever type allows for the maximum adjustment of position and freedom of movement, and depending on the size of the TV, is capable of a full sideway position (with the TV perpendicular to the wall). This is similar to the tilt/swivel type mentioned above, but with a greater degree of flexibility. In some models such as the one offered by OmniMount, the height of the TV is also adjustable.
Size
Once the type of TV wall mount has been determined, the next step is the model selection based on known specifications of your TV. Obviously, the size of your flat panel TV will determine the appropriate size or length of the TV wall mount to purchase. Each wall mount is sold to cover a range of TV sizes measured diagonally, and the common ones are 17″ – 52″ and 37″ – 80″.
In my case, I had a 42″ Plasma TV, and both ranges were applicable. The main difference between the two, aside from the size to which they cater, is the horizontal length of the wall mount. In the end, I went with the larger range of 37″ – 80″, for two reasons. First, I needed my TV to be sometimes installed biased to the left, and sometimes biased to the right. To be honest, the reason for this was because I hadn't decided exactly where the TV will be placed – at the centre of the air-cond unit above, or aligned to the centre of the sofa. So happens both these items don't align centrally in my living room, and I may just decide to go with one or the other, depending on mood and changing preferences over time.
Second, there is a high chance I could upgrade to a larger TV panel in the very near future, likely in the range of 55″ to 60″. It just made better sense to go with the larger range for this reason.
Loading Weight
Another factor to consider is the loading weight. Most TVs these days are LED panels, which relatively lighter than the Plasma TV I owned. Nevertheless, it is best that you obtain this information before heading out to pick a TV wall mount. If your TV is of a new model, you could probably refer to the box of your TV model at the shop. If your TV is no longer in the market, just refer to another TV model of similar size at the shop.
The OmniMount OC150F which I bought above has a maximum weight capacity of 68 kg (150 lbs), and since it would fit a maximum screen size of up to 80 inches, I was sure that my 42-inch flat panel TV falls within that weight capacity. But in any case, best to know to be sure.
VESA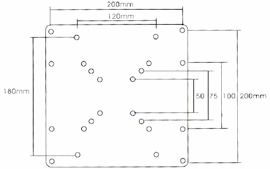 VESA stands for Video Electronics Standards Association, and is an international non-profit corporation which supports and sets industry-wide interface standards for TV displays, PCs, workstations and consumer electronics. If your TV follows the VESA standards (which is very likely the case), you can be quite certain the wall mount which also follows the VESA standards will match the holes for mounting (right) at the rear of your TV panel, if the right wall mount size (discussed above) is selected.
The OmniMount OC150F complies with the VESA standards.
Wall Type Mounting
Finally, though not a critical factor, you will need to know the type of wall the TV will be mounted on, whether on a cement-board (cemboard) wall (i.e. wood stud installation), or concrete or brick wall (i.e. solid wall installation). Both require slightly different tools for installation, and sometimes different type of screws. However, most TV wall mount models these days cater to both types, as was the case with the OmniMount OC150F which I had purchased.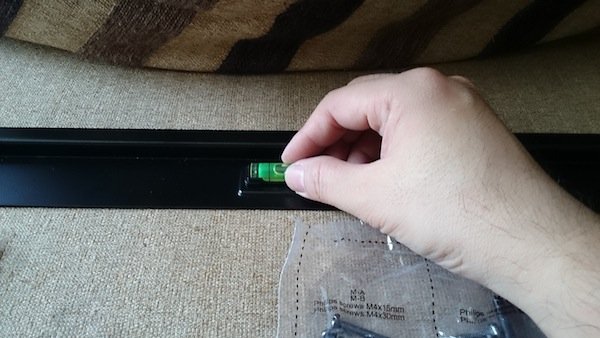 Other than a minor quibble with the bundled bubble level mentioned above, the OmniMount TV Mount OC150F was sturdy, well-built, and of great overall quality. Installation was certainly made easy with the bundled complete set of screws and hardware. One is sure to find a suitable TV wall mount from the selection of many different models and versatile mount types offered by OmniMount.
At time of writing, four types of OmniMount TV Mount sets were available: Fixed, Tilt, Full Motion, and Interactive. More information can be obtained from OmniMount USA and OmniMount UK.
---
FLAT SCREEN WALL TV MOUNTS
OMNIMOUNT TV WALL AND CEILING MOUNT OPTIONS
SANUS TV WALL MOUNT OPTIONS