I recently came across a flashlight whilst browsing the web, a flashlight which caught my attention because of its bold claim – a single LED with a maximum output of 960 lumens! I knew then that my 210-lumen Nu-Flare Rebel 90 Flashlight was already very bright, and to come across one which also runs similarly on two CR123A batteries powering a single LED, but outputs more than 4 times that intensity, was something I just had to try and see for myself. Even though I (really) had no need for another flashlight, it didn't take long before I placed an order with Amazon. Call it an impulse buy, but you will see why shortly, what makes the Nitecore SRT7 Revenger the much coveted flashlight that it is.
Read on for an in-depth review of the Nitecore SRT7 Revenger.
Unboxing the Nitecore SRT7 Revenger
The delivery from Amazon was speedy – less than two weeks from order to travel halfway around the world. Seriously, it was a wait in keen anticipation, and when it finally arrived, I couldn't wait to rip the package apart. Gently. Here goes!
Trying the Bundled Accessories on for Size!
Tactical Ring
Titanium-plated Stainless Steel Clip
Nylon Holster
Replacement Tail Switch Push Button
Dimensions and Features at a Glance
The following is a summary list of features of the Nitecore SRT7 Revenger:
purpose-designed for law enforcement, hunting and tactical applications
the world's first line of flashlights to feature 3rd-generation Smart Selector Ring technology to smoothly and rapidly select brightness levels and six other functions
utilises the latest CREE XM-L (XM-L2 T6) LED for a maximum output of 960 lumens
2nd generation Crystal Coating Technology combined with Precision Digital Optics Technology provide extreme reflector performance
boasts a peak beam intensity of 23,256cd and throw distance of up to 305m (ANSI FL1)
high efficiency circuit board provides up to 200 hours runtime on lowest output level
equipped with unique tri-colour RGB tactical and signalling LED lights
infinite brightness adjustments from 0 to 960 lumens
dual-purpose power indicator light displays remaining battery power and ON status
patented spring-loaded impact absorption mechanism with reverse battery polarity protection
stainless steel titanium-plated two-way clip, tactical ring, lanyard, holster and spare O-rings and push button as bundled accessories
stainless steel retaining ring protects core components from damage, and can be further extended with a crenulated bezel sold separately
toughened ultra-clear mineral glass with anti-reflective coating
constructed from aircraft grade aluminium alloy
robust HAIII military-grade hard-anodised barrel
waterproof in accordance with IPX8 (submersible up to 2m)
impact resistant to 1.5m
tail stand capability
Nitecore SRT7 Revenger – The Tailcap and Barrel
The Nitecore SRT7 comes in two colours – Law Enforcement Black and Military Grey. I was inclined to go with the Military Grey at first, but as I was buying online without a first hand feel of the actual item, I wasn't sure how dark the grey will turn out to be. I would prefer a very dark grey, and it's hard to judge the various shade levels of grey from photographs available online. In the end, I decided to play it safe and go with Law Enforcement Black instead.
An important feature which I require in all my flashlights is that the tail switch push button can be depressed halfway for a momentary on operation. Fortunately, the Nitecore SRT7 works this way, unlike some flashlights in the market which require a full depress with a click in order to turn them on. From experience, I find momentary on capability to be very useful and handy in real world applications.
Nitecore SRT7 Revenger – a Head Examination
Other interesting notes on the head:
The stainless steel retaining bezel ring protects the core components from damage, and can be extended in its purpose by fitting a crenulated bezel, sold separately.

The crenulated bezel, when fitted, appears as shown left below.

The toughened ultra-clear mineral glass with double-sided anti-reflective coating ensures the highest optical efficiency and light transmittance.
The reflector manufactured based on second-generation crystal coating technology with precision digital optics technology results in a peak beam intensity of 23,256 cd and a throw distance of up to 305 m (ANSI FL1).
The latest CREE XM-L2 T6 is used as the main central LED, capable of a maximum output of 960 lumens, with a 10-15% increase in efficiency over previous XM-L series LEDs.
Integrated with three tri-colour LEDs for various tasks and applications, which will be discussed in the next section.
Nitecore SRT7 Revenger – Dual Purpose LED Power Indicator Light
Nitecore took the trouble to incorporate a power indicator light on the lamp head. This tiny and inconspicuous red LED blinks every 2.85 seconds when in standby mode (tail switch on, at 0 lumens). This serves to indicate that the flashlight is on or that the tail switch is already depressed and activated. The power indicator light will also blink when in turbo mode (tail switch on, at 960 lumens) to indicate that battery has reached 50% level.
The power indicator light blinks more rapidly (once every 0.08 second) to indicate a weak battery, as shown:
The Crux of the Nitecore SRT7 – The Smart Selector Ring
"The Smart Selector Ring makes selecting a function straightforward, and more importantly, keep that function activated for the next operation after a switch-off."
One of the main reasons which prompted me to go ahead with the purchase of the Nitecore SRT7 was its Smart Selector Ring. The Nitecore SRT7 is one of the few flashlights in the market to feature selector switches that activate its various functions. This makes it very convenient for any one of the flashlight functions to be selected at any given moment. Most other multi-function flashlights currently available today offer fewer functions, and involve complex multi-button sequence of presses to activate each of its functions.
The Smart Selector Ring makes selecting a function straightforward, and more importantly, keep that function activated for the next operation after a switch-off.
The Smart Selector Ring clicks at a number of positions, starting from the furthest left for location beacon, followed by alternating red-blue warning light, blue LED, green LED, red LED, flashlight mode, and strobe light.
In flashlight mode, the ring clicks at three positions – the first is on standby mode at 0 lumens, the second allows the flashlight to be adjusted at varying levels of brightness from 0 to 960 lumens smoothly like a rheostat, and the last click turns on the turbo mode, switching the flashlight on at its maximum brightness at 960 lumens.
This is best summarised in the diagram below from the Nitecore website:
The Smart Selector Ring on the Nitecore SRT7 is actually a third generation technology, an amalgam of the first two generations used in previous flashlight models.
First Generation Technology:
The Smart Ring (2009)

The SR3 featured several levels of output, all easily selectable by incrementally rotating Nitecore's "Smart Ring".

Second Generation Technology:
The Control Ring (2011)

The IFE2 employed a smooth, non-incremental and infinitely adjustable "Control Ring" and was one of the first flashlights of its kind.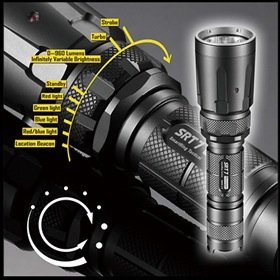 Third Generation Technology:
The Smart Selector Ring (2013)
The SRT7's "Smart Selector Ring" combines the strengths of the two previous systems (above), offering smooth rotation for brightness adjustment and incremental step rotation for function selection.
The Smart Selector Ring is an innovative and indispensable feature on any multi-function flashlight, a technology which is certainly well-implemented on the SRT7.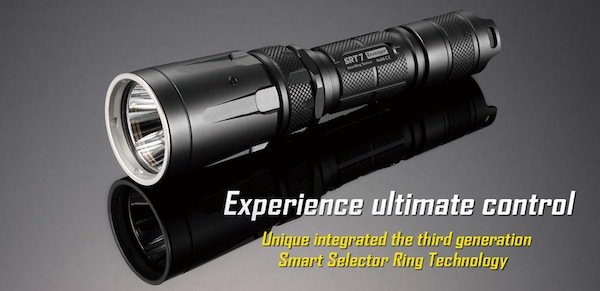 RGB on the Nitecore SRT7 – LEDs in Red, Green and Blue
The Nitecore SRT7 also features three tri-colour LEDs within its lamp reflector. The photographs below show the LEDs operating on each of the three colours, taken with my camera under normal daylight.
Each of these colours serves different functions and purposes, which the outdoorsman will quickly appreciate.
Activation of these colours on the circumferential LEDs depends on the switch position on the Smart Selector Ring as discussed above.
Nitecore SRT7 Revenger – Beacon and Strobe functions
The Nitecore SRT7 Revenger also features beacon and strobe functions, activated on each extreme end of the Smart Selector Ring. The location beacon is useful for indicating one's location whilst in a convoy, or when lost in the wilderness or at sea, while the strobe function attracts immediate attention to signal for help at sight. The location beacon blinks at near maximum brightness once every 2.1 seconds and consumes less power than the strobe, which blinks similarly but more rapidly at once every 0.03 seconds.
Nitecore SRT7 Revenger – Testing the 960 lumens Outdoors
To gauge the power of the rated 960 lumens, the SRT7 was best tested outdoors at night. The following test was conducted at 5.30 am in near pitch black darkness just outside of my balcony. A Nikon dSLR D3100 mounted on a tripod (right) was used to capture the images of illumination on the test subjects. Two test subjects were selected – a tree at about 60 feet away, and a farther tree at about 102 feet away. These distances were measured from the balcony with a Bosch Laser Rangefinder GLM 80 Professional. There was some stray light from a nearby light source, but this did not reach the farther tree at all, as seen in the photos below.
The first photo below shows the darkness of the environment, as well as the distance of each of the two test subjects hidden in this darkness. The next photo shows how these test subjects vary in appearance, from within darkness to being illuminated with the full force of the 960 lumens emanating from the Nitecore SRT7.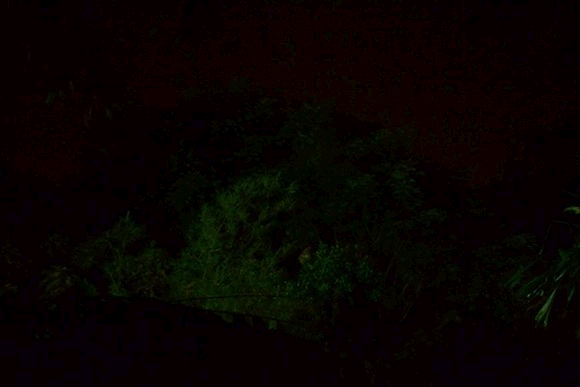 As seen in the photo above, the Nitecore SRT7 running at its full 960 lumens was bright enough to pick up rather good detail on the farther tree at over 100 feet away. The naked eye actually captures this better than can be seen in the above photo. You may need to increase the brightness of your computer screen to see what it's really like.
The Nitecore SRT7 features an overheating/failure safety control, which automatically switches the flashlight to high mode after three minutes of continuous use in turbo mode. In this case, turbo mode can be reactivated by slowly rotating the Smart Selector Ring or pressing the tail switch.
Testing the Nitecore SRT7 Underwater
The Nitecore SRT7 boasts an Ingress Protection rating of IPX-8, and is waterproof and submersible to a depth of up to 2 metres. I decided to take the next test to a swimming pool.
Conclusion
The Nitecore SRT7 passed the underwater tests with flying colours, and had shown itself to be extremely capable in day-to-day tasks. Despite running on only a single 3.7V, it proved to be more efficient than the Underwater Kinetics SL4 eLED which ran on 4 "C" cells to a total of 6V. Also, I must say that the Smart Selector Ring was well-designed and certainly well-implemented on the Nitecore SRT7 – allowing any one of its seven functions to be deployed at a moment's notice. As an all-in-one flashlight, the Nitecore SRT7 presents overall great value, and quality is evident in its manufacture as well as in the bundled accessories.
Despite already owning the larger Nitecore IntelliCharger i4, I also purchased the Nitecore IntelliCharger i2 (right) for its smaller size, to use when travelling. A fresh set of 18650 battery isn't something you can get off the shelf, and the CR123A batteries may be quite hard to find at remote locations, be it leisure or an expedition. Best to carry some of these rechargeable batteries and a charger, provided that power source is not an issue!
To purchase this flashlight and other accessories such as the crenulated bezel, please click on the links below.
---
NITECORE FLASHLIGHTS on eBAY
NITECORE SRT7 REVENGER (select black or grey) AND ACCESSORIES
OTHER RECOMMENDED NITECORE FLASHLIGHT MODELS
FLASHLIGHT MODELS FROM OTHER MANUFACTURERS