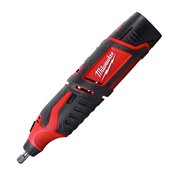 The Milwaukee M12 Rotary Tool is a lithium-ion battery-powered high-speed rotary tool which has now replaced my trusty corded Black & Decker as I move towards cordless power tools for convenience.
This particular model is the 2460-20, i.e. without the battery and charger. This is one of the reasons I love being on the M12 system – it's easy to add power tools in Milwaukee's M12 12V series to the collection, without needing to pay more for batteries and charger you don't really need once you've owned at least one M12 power tool, in my case, the Milwaukee M12 Fuel Hammer Drill Driver CPD-202C.
Here are a few images of the M12 Rotary Tool from Milwaukee's website.
| | |
| --- | --- |
| Use the M12 Rotary Tool for cutting… | …and for grinding, from the myriad of tool attachments! |
| You can use the Rotary Tool for cutting drywall, for making holes to take receptacles. | One of the reasons for going cordless, is for safety when working in wet areas like bathrooms. |
The Milwaukee M12 Rotary Tool delivered
The Milwaukee M12 Rotary Tool 2460-20 (bare tool only) retails for about US$80, with the set 2460-21 (including one battery and charger) going for about US$120. These were the prices I found online, I'm not sure if they are accurate.
I was fortunate to get one at a good price online, and when it was finally delivered, I couldn't wait to plug in one of my M12 batteries to see how it runs. I tried both in fact – the M12 2.0Ah REDLithium-Ion battery, and the 3.0Ah version.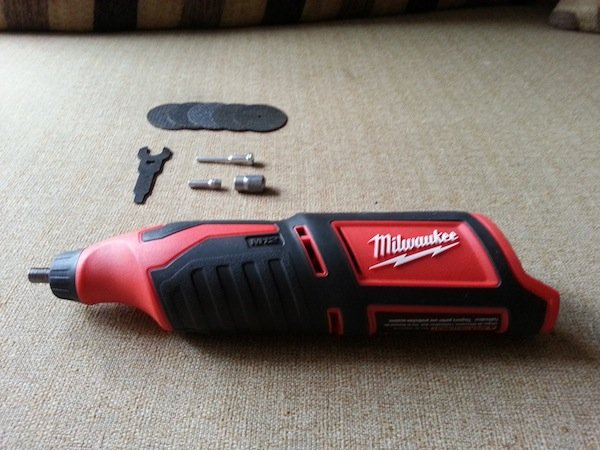 | | |
| --- | --- |
| Included attachments and accessories are 5 fiberglass-reinforced cutting discs, a wrench, mandrel, collet, and collet nut. | The M12 Rotary Tool takes on a 12V 2.0Ah lithium-ion battery from my existing M12 series of power tools. |
| The all-too-familiar embossed Milwaukee insignia appears on one side of the tool… | …while brief specifications, a warning note and the serial number appear on a label on the opposite side. |
| It's an M12 series tool alright, with air vents on the side… | …and air vents on the underside and around the tool, amidst red plastic and comfortable black rubber overmold for a secure grip! |
| Run the Rotary Tool with a sleek 12V 2.0Ah lithium-ion battery from the M12 series… | …or a larger capacity 3.0Ah power bank for extended run-time! |
Mounting Attachments on the Mandrel
Attaching tools using the included accessories is a snap, making fast tool changes possible:
| | |
| --- | --- |
| 1. First, grab the mandrel and remove the attached screw with the screwdriver on one end of the included wrench. | 2. Take a cutting disc and insert the screw through the hole in the centre. |
| 3. Reinsert the screw with the cutting disc to the mandrel. | 4. Tighten the screw with the screwdriver. Put this aside for now. |
| 5. Place the collet into the spindle… | 6. …and push it into the spindle fully. |
| 7. Screw the collet nut on lightly. Do not tighten all the way at this point. | 8. Place the mandrel with cutting disc into the spindle. |
| 9. Tighten the collet nut fully at this point. Depress the spindle lock button with the thumb of the other hand to prevent the spindle from spinning, so that the collet nut can be fully tighten. Use the wrench if necessary. | 10. The cutting disc is now fully installed and ready for use. The rotary tool is switched on and the disc is spinning in the photo above. Many other attachments are available in the market that extends the capability and versatility of this power tool. |
Operation and Performance
The Milwaukee M12 Rotary Tool features a powerful 12-volt motor that delivers 6-step variable speed settings ranging from 5,000 to 32,000 revolutions per minute (rpm) under load. This was given in the specifications on Milwaukee's website.
Without load, Speed 6 was specified at a higher speed of 37,000 rpm as given in the accompanying manual. At Speed 1, the tool emits a comforting purr that corresponds with its gentle cutting or sanding action. At Speeds 2 onwards, the beast in the machine emerges, and at Speed 6, the Milwaukee M12 Rotary Tool becomes a mean machine.
| | |
| --- | --- |
| The power switch is located just above the battery, below the speed setting wheel and battery fuel gauge. An "O" means it is at off position. | With the battery inserted, pushing the power switch upwards to "I" turns the rotary tool on, and the familiar fuel gauge lights up for about 3 seconds. Here, with all 4 LEDs lit up, the battery is shown to be fully charged. |
| The wrench may be used to remove a tightly screwed-on collet nut, as it provides better leverage. Remember to depress the spindle lock button. | The ample size and rubber overmold allows the M12 Rotary Tool to be comfortably and securely held in one hand in this manner during use. The tool is also long enough to be held with two hands for better stability. |
| The M12 Rotary Tool is also designed with a contoured grip towards its tip, under the spindle lock buttton… | …which allows the tool to be held in this pencil-grip manner for finer work, although some may find the tool too heavy to be manoeuvred this way. |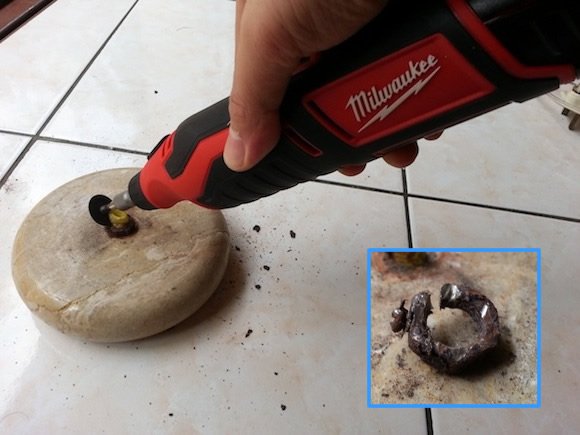 Specifications at a Glance
| Description | Technical Data |
| --- | --- |
| Operating Voltage | 12Vdc |
| Length | 9″ |
| Weight without battery | 0.9 lbs |
| Weight with battery | 1.1 lbs |
| Speed settings | 1 – 6 |
| Speed under load | 5,000 – 32,000 rpm |
| Speed under no load | 5,000 – 37,000 rpm |
| Collet size | Standard 1/8" |
| Alternative collet sizes | 1/32", 1/16", 3/32" |
| Max. accessory diameter | 2″ |
The Milwaukee M12 Rotary Tool in Action
Observations and Conclusions
I have used high-speed rotary tools by Dremel (3000) and Black & Decker, both of which are corded, lighter, and smaller in size when compared to the Milwaukee M12 Rotary Tool.
What is most noticeable in comparison, is that the Milwaukee seems to generate a higher torque than the Dremel, as cutting discs do not slow down or stop as easily when under load. The Black & Decker on the other hand, seems to be equal or better in terms of motor power, based on similar testing methods.
No figures were derived in these tests, and these observations were merely casual. Nevertheless, in either case, the Milwaukee M12 Rotary Tool remains impressive, as it is a cordless power tool than ran on batteries instead of operating under electrical power supply, and yet provided the power in the motor like it was plugged to the mains. No doubt heavy-duty like its other siblings.
The Milwaukee M12 Rotary Tool takes on standard rotary tool attachments, and is hence non-proprietary like all or most rotary tools in the market. This means that despite the basic offerings of tool attachments that came with this set, I was able to extend its versatility with the many tool attachments I already have from my corded Black & Decker rotary tool.
My M12 Rotary Tool now uses the various grinding stones, sanding drums, cut-off wheels, polishing wheels and felt tips in my array of rotary tool attachments.
| | |
| --- | --- |
| The Milwaukee M12 Rotary Tool takes on a mandrel and polishing drum from Black & Decker, and after having applied some metal polish… | …the Rotary Tool was used to polish off some rust on a knife blade. Note that rotary tools work at very high speeds, and should only be used on chrome or mirror-finish surfaces. Do not use on stone-washed matt finish or hairline brush finish steel surfaces. |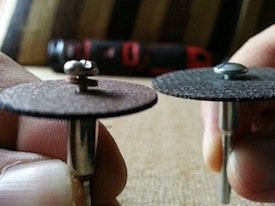 A difference noted between the mandrel provided by Milwaukee and the one which came with the Black & Decker, is the lack of a rubber ring on the Milwaukee, as shown in the photo at right. The Black & Decker mandrel comes with a light-reddish rubber ring, which I suspect serves as a buffer to prevent damage to the fragile cut-off wheels should the mandrel screw be unintentionally screwed on too tightly. Or it may serve as a buffer to prevent premature cracking of the cut-off wheel during kickbacks and binding in material.
Perhaps Milwaukee found this unnecessary, or they may incorporate this in their future mandrels. I suppose it is not a matter of critical importance. Just an observation.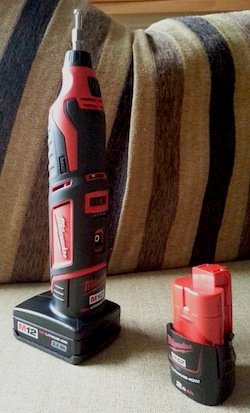 While I have been very happy with my Black & Decker throughout the years of problem-free use, I decided to switch over to the cordless Milwaukee M12 Rotary Tool for a number of reasons.
First, I was already on the M12 system, and getting a rotary tool that uses this system seemed to make much sense.
Second, I find needing to plug in to a mains power source rather inconvenient, and sometimes quite impossible when a power source is not available nearby, even with an extension cord. Or, especially when you don't have an extension cord handy. This has happened to me more than once, when needing to cut through security locks off grille gates.
Third, working with a cordless power tool powered by battery and DC voltage is certainly safer than its corded counterpart, especially in wet areas like bathrooms.
All these make the Milwaukee M12 Rotary Tool more a necessity than a luxury, and I am certainly glad to add this highly useful tool to my bag of cordless power tools!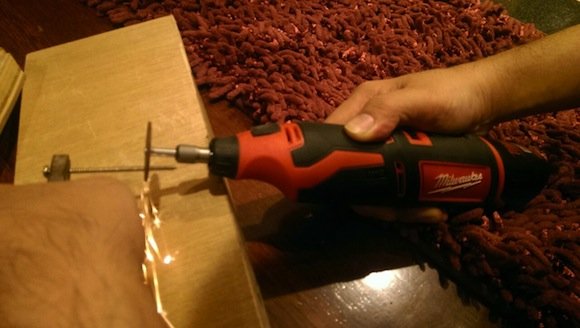 SEE ALSO:
---
MILWAUKEE M12 ROTARY TOOL DEALS
MILWAUKEE M12 POWER TOOLS
MILWAUKEE POWER TOOLS FOR GRINDING
MILWAUKEE POWER TOOLS FOR DRILLING AND DRIVING
MILWAUKEE POWER TOOLS FOR SAWING AND CUTTING
MILWAUKEE MEASURING TOOLS AND INSTRUMENTATION
OTHER MILWAUKEE POWER TOOLS
MILWAUKEE POWER TOOL COMBO SET
MILWAUKEE POWER TOOL ACCESSORIES AND POWER PACKS