I've used mainly tape measures manufactured by Stanley and Lufkin throughout the course of my career, both at construction sites as well as at home. They work well and are durably-built. You'd think they are about the best tape measures around, until you come across one by Milwaukee! I have the privilege of owning a 5m/16ft version, and Milwaukee's "Nothing but HEAVY DUTY" is clearly evident even in their humble tape measure!
This is my second Milwaukee product, after the Milwaukee M12 Fuel Hammer Drill Driver CPD-202C.
Unpackaging a Milwaukee Magnetic Tape Measure
The photos below show this tape measure, from its retail packaging, to bare and ready for use.
Salient Features of the Milwaukee Magnetic Tape Measure
Nylon Blade Protection and 5-Point Reinforced Frame
One of the first things you will notice about this measuring tool is its nylon-bonded tape blade. It gives the tape measure a matt sheen, but more importantly keeps the blade protected from dust, dirt, debris and corrosion – a user who has used his Milwaukee Tape Measure for work near sea water and salty air environment for the last 6 months reported that it remained good as new. Rust and corrosion sometimes occur on tape measures by some other manufacture due to normal dampness, let alone with salty air. This Nylon Blade Protection and the 5-Point Reinforced Frame of its casing offer up to 10X Longer Life as claimed by the manufacturer.
The nylon material on the tape blade feels good and comfortable to the fingers as well, as opposed to the usual metal surface found on most other tape measures.
Magnetic End Hook
Another feature is as its name implies – it is magnetic. How is this useful? Well, if you've ever tried using a tape measure to measure the clearance of a doorway or floor to ceiling height of a corridor, having a magnet to secure the end of the blade from moving about helps – provided the object at that end is of ferromagnetic material – be it a whole steel strip or a tiny inconspicuous screw. It is one way of keeping the tape vertical for accurate measurements. It is also useful when you're trying to measure the length of a long iron or steel pipe. The magnetic surface is found on two areas of the end hook: at the very tip end, as well as on the underside (see photos below).
Innovative Finger Stop
The Milwaukee Magnetic Tape Measure is cleverly designed with a finger stop, which protects the finger from cuts due to blade edge, and impact from the end hook during blade retraction. This is an excellent feature which sets it apart from the competition – a matter of good ergonomics!
Two-sided Measurement Scale Printing
Unlike my Stanley Jobmaster tape measure, the Milwaukee Magnetic Tape Measure features two-sided printing of measurement scale on its blade surface. This improves measurement readability as the scale can be read from both sides of the blade. The scale is also printed landscape-wise on the top side, and portrait-wise on the underside. One can choose a preferred orientation of reading measurements based on the nature of the measurement to be taken.
Blueprint Scale
While we are on the topic of its blade, another highlight is the blueprint scale found on the underside of the blade. Two sets of architectural scale are provided – the first which is for 1:20 and 1:50 drawings, and the other for ¼":1′ and ⅛":1′ drawings. The Milwaukee Magnetic Tape Measure is truly designed for the site personnel who also refers to drawings and layout plans in the normal course of his duties.
Wire Form Belt Clip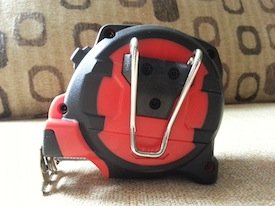 The Milwaukee Magnetic Tape Measure comes with a wire form belt clip which promises to reduce pocket lining damage and pants-waist tear by virtue of its design. Its smooth form and lack of rough edges ensures that fabric material does not get caught or ripped during deployment. A simple but nevertheless well-thought-out feature.
9′ Standout
I've saved this great feature for last! Again, if you've used tape measures at construction sites often enough, it is quite likely you have been frustrated by the inability of the tape blade to remain stiff enough for long distance measurements, typically for measurements exceeding 6 feet in length. The Milwaukee Magnetic Tape Measure sets itself apart from the competition by being able to remain straight and stiff for up to 9 feet, for standouts at 45o and greater towards the vertical. Most tape measures start to buckle at 6 feet or under. In my test for horizontal extension less than 45o, the buckling of the Milwaukee Magnetic Tape Measure occurs at just under 9 feet – truly remarkable, which I suspect could be attributed to good blade base material in conjunction with its Nylon Bond property.
Conclusion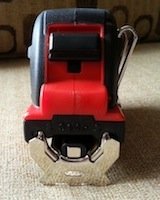 Honestly, the Milwaukee Magnetic Tape Measure is by far the best I have come across, in terms of usability, features and quality. It is at about the same price as competing Stanley and Tajima Tape Measures, perhaps slightly more at retail, but the innovative features and usability easily outweigh the slight price difference. Although I use a laser distometer for measurements these days, I wholeheartedly recommend the Milwaukee Magnetic Tape Measure for quick and shorter measurements whenever the need arises.
The Milwaukee Magnetic Tape Measure offers Class II accuracy and comes in various lengths, from 16′ to 35′ (at time of writing). The scale units on the tape measure is indicated by the length capacity stated on the front. Where metre and foot are stated (e.g. 5m/16ft), both metric and imperial units are given on the blade. See the links below to purchase any of these tape measures.
SEE ALSO:
---
MILWAUKEE TAPE MEASURES on eBAY
MILWAUKEE MEASURING TOOLS AND INSTRUMENTATION
MILWAUKEE POWER TOOLS FOR DRILLING AND DRIVING
MILWAUKEE POWER TOOLS FOR SAWING AND CUTTING
MILWAUKEE POWER TOOLS FOR GRINDING
OTHER MILWAUKEE POWER TOOLS
MILWAUKEE POWER TOOL COMBO SET
MILWAUKEE POWER TOOL ACCESSORIES AND POWER PACKS