The following article is a review of the Milwaukee M12 Jigsaw, and is intended to be an info page with some description, photographs and technical specifications as provided by the manufacturer.
If you do hole cut-outs in countertops and cabinets often, a jigsaw is a sure way to go. I've used my nearly decade-old Black & Decker KS630 Jigsaw for these jobs in the past, and have recently replaced it with a new Milwaukee M12 Jigsaw.
I've decided to go cordless for reasons of convenience, and in some instances, safety. The Milwaukee M12 Jigsaw is ideal for me as I already own a number of cordless power tools in Milwaukee's M12 series, which shares the same battery and charger.
For this reason, one would normally purchase the bare tool option, but I opted for the set with one battery and charger, as I managed to find one which cost just a little over the bare tool set, and I could sure use another REDLITHIUM battery in my tool bag.
The Milwaukee M12 Jigsaw is touted as a high-performance cordless power tool that operates at low vibration, thanks to it fully counterbalanced mechanism and the positioning of the tool weight directly over the cutting area, making it comfortable to use during sawing.
If you've used a jigsaw for prolonged periods, which is normal when cutting out openings in countertops to receive a sink, you'd understand the discomfort that comes with the use of high vibration jigsaws.
The Milwaukee M12 Jigsaw forms part of my collection of power tools.
Milwaukee M12 Jigsaw Review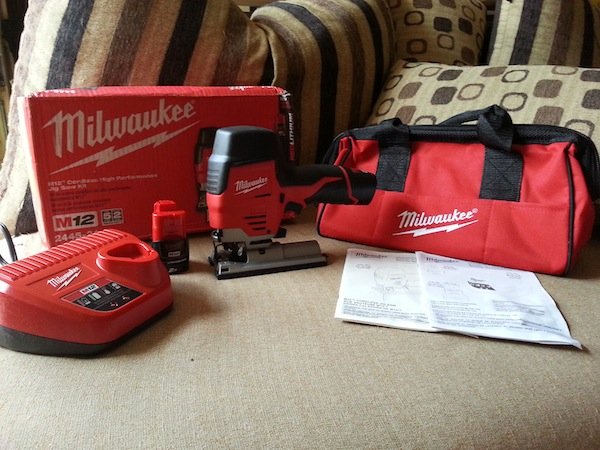 | | |
| --- | --- |
| From one side… | …with an embossed Milwaukee insignia and onboard fuel gauge! |
| To the other… | …a label with serial number and technical data of the M12 Jigsaw. |
| A simple lever allows for quick blade changes without the need for any screwdriver or other tools… | …and another lever allows for bevelled cuts up to 45 degrees on each side of the jigsaw! |
Mounting Saw Blades on the Milwaukee M12 Jigsaw
The Milwaukee M12 Jigsaw takes standard T-shank saw blades, and is compatible with such saw blades manufactured and produced by other companies. I personally use a set of T-shank blades by Bosch as these are easily available off the shelf where I live.
Mounting these saw blades on the M12 Jigsaw is simple and straightforward. Unlike my previous jigsaw which required the use of a screwdriver to fasten the blade on the power tool, the M12 Jigsaw requires no tool or accessories for this process, and a quick and simple slide of a lever is all that is required to open a slot to take on a saw blade.
Also, once the sawing job is done, this same action of sliding the lever "spits out" the saw blade like as if it was slightly spring-loaded, so that you do not need to handle the usually hot saw blade with your fingers.
| | |
| --- | --- |
| The Milwaukee M12 Jigsaw takes T-shank saw blades, and is also compatible with those produced by Bosch. | Inserting a saw blade is a painless and effortless affair. Be sure to remove battery first to prevent accidental power on. |
| The saw blade mounts on vertically true and straight… | …and sits in nicely through the slit on the anti-splinter device. |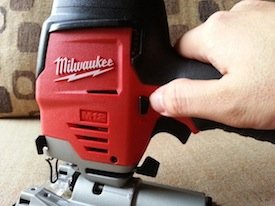 The M12 Jigsaw comes with a trigger lock button to prevent accidental switching on of the power tool. While this may make it safe during blade change, it is always better to remove the lithium-ion battery altogether so that the power source is disengaged completely, before mounting or removing any saw blade with your hand.
Remember that safety is always of paramount importance when working with power tools, especially those that makes light of otherwise tedious saw work.
Cutting Through a Variety of Materials
From the Milwaukee website:
| | |
| --- | --- |
| Saw through wood… | …plastic pipe… |
| …metal ductwork… | …and granite, with the right blades! |
A Soft Carry Case is Included
A Milwaukee-red soft carry case is included as standard with every set of the Milwaukee M12 Jigsaw 2445-21, and is not included with the "bare tool only" version 2445-20. This seemingly rather small-size contractor bag was apparently large enough to keep both the M12 Jigsaw and battery charger inside, and a T-shank blade set and M12 lithium-ion battery in the pockets on the outside.
| | |
| --- | --- |
| A soft carry case is included with a central outside pocket large enough to fit my Bosch blade set… | …as well as smaller flank pockets for the REDLITHIUM lithium-ion batteries. |
| The M12 Jigsaw and the battery charger fit in snugly together within the soft carry case… | …and the bag zips tightly keeping the ensemble together in one place for a convenient and comfortable carry-around! |
Using the Milwaukee M12 Jigsaw and Its Features
Innovative Hybrid GripTM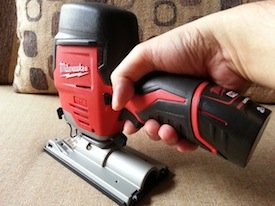 The Hybrid GripTM handle on the Milwaukee M12 Jigsaw is a combination of the top handle design and the barrel grip design found on other conventional jigsaws, which offers maximum control of the power tool. By keeping the handle grip closer to the work material and with a sensitive variable switch on the trigger, these also provide superior cut control over the material to be sawn.
Quik-LokTM T-Shank Blade Clamp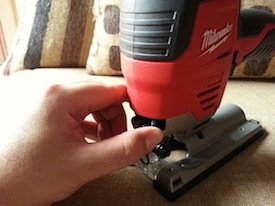 The Milwaukee M12 Jigsaw is fitted with a tool-free blade clamp – mounting and removing saw blades ia a hassle-free process, requiring no screwdriver or any other tool during blade change except for a slide of a tension lever.
The clamp seems to be slightly spring-loaded, and a slide of the lever spits out the saw blade once the work is done, so that you do not have to touch or handle the hot saw blade during its removal.
Bevel Cut Capability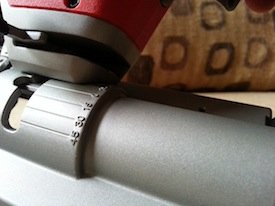 Like a number of other jigsaws, the Milwaukee M12 Jigsaw is also able to make bevel cuts into your workpiece. A tension lever makes changing the angle of cut simple and like the lever for the blade clamp, does not require any other tool or accessory for this process.
A graduated scale at 15-degree tilt intervals up to 45 degrees on both side of the jigsaw is shown on the shoe top, with a positive slide lock at the zero-degree vertical position.
However, there are no indents on the 15-degree intervals so that the position at these tilt angles could be fixed and certain, and Milwaukee could probably consider adding this in future models.
LED Light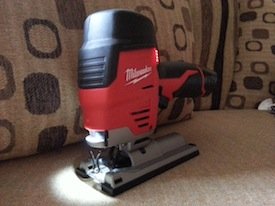 Many of my M12 power tools from Milwaukee feature an LED light to illuminate the surface of the work material, and the M12 Jigsaw is no different. The LED provides ample lighting and illumination over the work surface even in a brightly-lit room, so that you can clearly see where you (and the saw blade) are going.
Anti-Splinter Device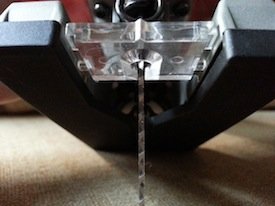 The Milwaukee M12 Jigsaw also features a detachable anti-splinter device or splinter guard, which as its name implies, prevents splinters that normally occur with fast aggressive cuts especially with blades of high TPI (teeth per inch).
This device, which looks like its made of acrylic, is designed with an arrow notch at its front side, so that you can keep the power tool on its path against a pencil line drawn on the work surface, especially when the path becomes obscure due to accumulation of sawdust at or near the blade area.
Shoe Cover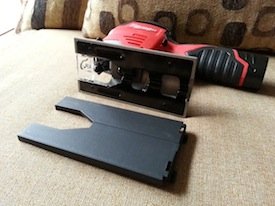 An accessory shoe cover comes as standard with the Milwaukee M12 Jigsaw. This detachable black plastic shoe cover is used to prevent marring and scratching of sensitive and valuable work surface. Further protection of such sensitive work surface may also be achieved with masking tape. This shoe cover snaps on and off the M12 Jigsaw shoe easily without the need for any tools, and is should be done with the trigger lock button depressed, or better yet, with the battery removed.
On-Board Fuel Gauge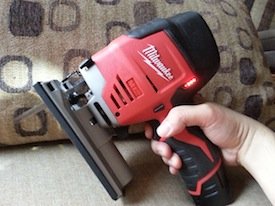 Like many cordless tools by Miulwaukee, the M12 Jigsaw also comes with an on-board fuel gauge. These red LEDs just above the trigger switch as seen in photo also informs the remaining charge left in the power tool, giving you an indication of the mileage left before a recharge is necessary. Unless you're doing extensive renovation work with many hole cut-outs, a single fully-charged battery is usually enough for a single job.
Specifications
| Specifications | Technical Data |
| --- | --- |
| Operating battery voltage | 12 V Lithium-ion |
| Stroke length | ¾" |
| Stroke frequency | 0 – 2,800 strokes per minute |
| Blade shank fitting | T-shank type |
| Blade clamp type | Keyless blade clamp |
| Maximum bevel capacity | 45o |
| Bevel stops | 0/90o, 45o |
| Weight | 3.8 lbs |
The Milwaukee M12 Jigsaw in Action
Conclusion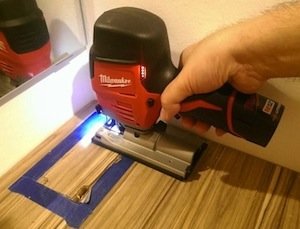 As the Milwaukee M12 Jigsaw just came into my possession fairly recently, I have had only one opportunity to use it, and that was to make a hole cut-out on a dresser table platform to accept a receptacle for a switch socket outlet. The job was done at 11 pm, well past the hours allowable for working with power tools at a condominium, and although the M12 Jigsaw was quite loud as expected of any power tool of this calibre, it was surprisingly not as intrusively loud as one would think. The cut-out was done before anyone had complained and have guards knocking on the door. Decibel-wise, the Milwaukee M12 Jigsaw excelled at not being too noisy as to bother the neighbours.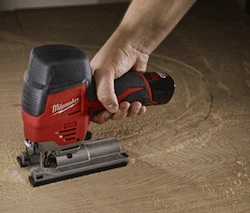 The vibration was also noticeably lower compared to my other jigsaw, a Black & Decker, which was recently used to cut a hole in a kitchen countertop to receive a large quartz sink. The Black & Decker jigsaw is a corded one, which could probably also account for the higher vibration, although I don't have the wattage figures to justify this.
Nevertheless, it seems Milwaukee got it right with their fully counterbalanced mechanism and positioning of tool weight, as these were touted to minimise vibrations on the M12 Jigsaw.
The low vibration, which could be in part due to the rubber overmold grip on the handle, makes the Milwaukee M12 Jigsaw a pleasure to use – an overall pleasant experience as far as using jigsaws go, with less fatigue on the hands. And being cordless means not having a power cord tug in wayward directions with its pull interrupting with your saw path!
The low vibration is certainly not an indication of subdued power – the Milwaukee M12 Jigsaw performed the afore-mentioned saw work pretty fast, and seems to be, in my experience, the powerful and high-performance jigsaw Milwaukee claim it to be.
SEE ALSO:
---
MILWAUKEE JIGSAW
MILWAUKEE M12 POWER TOOLS
MILWAUKEE POWER TOOLS FOR SAWING AND CUTTING
MILWAUKEE POWER TOOLS FOR DRILLING AND DRIVING
MILWAUKEE POWER TOOLS FOR GRINDING
MILWAUKEE MEASURING TOOLS AND INSTRUMENTATION
OTHER MILWAUKEE POWER TOOLS
MILWAUKEE POWER TOOL COMBO SET
MILWAUKEE POWER TOOL ACCESSORIES AND POWER PACKS