The following article is a review of the Milwaukee M12 Fuel Hackzall, and is intended to be an info page with some description, photographs and technical specifications as provided by the manufacturer.
If you have arrived here from a search engine, kindly note that this article is linked from The Devon Buy Collection of Power Tools and Machineries. To open the main page in a new browser tab, click here.
"Drills and saws may be operated for long duration at a time, and the move to go brushless may well be justified, despite being twice the price of the older brushed motor version. At least, that was my rationale."
Milwaukee recently released the Fuel or brushless motor version of the older M12 Hackzall Recip Saw, so new that it is not yet available in my country, and was just launched in Australia just a couple of weeks back. I was using the Milwaukee M12 Fuel CPD-202C before this, a hammer drill using the same brushless motor technology, and have come to prefer the POWERSTATE brushless motor technology for its higher power, and lower noise and heat during operation. Being brushless means there are less wearable components and part, leading to a longer lifespan of the power tool. Drills and saws may be operated for long duration at a time, and the move to go brushless may well be justified, despite being twice the price of the older brushed motor version. At least, that was my rationale.
The Milwaukee M12 Fuel Hackzall Recip Saw retails for about US$140, which is about twice the price of the non-Fuel brushed motor version. It took awhile before I was able to secure a set for myself. Not many were available for sale online as it was still rather new, and I focused my sights on a bare tool set. Buying a set without the battery and charger meant that I could keep the price lower, and batteries and charger were some things I didn't need as I already have these from my Milwaukee M12 CPD-202C Hammer Drill Driver set. A US-based 110V charger isn't going to work in my 220V country anyway. This is the best thing about the Milwaukee M12 and M18 systems; if you already own a set running under this system, you have the option to purchase bare tool versions of their cordless power tools in the same series.
Milwaukee M12 Fuel Hackzall Review
| | |
| --- | --- |
| | |
| | |
| | "The M12 FUEL™ HACKZALL® is the fastest cutting and most powerful saw in its class, delivering over 4X more run-time, up to 70% faster cutting, and up to 6X longer tool life than competitive saws. The POWERSTATE™ Brushless Motor outperforms all leading competitors with constant power output, yet runs cooler with no wearable components…" |
| | |
| | |
When I first saw this power tool in action on a number of online videos (which are appended further below), I could see the potential of this power tool in easing a lot of the previous sawing work I had carried out. Granted, the stroke distance on this tool is rather short at only 5/8", so it is not going to replace my Stanley cross-cut saw when sawing large pieces of wood. However, even with a stroke length of slightly over half an inch, I am banking on its very fast oscillating strokes to make light of most saw work. The trigger switch, which allows control of the variable speed of the saw, takes the M12 Fuel Hackzall from zero to 3,000 strokes per minute at full depress. The speed of the stroke is controlled by the pressure of the finger on the trigger switch.
For the short saw blade lengths available under the Hackzall series, sawing will most likely be confined to pipes and conduits, and small strips of wood and metal. However, the M12 Fuel Hackzall will also accept the longer saw blades under the Sawzall series (from Milwaukee's full size Reciprocating Saws), which will allow you to saw 2 x 4's and larger material. With the right saw blade attachments, the Milwaukee M12 Fuel Hackzall Recip Saw will take on wood, plasterboard, metal and plastic. PVC pipes and EMT (Electrical Metallic Tubing) will both give in to the ferocity of the M12 Fuel Hackzall. Even electrical GI trunking. The M12 Fuel Hackzall will also slice through lumber with nails embedded. No kidding!
FUEL™-powered Machinery
POWERSTATETM Brushless Motor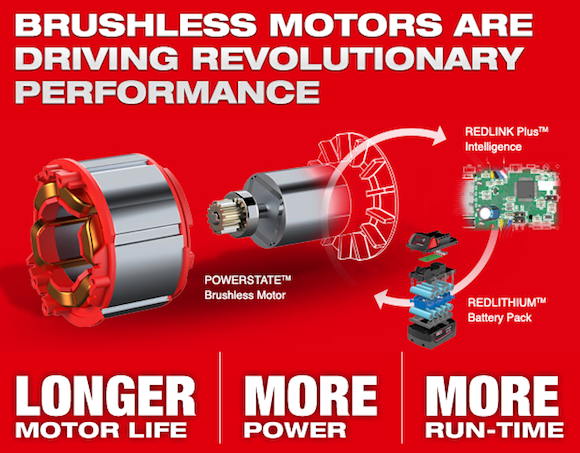 "Combine an uber-efficient brushless motor and super-smart electronic intelligence with lithium battery power and what do you get?
…The benefits are lots more power, longer run-time and unmatched durability – in an ever shrinking, light-weight tool."
HANDYMAN CLUB OF AMERICA MAGAZINE
Tools on Steroids
The Milwaukee M12 Fuel Hackzall Recip Saw is fitted with a brushless motor that allows it to run more efficiently with less heat. Instead of wearable brushes, Milwaukee engineered more steel and copper into its POWERSTATETM brushless motor, resulting in longer motor life as a result of reduced friction, less heat buildup, and higher efficiency. These motors are packed with four times the amount of power generating components with higher grade rare earth magnets.
Brushless motors do not produce sparks the way conventional brushed motors do, and are therefore suitable for use at petrol stations and in the oil and gas industries.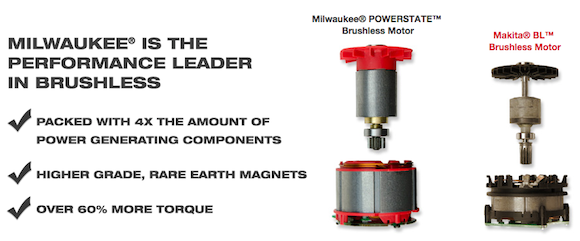 REDLITHIUMTM 2.0 Battery Pack
The Milwaukee M12 REDLITHIUM batteries deliver up to twice the runtime and double the recharging capacity compared to standard lithium-ion batteries. These batteries feature excellent pack construction, electronics and performance to deliver more work per charge than any battery on the market, and run cooler, even performing in climates below -18 deg.C. The battery is equipped with an overload and discharge protection to prevent damage to the power tool and to the cell. Battery temperature and individual lithium-ion cells are also monitored to ensure that battery life is maximised. This is managed by Milwaukee's exclusive REDLINK PLUSTM Intelligence (see next section below).
REDLINK PLUSTM Intelligence
This is probably best described by Milwaukee in their press release: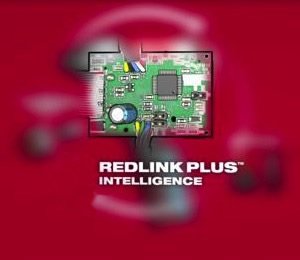 REDLINK PLUSTM Intelligence is a best-in-class system that integrates full-circle communication between tool, battery and charger, and constantly monitors the internal network to maintain ideal conditions to deliver a high-efficiency commutation for longer run-time. This hardware and software is the world's most advanced system of cordless power tool electronics that will maximize performance and protect the user's investment.
Difference between M12 STANDARD and M12 FUEL Hackzall
Before the decision to purchase the Fuel version of the M12 Hackzall Recip Saw was made, I had wondered about the differences between the two models. I will outline quickly the technical differences between the two models below, in case you find yourself wondering the same way I did:
| M12 Standard Hackzall 2420-20 | M12 FUEL Hackzall 2520-20 |
| --- | --- |
| | |
| 11″ overall length | 11″ overall length |
| 2.2 lbs | 3.2 lbs |
| 0 – 3,000 strokes per minute | 0 – 3,000 strokes per minute |
| 1/2" stroke distance | 5/8" stroke distance |
In summary, while both models are roughly equal in dimensions at an overall length of 11″, the FUEL version is noticeably heavier by about 1 lb. Also, while both models share similar maximum strokes per minute, the FUEL cuts a little more aggressively with a slightly longer stroke by 1/8 of an inch. The vents have been redesigned in the FUEL version to a single slot which gives a slight glimpse of the POWERSTATE brushless motor within, as well as minor cosmetic changes to the profile and colour of the shoe (the metal part that conceals the blade clamp) and the word Hackzall on it, as well as to the trigger switch button and the rubber overmold grip on the handle.
Attaching Blades on the
Milwaukee M12 Fuel Hackzall
The Milwaukee M12 Fuel Hackzall uses both the Hackzall as well as the longer Sawzall blades meant for the larger reciprocating saws by Milwaukee.
A number of blade sets are available from Milwaukee, and a good set to start out would be the article no. 49-22-0220. This 10-piece Hackzall blade set, as shown below, contains various saw blades that cut through EMT, duct metal, wood and PVC.
With the QUIK-LOK® Universal keyless blade clamp, attaching blades to the Milwaukee M12 Fuel Hackzall is simple and straightforward.
Milwaukee M12 Fuel Hackzall Recip Saw in Action
And here's a nice review on the Milwaukee M12 Fuel Hackzall by my friend Javier:
Specifications
| Specifications | Technical Data |
| --- | --- |
| Operating battery voltage | 12 V Lithium-ion |
| Stroke length | 5/8" |
| Stroke frequency | 0 – 3,000 strokes per minute |
| Illumination | White LED Light |
| Length | 11″ |
| Weight | 3.2 lbs |
| Keyless Blade Clamp | QUIK-LOK® Universal |
Some Precautionary Measures Taken
Protecting the Shoe from Premature Wear and Scratch
I realise that the front of the shoe is prone to some wear and scratches with use over time, as this area is usually in contact with the material being sawn. Being a sucker for always wanting to keep my possessions in pristine condition for a long time, I decided to protect this area with a little fabric tape. I think duct tape would work just as well, but I prefer the slight grip offered by a fabric or cloth tape.
Keeping the Blade Clamp Spindle Protected from Dust during Storage
When the tool is not in use, especially during storage, I always make sure that the spindle of the blade clamp is retracted into the M12 Hackzall. This keeps the spindle from being exposed to dust and dirt, which would likely adhere to the grease on the spindle over time as the tool remains in storage. Dirt, dust, lint and other similar matter may interfere with the operation of the tool, and it is always good practice to check that this part is clean but greasy before use. To retract the spindle, just squeeze the trigger slightly until the oscillations end up with spindle withdrawn into the power tool.
Conclusion
I had the opportunity to put the Milwaukee M12 Fuel Hackzall through its paces recently, a few opportunities in fact! In one of my fire protection system installations, I had about twenty full-length EMT (electrical metal tubing more commonly known as GI conduits here) delivered to site, and discovered that they could not fit in the elevator as they were too long. The installation was at Level 21 of the building. The only way was to cut these tubes down by half. My worker used a hacksaw and it was obvious cutting even a few of these became a tiresome chore after a while. I went to my car and brought out the Hackzall, and cut the entire stack of tubes in under 5 minutes. It would have taken 15 to 20 minutes to do the same with the hacksaw.
In an office renovation job the day before, the M12 Fuel Hackzall was used to create an opening in plywood which was blocking a window (below left), and to saw off excess pieces of L-angle iron holding an air-conditioning outdoor condensing unit (below right).
The Milwaukee M12 Fuel Hackzall can be a little intimidating to use at first if you have not used a powerful reciprocating saw, but you'd quickly overcome all fears and develop the confidence to use it at the very first attempt. The M12 Hackzall is robust and efficiently cuts through metal, wood and other materials, saving precious time on tedious tasks which would otherwise have taken a longer time to accomplish manually.
Check listing on eBay for the best prices possible by clicking here!
SEE ALSO:
---
MILWAUKEE M12 HACKZALL RECIP SAW on eBAY
MILWAUKEE POWER TOOLS FOR SAWING AND CUTTING
MILWAUKEE POWER TOOLS FOR DRILLING AND DRIVING
MILWAUKEE POWER TOOLS FOR GRINDING
MILWAUKEE MEASURING TOOLS AND INSTRUMENTATION
OTHER MILWAUKEE POWER TOOLS
MILWAUKEE POWER TOOL COMBO SET
MILWAUKEE POWER TOOL ACCESSORIES AND POWER PACKS