If you've clicked a link to this article thinking it's about the Wonderbra, well…it's not.
The right link to Wonderbra's website is here.
No, this is about the Stanley Wonder Bar II! And yes, I'm talking about Stanley, the company that makes quality hand tools. It'll be decades or centuries even, before Stanley make their foray into women's undergarments.
Recently, I was faced with a situation where I had to pry out an old sink from an even older kitchen countertop, and I was stumped by the lack of a pry bar in my tool bag. I eventually managed to lift the kitchen sink off the countertop with much effort, and the old silicon which sealed the gap made the job difficult – something a pry bar would no doubt have overcome quite easily.
On the following weekend, I headed to Ace and got myself the Stanley Wonder Bar II Pry Bar. They come in a variety of lengths, and I chose the shortest one at 7 inches. I needed one which could fit into my tool bag and be light enough to carry around.
The larger and longer (and heavier) ones would be more suited for serious crow-bar style prying work, but I don't find myself in those situations often. A short and small one that offers better leverage than a slot-head screwdriver or anything less than a common pry bar is all that I need.
The Stanley Wonder Bar II
| | |
| --- | --- |
| The Wonder Bar II in its original cardboard packaging. | Made in Mexico – an exotic pry bar. I'm fine with that! |
| The "kuku kambing" on one end of the Wonder Bar II… | …and another at the opposite end with the right angle bend for better leverage! |
---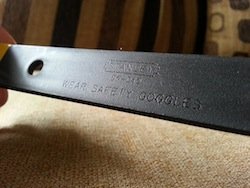 The Stanley Wonder Bar II now sits in my CLC Tool Bag, waiting to be deployed for the next pry work.
Both ends of the Wonder Bar II are bent at different angles, for the usual ways items are usually pried open, and when extra leverage is required. Both ends are also designed with a bevel edge to facilitate fitting them into crevices, and the kuku kambing or "goat's toenail" design at these ends would be instrumental for lifting nails out from wood. One end of the Wonder Bar II is finished with high visibility yellow powder-coat, giving it the Stanley trademark colour.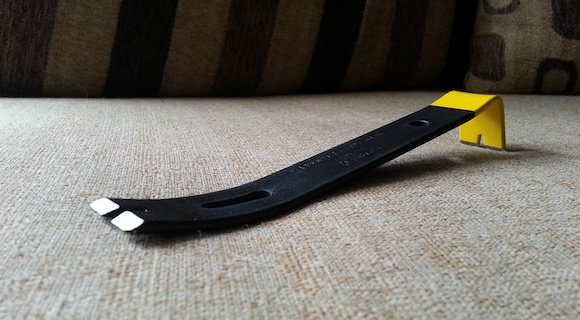 In the past, I've often used the large screwdriver head on my Leatherman Surge multi-tool to pry open paint can covers, and can now rest in the comfort knowing that there is a more suitable tool for this task in my tool bag – the Stanley Wonder Bar II Pry Bar!
---
SEE ALSO:
---
STANLEY WONDER BAR PRY-BARS
STANLEY WONDER BAR AND WONDER BAR II
OTHER SUGGESTED PRY-BARS