The following article may or may not be a review of the Dewalt DW926 Cordless Drill Driver but is intended to be an info page with further description, photographs and technical specifications as provided by the manufacturer.

The Dewalt DW926 Cordless Drill Driver is one of the very first cordless tools I bought, purchased some time in mid-2000.
It has gone through thick and thin, through countless renovation and DIY jobs with me over the years. It is a very able tool, with 15 levels of torque setting control through a rotating clutch and a 2-speed gear setting switch.
Drilling through brick walls was never a problem with the Dewalt DW926, but concrete and shear walls required a hammer drill function not found on this power tool.
The Dewalt DW926 Drill Driver combo comes with charger and 2 nos. of 9.6V Ni-Cd battery packs.

A hand-driven keyless chuck makes bit fitting and removal easy.

A versatile power tool, the DW926 has a total of 15 level of torque settings and one for drilling.

The DW926 has 2-speed gear settings, adjusted by a slide switch at the top.

A bit holder located near the base of the DW926 minimises the risk of losing or misplacing it.
Dewalt DW926 | 9.6V Ni-Cd Battery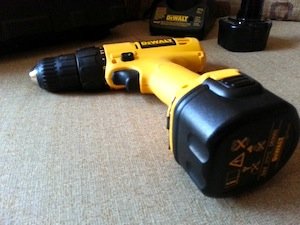 The Dewalt DW926 uses a 9.6V Ni-Cd, which was great during the inception of cordless tools, but isn't the best option these days considering the many Li-ion power tools available in the market today.
Replacing the battery is expensive, and I've done it once as the old one did not hold a charge anymore. While the run-time is reasonable, Ni-Cd batteries do suffer from memory effect, making Li-ion battery-powered power tools the preferred choice.
The Milwaukee M12 Fuel CPD-202C has since replaced my Dewalt DW926, although I still use the Dewalt at job sites to minimise bit changing between tools. See links below for battery replacement options.
Specifications
| Specifications | Technical Data |
| --- | --- |
| Maximum power | 130 UWO |
| Gear and no. of speed settings | 2 speeds |
| Speed Setting 1 | 0 – 300 rpm |
| Speed Setting 2 | 0 – 1,100 rpm |
| Chuck torque settings | 15 settings |
| Chuck size | 10 mm |
| Chuck type | Plastic, ratcheting |
| Voltage | 9.6 V, Ni-cad |
| Weight | 1.54 kg (3.4 lbs) |
---
DEWALT CORDLESS DRILL DRIVERS
DEWALT POWER TOOLS
DEWALT CORDLESS DRILL DRIVER