This article is about the Hilti TE 6-A36 AVR Cordless Rotary Hammer, intended to be an info page with further description, photographs and technical specifications as provided by the manufacturer.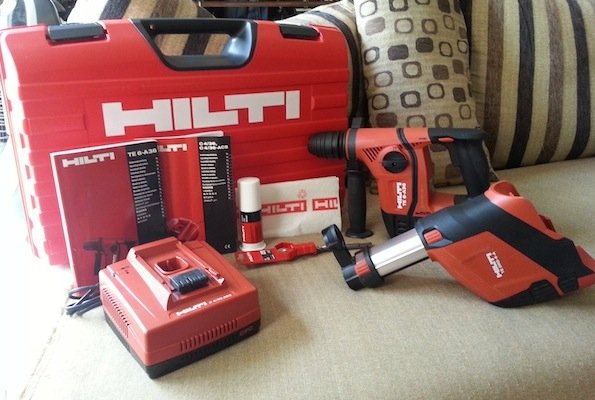 Having started collecting cordless power tools and appreciating the convenience of not having to plug them in the mains socket, I was recently on a hunt for an able cordless rotary hammer.
After seeing the capabilities of a corded one in the Bosch GBH 2-20 DRE, I was considering either an 18V Bosch or a 12V Milwaukee in their M12 series, and was pleasantly surprised to land this gargantuan 36V on my lap.
This particular Hilti TE 6-A36 AVR Cordless Rotary Hammer package set comes with a Vacuum Dust Removal System, and includes standard accessories such as grease tube, cloth, battery pack, charger, side handle and depth gauge. The whole package retails for US$1,790.00.
AVR – Active Vibration Reduction – helps reduce vibration for a comfortable drilling affair. An important feature on a power tool of this calibre.

D-grip design for comfortable long period usage. Button in red to switch rotation direction is just above the trigger switch.

Specification label on the Hilti, some of the details of which are given in the table further below.

Normal drilling mode…

…and rotary hammer drill mode.

Side handle attachment…

…can be disassembled and removed completely.

Not sure if this is standard issue, but my set comes with a tube of grease…

…a tube with a convenient dispenser, a cloth to go with it.
The Hilti TE 6-A36 AVR package set comes with four original Hilti TE-CX drill bits, of sizes ¼-inch, ⅜-inch and ½-inch, all at 6-inch length, and a ⅝-inch at 8-inch length.
These bits come with solid carbide head for less wear to achieve more holes per bit, and are designed with the accuracy to set anchors.
The indicator mark at the head, as long as it remains visible, serves as an indication that the bit is still suitable for setting anchors.
| | |
| --- | --- |
| | |
| | |
| SDS-Plus is a keyless chuck connection that takes on drill bits simply by pushing it in. | Removing drill bits is just as convenient, simply by sliding the collar back to release its lock. |
The carbide head also features gradient technology, designed for easy drilling through steel rebars. Quadruple helix and optimum head geometry ensure that the drill bit remains efficient for fast drilling progress through the entire life of the bit.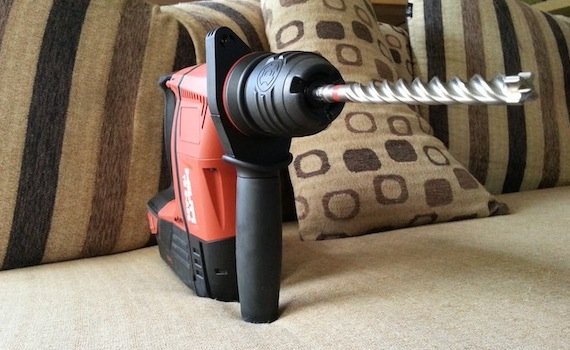 The Hilti TE 6-A36 AVR runs on a massive 36V lithium-ion battery, and my B36 3.0-Ah battery takes about an hour to fully charge from complete depletion. There is also another variation of this battery, with a higher capacity at 3.9-Ah.
The C 4/A36-ACS battery charger plugs into a 220 – 240V AC mains and charges one battery at a time.

A B36 36V 3.0-Ah lithium-ion battery takes about an hour to fully charge from depleted state.

Pressing the button on either or both sides lights up the 4 green LEDs on the battery to indicate charge remaining, in quarterly increments.
Some of the other key features of the Hilti TE 6-A36 AVR are:
Ergonomically designed D-grip on the tool handle for comfortable grip over long period use
Enhanced working comfort due to reduced vibrations made possible by Active Vibration Reduction
Almost dust-free drilling environment with the use of the TE DRS-6-A Dust Removal System
Normal drilling and rotary hammer drilling modes for concrete and masonry
Quick fitting and release of bits through TE-C or SDS-Plus connection on the chuck
Using the Hilti TE 6-A36 AVR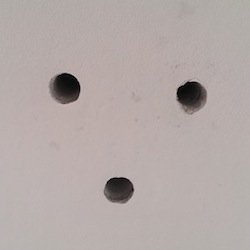 The Hilti TE 6-A36 AVR is supposedly designed to drill more holes per charge than any other cordless rotary hammer in the same class, as claimed by Hilti.
I have not been able to compare and verify this, but I do use the Hilti TE 6-A36 AVR in my own contracting work, especially those which involve drilling into hard concrete for most of the day.
In my experience, I have managed to complete drilling about 150 M8 holes to 50-mm depth non-stop on hard concrete slab before needing a recharge. I am not sure if this constitutes more holes per charge, but it is indeed very impressive for a heavy-duty power tool that runs on a pack of batteries.
And, although somewhat heavy at 4kg, drilling work is made more comfortable without excessive vibrations on the hands, thanks largely to the Active Vibration Reduction feature – that's what AVR in the model name stands for.
| | |
| --- | --- |
| With the Dust Removal System attached and masonry dust collected, the overall weight of the power tool can exceed 5 kg, and 5 kg can feel quite heavy after a while especially with overhead drilling. | Despite the weight, drilling is fast, efficient and comfortable with the Hilti rotary hammer, with reduced vibration and cordless convenience, not to mention a virtually dust-free environment. Read about the Dust Removal System in the following section. |
TE DRS-6-A Dust Removal System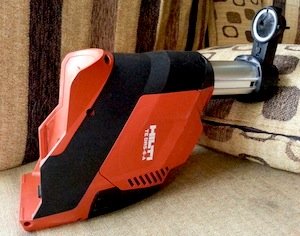 With most of my drilling work done overhead on concrete ceiling slabs, having the TE DRS-6-A Dust Removal System attached to the Hilti TE 6-A36 AVR means having minimal free-floating dust resulting from the drilling work, leading to less inhalation of dust.
I usually wear a dust mask when I do overhead drilling work, at least with other drills before, but I find that it isn't so necessary when using the Hilti rotary hammer attached to the Dust Removal System. I am not saying that you shouldn't or that you don't need to, just that I don't.
Personal protection should never be taken for granted anyways, but do otherwise at your discretion.
"…a Dust Removal System that removes 97.8% of the dust helps a great deal – it virtually creates a dust-free drilling environment!"
I care a lot about comfort during work, and I can't stand dust masks as much as I can't stand wearing my wedding ring on my finger (hence I don't wear this).
I find it uncomfortable having a mask over my nose and mouth for any period of time, and I mitigate the situation by inhaling less or not at all during drilling, and then breathe in-between drilling. Of course, having a Dust Removal System that removes 97.8% of the dust helps a great deal – it virtually creates a dust-free drilling environment!
Power interface connector on the Dust Removal System…

…which connects to the base of the Hilti rotary hammer, where power from the battery is drawn.

The whole extension bar length can be adjusted by pushing the stroke limiter button…

…to suit stroke lengths and a variety of drill bit lengths on the Hilti rotary hammer.

The depth or travel lock on the extension bar can also be adjusted…

…to stop the penetration of the drill bit, thus controlling the drill depth.

The suction head at the end of the DRS extension bar…

…can be completely removed at the push of its lock button.

The suction head may be replaced should it be broken, or if the brush bristles within are worn beyond practical use.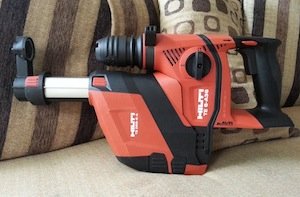 The Dust Removal System consists of a filter that keeps the dust in the casing, and weighs about 1 kg.
The weight of the dust does become noticeable after some time, and combined with the weight of the tool, the hands usually bear the overall weight of over 5 kg.
It can get tiring after some time, but it pays off in other ways – dust-free, less vibration, and no cord to contend with, which means better safety when working in damp and wet environments.
On its own, the Hilti TE DRS-6-A Dust Removal System retails for US$350.00.
When the dust container is full and needs to be emptied, press the release button on the container at the base of the DRS…

…and slide the dust container with its filter out of the Dust Removal System. Discard the concrete and masonry dust within.

The dust container and filter are available as accessories for purchase should they need to be replaced individually.
Specifications
| Specifications | Technical Data |
| --- | --- |
| Rated battery voltage | 36 V Lithium-ion |
| Battery capacity | 3.0 Ah |
| Triaxial vibration value into concrete | 9 m/s2 |
| Single impact energy | 2 J |
| A-weighted emission sound pressure level | 88 dB(A) |
| Rotation speed gear 1 under no load | 1,040 revolutions per minute |
| Full hammering frequency | 5,283 impacts per minute |
| Hammer drill bit diameter range | 6 – 16 mm |
| Weight according to EPTA Procedure 01/2003 | 4 kg |
Conclusion
"With an AVR that brings vibration down to a minimum, coupled with the Dust Removal System that removes almost 98% of masonry dust, the Hilti TE 6-A36 AVR Cordless Rotary Hammer is truly a drilling powerhouse."
Having used one, it can be discouraging to imagine having to complete any DIY or contracting work, especially where hardcore drilling on shear walls and concrete is concerned, without the use of a good and reliable rotary hammer.
While a hammer drill will still get the job done, a rotary hammer will make the job a lot easier on your hands and take less effort.
A rotary hammer such as the Hilti TE 6-A36 AVR takes heavy drilling work to the next level, providing cordless convenience as well as safety in wet working areas when compared to its corded counterparts.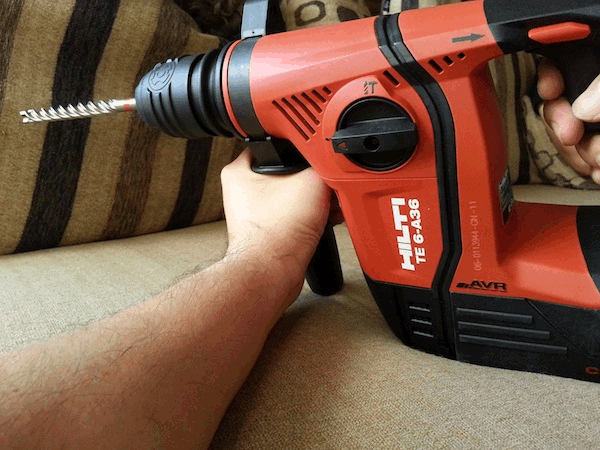 ---
SEE ALSO:
---
HILTI ROTARY HAMMERS
HILTI POWER TOOLS
HILTI CORDED and CORDLESS ROTARY HAMMER