The following article may or may not be a review of the Black & Decker RTX-1 High-Speed Rotary Tool but is intended primarily to be an info article with further description, photographs and technical specifications as provided by the manufacturer.
I bought the Black & Decker RTX-1 High-Speed Rotary Tool in mid-2000 without an intended purpose in mind. It was something that I had seen many times on retail shelves, and thought it would come in handy one day.
True enough, this corded machine is one of my most used power tool to-date – truly one of those you don't know you really need it until you've owned and used one. Much like a Swiss Army knife in a power tool sense.
Variable speed: from the lowest speed at 8,000 rpm…

…to the highest speed at 30,000 rpm, at the turn of a dial.
I've always thought that a Dremel would be better, since Dremels are known for their rotary tools, but having used a Dremel recently, I discovered that even a corded Dremel would slow down quite significantly under load without undue pressure, whereas the RTX-1 would spin along quite fine.
Black & Decker wasn't kidding when they stated on the box 2X Power compared to the leading competitor.
A convenient hard plastic kit box stores 55 accessories and attachments that turn the high-speed rotary tool into a capable power tool that grinds, sands and cuts.

Durable rubber over-molded grip with steel plate texture for comfort and control.

The RTX-1 can be held like a pencil or attached to a flexible shaft for better ergonomics for engraving work.

A metal loop on the rear end allows the RTX-1 to be hung when used with a flexible shaft.

A separate adaptor is kept in the kit box to make the 2-pin plug easier to use on local 3-pin socket outlets.

The Black & Decker RTX-1 high-speed rotary tool seated in its kit box with holders for the tool and cable.
I've used the RTX-1 in a variety of tasks, from shaping cabinet edge to fit tight spaces, to cutting off bolts and security locks (not breaking and entering, but keys went missing), and from fashioning small wooden pieces to fit on the violin, to deburring rough metal edges post-grinding with the same tool.
It is an incredibly versatile tool, not one that you'd realise as a necessity until you've used one, so much so that I've purchased a cordless one – the Milwaukee M12 Rotary Tool – for cordless convenience.
| Specifications | Technical Data |
| --- | --- |
| No-load speed | 0 – 30,000 rpm |
| Current | 0.4 A |
| Operating voltage | 220 – 240 V ac |
| Collet size | Standard 1/8" |
| Alternative collet sizes | 1/32", 1/16", 3/32" |
| Accessories | 55-piece set, including carry case |
| Weight | 1.75 lbs |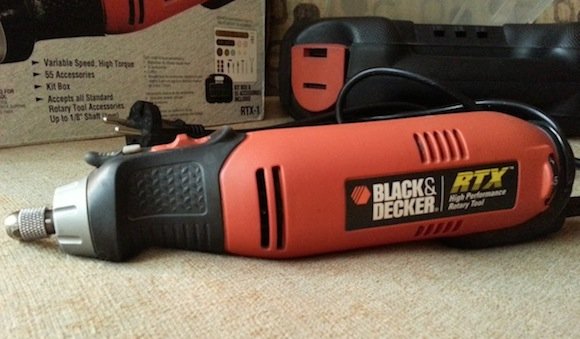 ---
BLACK & DECKER POWER TOOLS
BLACK & DECKER HIGH-SPEED ROTARY TOOLS and ACCESSORIES