The following article is a review of the Bosch GDM 12-34 Marble Cutter and is intended to be an info page with further description, photographs and technical specifications as provided by the manufacturer.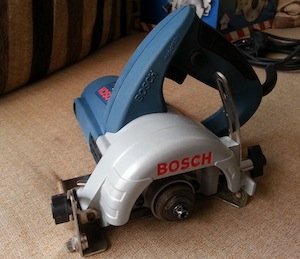 I bought the Bosch GDM 12-34 Marble Cutter when I first moved in to my new home, solely for the purpose of cutting to shape a piece of tile to fit next to a floor trap, in an attempt to correct a plumber's inferior work.
I initially planned on buying this marble cutter for cutting just one tile, and yes I know, it seems unreasonable to spend money on one power tool for just one quick job, but that's just the way I am. I don't believe in renting or borrowing, and always presume that there will be future use for any power tool I buy.
True enough, the Bosch GDM 12-34 had then gone on to cut channels in my concrete walls to embed conduits and cables, and make light of wood saw work. While this is usually done with a proper circular saw, a marble cutter with the right attachment works just as well.
| | |
| --- | --- |
| An angled D-grip handle makes the Bosch marble cutter comfortable to hold and easy to operate from. | A hex key or wrench (included) is required to release and tighten the screw for clamping down the blades. The screw works opposite to the conventional directions of tightening and loosening, i.e. against the rotation of the blade, so that it does not come loose easily during operation. |
A marble cutter is quite a specialist tool, and I probably would not have bought one if it weren't for that single piece of tile. But it's there when I need one, and doubles as a concrete cutter or a wood circular saw when it is required again.
| | |
| --- | --- |
| The Bosch Marble Cutter works with a number of saw blade types, though these are sold separately. | A saw-tooth blade attachment for wood. |
| A segmented-rim diamond-coated blade for cutting concrete and masonry… | …and a continuous-rim diamond-coated blade for ceramic and stone tiles, and marble. |
Recently, I had the privilege of helping a friend out with his DIY floor tile laying work, and some corner pieces could not be cut with his conventional tile cutter, which could cut only in straight lines. He was definitely glad that the Bosch GDM 12-34 Marble Cutter came in handy, which cut all the corner pieces out accurately to fit the room floor.
The Bosch GDM 12-34 Marble Cutter works flawlessly, and eats tile and other hard substances like hot knife on butter. It comes with a silicone hose and related accessories for water to be directed to the workpiece for cooling and dust reduction.
Working a power tool with water, it is very important that the Residual Current Device (RCD) at the jobsite be in proper working condition. If such a device is not in place, either refrain from using water, or a dedicated RCD may be attached to the power tool directly, though this is sold separately.
| | |
| --- | --- |
| Specs data on the tool body. | Included accessories for removal and tightening of the blade holder screw, and hose and components for diverting water for wet cuts. |
The Bosch Marble Cutter is very powerful, and one of the few power tools that require me to put on the most safety protection devices – goggles, earplugs, and dust mask – for eye, ear and lung protection.
In use, the grinding action of a diamond-coated wheel against a mineral hard substance can produce noise exceeding 85 dBA. Prolonged exposure to such noise levels may result in hearing damage.
The blade will also kick up a lot of fine dust, and a dust mask is critically important, as is a pair of goggles for obvious reasons. It will cut very clean straight lines that an angle grinder cannot possibly do, and I would consider such a power tool to be a necessary addition to the DIY enthusiast's arsenal of machineries.
| Specifications | Technical Data |
| --- | --- |
| Rated power input | 1,250 W |
| Idling speed | 13,000 rpm |
| Cutting disc diameter | 110 mm |
| Cutting depth at 90o | 34 mm max. |
| Cutting depth at 45o | 22 mm max. |
| Weight according to EPTA-Procedure 01/2003 | 2.8 kg |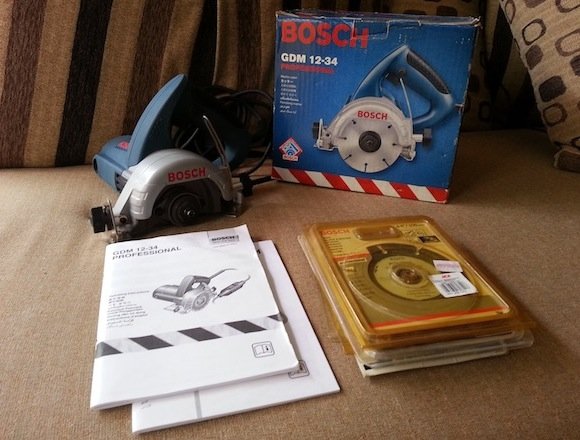 ---
SEE ALSO:
---
BOSCH CIRCULAR SAWS
BOSCH POWER TOOLS
BOSCH CORDED POWER TOOLS
BOSCH CORDLESS POWER TOOLS
BOSCH COMBO POWER TOOL SETS
BOSCH POWER TOOL ACCESSORIES AND POWER PACK
BOSCH LASER RANGEFINDERS AND MEASURING TOOLS
OTHER BOSCH POWER TOOLS AND PRODUCTS