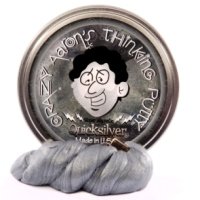 While scouring YouTube today, I came across something pretty interesting known as the Magnetic Thinking Putty. It looks a lot like plasticine or Play-Doh, but unlike these dough-like playthings of yesteryears, the Magnetic Thinking Putty is infused with magnetic particles which gives it a whole new set of properties and purpose.
Like plasticine, you could knead it and stretch it, but unlike plasticine, it bounces off hard surfaces and shatters when you slam it with a hammer.
So, what's so cool about a dough-like object that has magnetic properties? Watch the following videos to find out!
The Magnetic Thinking Putty in Action!
And here is Steve Bartlett's attempt at putting the Magnetic Thinking Putty to "magnificent use" using time-lapse photography. Unfortunately his battery went dead before he could reach the grand finish!
The Magnetic Thinking Putty is sold at Simple Clever Toys – click here to go to their website. The venture was established by teenagers Matthew Dawson and Jacob Dawson.
In their own words, here's their story:
"We were 14 and 16 when we began Simply Clever Toys in May 2010. We started off small by importing a few toys and reselling them on TradeMe. This small venture into the business world was rather successful for us. Deciding to set our sights higher we headed off to take part in a toy expo called Model X. We did incredibly well, selling the majority of our stock and earning a very satisfactory return. This enabled us to take the next step in our small enterprise, which was building a website so we could sell more toys nationwide and expand our business into Australia. Our growth has been rapid ever since…"

– Matthew Dawson and Jacob Dawson
Get It On eBay
---
Other Variations of the Thinking Putty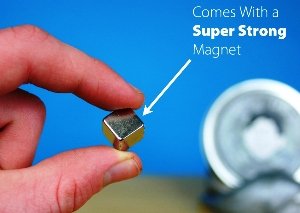 At time of writing, the Magnetic Thinking Putty was sold out, obviously due to overwhelming success and interest from the public, despite its rather high price of $24.95 for a handful.
Nevertheless, for that price, you get a powerful cubic neodymium iron boron magnet, which when combined with the Magnetic Thinking Putty and your creativity, would give you hours of fun and limitless possibilities – think what you could possibly do with other ferromagnetic objects!
There are a few variations to the Thinking Putty – the Crystal Clear Thinking Putty, the Glow In The Dark Thinking Putty, the Heat Sensitive Thinking Putty, the Super Illusions Thinking Putty, and Thinking Putty Creatures.
Discover these at Simply Clever Toys.
Other than the Magnetic Thinking Putty, Simply Clever Toys also sell radio-controlled helicopters, novelty toys, educational toys and various puzzles and games. Visit their website today to find out more.
You could also sign up for newsletter updates to receive promotional news and discount coupon codes. Just head over to Simply Clever Toys. Oh, and they ship worldwide!
See links below as well.
---
MAGNETIC THINKING PUTTY
MAGNETIC THINKING PUTTY