The last time a US President visited my country Malaysia was on 30th October 1966 when the 36th President Mr Lyndon B. Johnson came and spoke about living together peacefully in a nation of diverse race, religion and culture.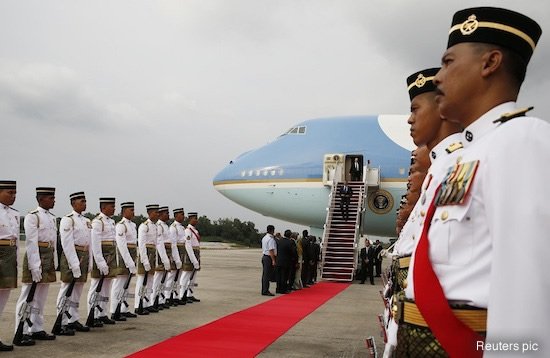 President Obama Visits Malaysia
On 26th April 2014, after almost 50 years since that visit in 1966, Mr Barack Hussein Obama, 44th President of the United States (2009 – ) made an official excursion to Kuala Lumpur to advance US trade interests and foster closer trade relations with Malaysia, via negotiations on the proposed trade agreement under the Trans-Pacific Partnership, which serves to enhance trade and investments among partner countries. The Partnership seeks to promote innovation, economic growth and development, and support the creation and retention of jobs.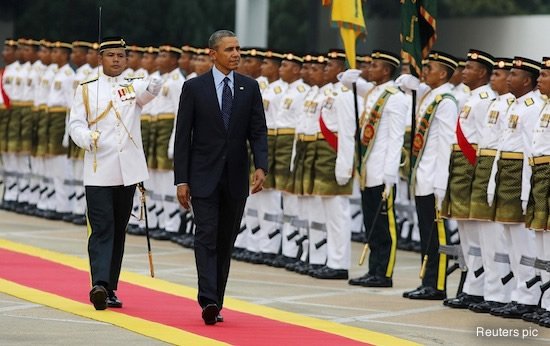 Mr Obama's trip to Malaysia began upon alighting Air Force One on TUDM Airport military base in Subang, where he was taken to Parliament Square by limousine. There, together with the King and Prime Minister, he was greeted with a 21-gun salute. A military band played The Star-Spangled Banner and the Negaraku, national anthems of the United States of America and Malaysia. Mr Obama performed an inspection of the honour guards towards the end of the ceremony.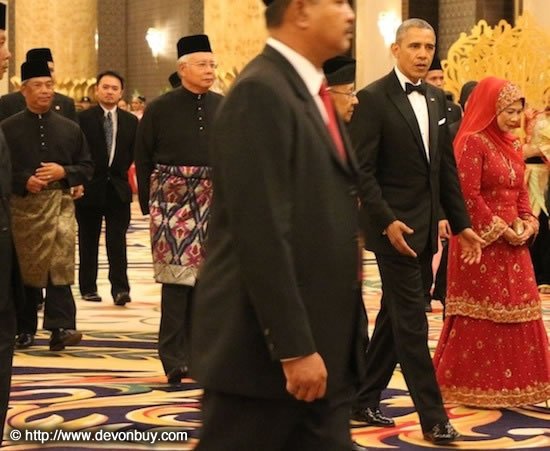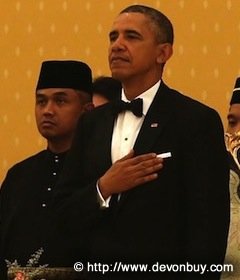 Following that, he was chauffeured to Istana Negara, our National Palace, to attend a state dinner amongst over 600 guests. His walk to the Banquet Hall on the red carpet was escorted by the King, Queen, Prime Minister and his wife, and other dignitaries. I was just five strides behind him. Upon entering the Banquet Hall, Mr Obama was led to a regal back-rest chair, followed by bellows and bleat by the trumpets and brass instruments by a military band performing the national anthems once again.
Before the dinner commenced, the Yang di-Pertuan Agong of Malaysia King Tuanku Abdul Halim officiated the event with an opening speech in English welcoming and then thanking Mr Obama for the US support on the search for the recent missing plane incident, followed by a brief speech by the US President. In his address, Mr Obama touched on Lyndon B. Johnson's visit to Malaysia and how impressed he was about the country back then in the mid-60s. He also spoke about his fascination for batik, and was appreciative about how a collection of her mother's batik work was in exhibition at the Islamic Arts Museum here two years ago. Interestingly, Mr Obama pronounced the word batik in a hybrid of accents – the first syllable ba sounded Malaysian, while the next syllable tik couldn't escape his heavy American accent. Perhaps a little bit of Malaysian sebutan baku had infused into his pronunciations, since he had started his speech with a fluent selamat petang (good evening) and ended with an articulated terima kasih banyak (thank you very much). No doubt, he had lived in neighbouring Indonesia as a child.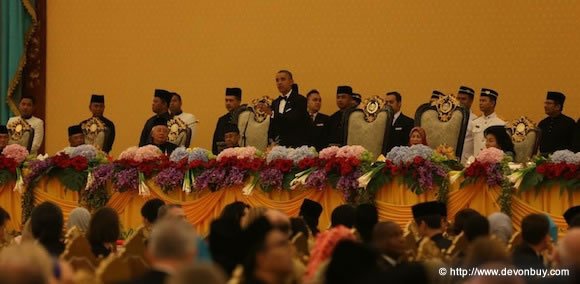 "My mother believed and I believe that whether we come from a remote village or a big city, whether we live in the U.S. or Malaysia, we all share basic human aspirations: to live in dignity and in peace, to shape our own destiny, to be able to make a living and work hard and support a family."
In his speech, he also acknowledged the boleh (can do) spirit in Malaysians. But a meaningful analogy was made with batik in his speech, when he said "For my mother, batik wasn't about fashion — it was a window into the lives of others, their cultures, traditions and hopes. It meant so much to her and was part of her spirit, so I'm deeply grateful to the people of Malaysia for celebrating that part of my mother's life." He continued, "My mother believed and I believe that whether we come from a remote village or a big city, whether we live in the U.S. or Malaysia, we all share basic human aspirations: to live in dignity and in peace, to shape our own destiny, to be able to make a living and work hard and support a family."
The night continued with an array of performances during dinner time, with a number of solo instrumentalists backed by the RTM Orchestra. Jaclyn Victor took centre stage with Whitney Houston's song Run To You, followed by performances by Zainal Abidin and Syafinaz Selamat. Traditional songs and dances showcasing Malaysia's multi-racial and diverse cultural background took place along the red carpet at the centre of the Banquet Hall. The guests were treated to a cuisine comprising of spiced seared ahi tuna with wasabi cream, soto ayam begedil soup (shredded chicken with rice cake), fried glass noodles and roasted peanuts in clear broth. Dinner ended with a dessert of banana fritters with vanilla ice-cream. All thanks to the executive chef at the Shangri-La Hotel of Kuala Lumpur. While the White House had not put forward any special food requests in advance, the President's palate was no doubt kept in mind as the food prepared was not of the usual spicy variety that Malaysians are familiar with.
| | |
| --- | --- |
| President Obama visited Istana Negara, the National Mosque on the morning of Sunday, 27th April 2014. | Grand Imam Tan Sri Syaikh Ismail Muhammad gave President Obama a 30-minute tour of the National Mosque, including the Main Prayer Hall. |
The following morning, Mr Obama visited the National Mosque where he observed protocols and even stopped in a prayer room with his head bowed.
"And the dreams and talents of these young people help to fuel our economies and create jobs, and they also bring our countries closer together."
In the afternoon, together with Prime Minister Datuk Seri Najib Razak, Mr Obama officially launched the Malaysian Global Innovation and Creative Centre, or MaGIC for short, in Cyberjaya. He spent about half an hour meeting and speaking with a selected group of young entrepreneurs and students. "We want you to be able to create things and start your own companies and businesses, and come up with your own products and services because that's how our society grows", he said. In his statement, Mr Obama said that Malaysia and the US have a shared commitment to foster entrepreneurship, especially among young people, adding that around the world, the US is helping young entrepreneurs to connect, collaborate and start their own businesses, serve their communities, and tackle global challenges such as education and climate change.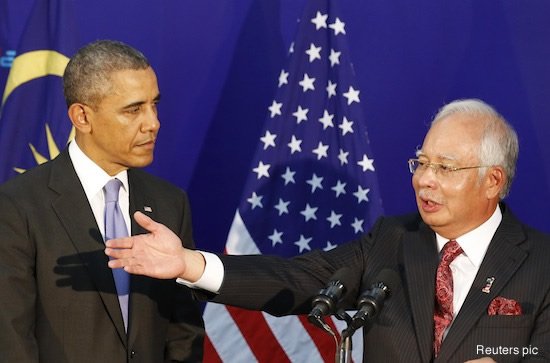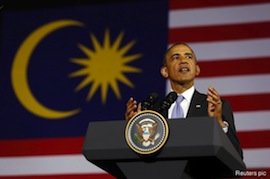 Later in the evening at 4 pm, the US President made a trip to Universiti Malaya where he addressed a crowd of about 400 who were there for the Young Southeast Asian Leaders Initiative (YSEALI) townhall meeting. 103 of these were participants of the YSEALI workshop, which represents 10 countries. The YSEALI was initiated by President Obama in a bid to build rapport across South-East Asia through the engagement of young people.
Mr Obama departed the following day on Monday morning, 28th April 2014, where Air Force One took him next to Manila, the Philippines, the country next on the agenda in his Southeast Asian visit.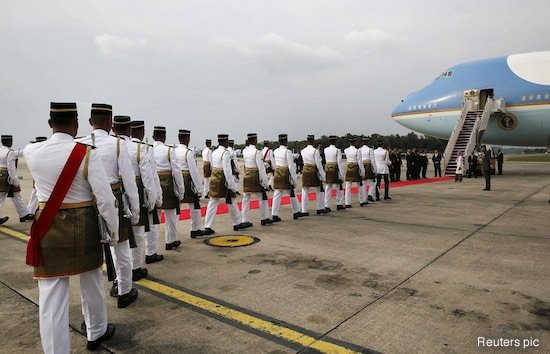 ---
BOOKS RELATED TO PRESIDENT BARACK OBAMA
BOOKS RELATED TO PRESIDENT BARACK OBAMA