Having just finished watching all 10 seasons of Beverly Hills 90210, and seeing the cast in more recent movies and TV series, I felt motivated to do an article showing photos of the original cast back in the early 90s, and how they look today.
I had to watch the entire series again on DVD, as I couldn't remember much of what I had seen when it was aired on TV at that time. So here is the original Beverly Hills 90210 cast today, as they are now.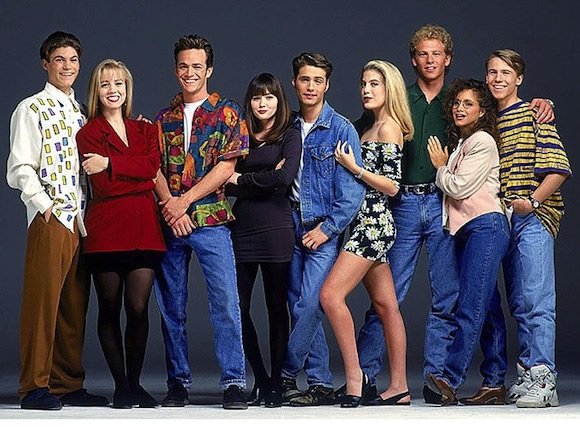 For those who have not heard of Beverly Hills 90210, or have never watched it…or was born after the turn of the century, this was the TV series to catch in between school time. The series ran from 1990 to 2000, and revolved around a bunch of adolescent teenagers, mostly from rich backgrounds and some not so rich, and the myriad of real-life problems they experienced and encountered, amongst friends and in themselves, from love and romance to divorcing parents and substance abuse.
The show gave a glimpse of what many teenagers would go through in their lives from high school to college and university, and finally to work-life in adulthood. You could say it was an educational TV program, as most people could relate to the issues covered in the episodes.
These are the cast of Beverly Hills 90210 as they were back then during the height of the show, and how they look now in more recent films and TV shows. Only the core members, those in over 100 episodes, are presented below:
The Original Beverly Hills 90210 Cast – Then and Now
Jason Priestley
Jason Priestley
as Brandon Walsh
today
Age in 1990: 21
Age in 2014: 45
Appearance: 245 episodes

I Heard: Priestley was involved in a serious car accident during a practice run at the Kentucky Speedway in 1999 when the Lotus Esprit V8 he was driving crashed into a wall at almost 180 mph. He was technically dead for 45 seconds, but "came back", was admitted to ICU in critical condition for spinal fracture, closed head injury, broken nose and broken bones in both feet. Fortunately, he made a quick and speedy recovery.

Last Seen: Priestley was recently active in the TV series Call Me Fitz, playing the title role Richard "Fitz" Fitzpatrick. Priestley is married to make-up artist Naomi Lowde and has two children.

Shannen Doherty
Shannen Doherty
as Brenda Walsh
today
Age in 1990: 19
Age in 2014: 43
Appearance: 111 episodes

I Heard: Doherty was notorious for her on- and off-set tantrums and diva-like demands. Her departure after the end of the third season of Charmed was due to regular tensions between her and co-star Alyssa Milano. She also left the Beverly Hills 90210 set after the fourth season, and in the show, she left LA for London to pursue classes in acting. Her character was written-off, presumably due to similar feuds with co-star on-set.

Last Seen: I haven't seen Shannen in a while, the last I remember was in a small TV show – I cannot remember the title. Some will remember seeing her nude in Playboy magazines some 20 years ago – a surprising move I must say. Was it a much-needed attention, considering she was then at the height of her career? Perhaps so, as she was still climbing and reaching for the stars, despite being amidst tabloid-style smears on her character.

Luke Perry
Luke Perry
as Dylan McKay
today
Age in 1990: 24
Age in 2014: 48
Appearance: 199 episodes

I Heard: Perry was cast as a 16-year-old high school student for his role as Dylan McKay in Beverly Hills, although he was really 24 at that time.

Perry was married to Minnie Sharp between the years 1993 and 2003, and dated Mindy McKay from 2010 to 2011. Seriously…McKay? Could it be more uncanny…?!

Last Seen: I last saw Luke in an episode of Law & Order: Special Victims Unit, as the guilty father and rapist of a troubled child. Luke's stage persona always seems to make him suitable for "person-in-dilemma" roles on TV, something he can pull off quite convincingly. It is a refreshing change to see him as CDC Officer Charlie Stafford in Body of Proof.

Jennie Garth
Jennie Garth
as Kelly Taylor
today
Age in 1990: 18
Age in 2014: 42
Appearance: 292 episodes

I Heard: Garth was married to Peter Facinelli in 2001, and was divorced last year in June 2013. They have three daughters. You'd know Peter Facinelli as Dr. Carlisle Cullen from film adaptations of the Twilight series. He has since started seeing Jaimie Alexander, whom you'd remember as the Lady Sif in Thor. Interesting links, but this story isn't about Facinelli or Alexander. Garth is an Aries, which makes her strong and independent. Nothing to worry there.

Last Seen: I last saw Garth in the third season of the game show Celebrity Are You Smarter Than A 5th Grader? where she won $100,000 for the charity of her choice, and in the 1996 TV show titled An Unfinished Affair. She's gone on to make many other movies since 90210, but none I have actually seen. I still find Garth especially charming for the person she is, even after more than a decade since the end of 90210. Guess the 90210 bug did rub on a little hard…

Ian Ziering
Ian Ziering
as Steve Sanders
today
Age in 1990: 26
Age in 2014: 50
Appearance: 292 episodes

I Heard: Ziering has recently been involved in his own cover band called Golden Ziering, which plays a mix of dance and rock music. He was also a celebrity dancer on Season 4 of the American version of Dancing with the Stars, with Cheryl Burke as his dance partner. Ziering received a perfect score of 10 from each of the three judges in the semi-finals, but failed to reach the finals.

Last Seen: Did you manage to catch him as Fin in the 2013 movie Sharknado? I didn't, but I last saw him in a 2009 TV show The Christmas Hope where he played a Dr Nathan Andrews. I also recently saw him in an episode of Overhaulin', as the friend of the "victim". I don't know why but it excites me to see Ian on TV outside of Beverly Hills 90210. It just does. Both him and Jennie.

Tori Spelling
Tori Spelling
as Donna Martin
today
Age in 1990: 17
Age in 2014: 43
Appearance: 292 episodes

I Heard: Recently, the relationship between Spelling and her husband of 8 years Dean McDermott seemed to be heading for trouble as rumours of his affair with Emily Goodhand came to light. Although he had been apologetic and regretful about his actions, Spelling may find it difficult to trust him.

Spelling was planning to start a new television show called Mystery Girls with Jennie Garth, schedule to be aired in mid-2014. Both these girls will play detectives on this TV show.

Last Seen: Spelling reprised her role as Donna Martin in the spin-off of the original Beverly Hills 90210, together with other former co-stars Jennie Garth and Shannen Doherty. Other than that, I haven't seen much of Spelling around.

Brian Austin Green
Brian Austin Green
as David Silver
today
Age in 1990: 17
Age in 2014: 43
Appearance: 292 episodes

I Heard: We all know that Green was dating the hot and sultry Megan Fox at one time. They were engaged in 2006, broke up for a while, and finally got married in 2010. His second son, born just 2 months ago in February 2014, is named…(are you ready?)…Bodhi Ransom Green.

Green also dated Tiffani Thiessen (see below) in the 90s, and Vanessa Marcil (whom he has a son with) after that. Both were co-stars and romance partners on the Beverly Hills 90210 set.

Last Seen: I last saw Green in Termintor: The Sarah Connor Chronicles and more recently as Bree's love interest in Desperate Housewives. Brian Austin Green has long shed off his geeky persona seen in the first season of Beverly Hills 90210. Megan Fox can sure attest to that.

Gabrielle Carteris
Gabrielle Carteris
as Andrea Zuckerman
today
Age in 1990: 29
Age in 2014: 53
Appearance: 145 episodes

I Heard: Upon leaving the 90210 series in the mid-90s, Carteris went on to become the host of her own television talk show called Gabrielle. However, that lasted only one season. Like her former co-star Luke Perry, Carteris found herself as a regular voice-over artist for television and film.

Last Seen: I haven't seen her recently, but you can see her in a number of TV series, including Criminal Minds and the show 12 Wishes of Christmas.

Tiffani Thiessen
Tiffani Thiessen
as Valerie Malone
today
Age in 1990: 16
Age in 2014: 40
Appearance: 136 episodes

I Heard: At the start of her involvement in the 90210 series, co-stars Jennie Garth and Tori Spelling were not very nice to her, but eventually accepted her as their friend after apologizing for being cold towards her. All remained friends for a long time, but eventually the friendship fell apart for reasons which were not publicised. I wonder if it had anything to do with the same reasons the girls were always cold towards her in the 90210 storyline. Thiessen had hinted that the tension was built up after Tori Spelling's divorce from first husband Charlie Shanian in 2006. Hmmmm…

Thiessen was offered the role to replace Shannen Doherty on Charmed in 2001, but she turned it down.

Last Seen: I was happy to see Thiessen acting as Peter Burke's wife in the TV series White Collar in the last few years. On set, she portrayed a very loyal and devoted wife to an FBI agent, far from the slutty and bitchy role she played in Beverly Hills 90210.

Joe E. Tata
Joe E. Tata
as Nat Bussichio
today
Age in 1990: 54
Age in 2014: 78
Appearance: 238 episodes

I Heard: Honestly, I haven't heard much about Tata (wonder if he gets any jokes about his name…), only that he has been acting since the 60s. But we all know him best as the guardian of the Peach Pit, the meeting place and second home to the fellas at 90210.

Last Seen: Tata reprised his role as Nat in the spin-off 90210, and played a police inspector on Charmed in 2001.

Really…is Charmed like the go-to place after Beverly Hills 90210?

James Eckhouse
James Eckhouse
as Jim Walsh
today
Age in 1990: 35
Age in 2014: 59
Appearance: 143 episodes

I Heard: Eckhouse studied briefly at MIT but found his passion in theatre, hence leading to his career in acting.

Eckhouse wasn't exactly the star on the 90210 set. However, he was proven wrong when he and his family found themselves in a little town en-route on vacation, and he was chased by a mob of almost 50 teenagers. They found refuge in their old beat-up car, and the mob were yelling "Jim Walsh! Autograph!". Guess being the dad to Brandon and Brenda Walsh did make him a star to a certain extent!

Last Seen: I last saw Eckhouse at the very end of The Avengers, just before the title credits. It took me awhile to recognise him. It's a quick and short appearance, where he issued a warning as Senator Boynton. Eckhouse also played Judge Sims in Days of Our Lives in 2013. At least the guy is still acting!

Carol Potter
Carol Potter
as Cindy Walsh
today
Age in 1990: 42
Age in 2014: 66
Appearance: 144 episodes

I Heard: Carol Potter had actually flirted with co-star Luke Perry off-set. She said that "Luke was hot!" and found that "Brian Austin Green has grown up to be an incredible hunk".

Last Seen: Since 90210, Potter had found herself in a number of TV series and shows, but remained active only until 2012, appearing as guest star in shows such as NYPD Blue, Crossing Jordan, and JAG.
And…Just to Refresh Your Memory!
Some of you may just remember this opening theme from the first season. If not, here's a jog!
Get the DVDs to all 10 Seasons below!
---
BEVERLY HILLS 90210 MERCHANDISE
Beverly Hills 90210 All Seasons on DVD