Looking for a good place for food and beverage? Let buUuk do the work for you! buUuk is a restaurant and bar guide for the iPhone, iPad and iPod touch covering over 30 countries in the Asian region and vicinity, from Australia to Egypt. Restaurant data is constantly updated, with notifications on offers, discounts, and new establishments.
The great thing about buUuk is its clever use of GPS to get your current location, and then suggesting nearby restaurants based on the cuisine and your current preference of food, which you can specify upon app start.
You can thus specify Japanese, Halal, Vegetarian, Thai…and buUuk will lead you to a few nearby restaurants to satisfy your appetite.
Built-in maps and directions will even help you get to your eating place, if you are not one who stops by gas stations to ask for directions.
Another creative aspect of buUuk is the community of buUuk users found within the app. Users' comments, ratings and reviews of restaurants are available for you to make an informed judgment on your selection of a new establishment, so that you are not likely to pick a bad restaurant and be disappointed by the food quality.
You may also upload your own comments and ratings, and share these via your Facebook and Twitter networks.
The latest version of buUuk at time of review, i.e. v.3.32 now incorporates Augmented Reality, helping you in the right direction before "the hungry man is an angry man" in you comes to surface. This is available only for iDevices with GPS and Compass functionality, i.e. from iPhone 3GS onwards. Just remember that for this and GPS-aid to work, Location in your iDevice Settings have to be activated before you start buUuk.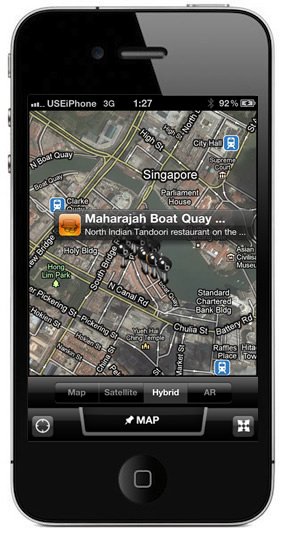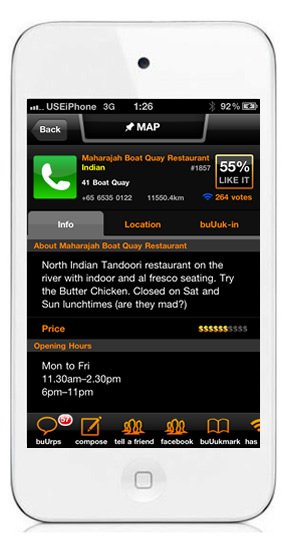 A recommended app for dwellers and travellers in the Asian region, buUuk is community-based app available as a free download on the iTunes Store. Do note that buUuk users and travellers in Singapore get notification on offers and discounts with their Maybank and American Express cards.
Features:
free!
reliable unbiased reviews of food and beverage offerings
wide variety of cuisines and food styles to choose from
ability to upload your own comments and reviews as well as read those by others
utilises GPS to intuitively narrow selection based on distance from user
directions to selected establishment by GPS and Augmented Reality
includes notifications for offers and discounts on terms and conditions
---
APPLE iPHONE
APPLE iPAD AIR and iPAD PRO
APPLE iPAD AIR and iPAD PRO