This is a collage of the Cold Steel FGX Boot Blade II 92FBB, with photos and description of this knife.

This short blade is similar in material as the Cold Steel FGX Tai Pan Knife 92FTP reviewed earlier. I was looking for a knife to fill my online basket, and this one conveniently came up as an option.
DIMENSIONS:
Overall: 16.2 cm (63/8 in)
Weight: 28.3 g (1.0 oz)
BLADE:
Blade Length: 8.3 cm (31/4 in)
Thickness: 6.5 mm
Material: Grivory Plastic
Finish: Black
Grind: Hollow
Style: Dual-Edge Dagger
Edge: Plain
HANDLE:
Material: Kray-ExTM Kraton
Handle Length: 8.9 cm (31/2 in)
Also, I thought a shorter model would be a good alternative, or one that I could pass to my dive buddy. This is more a stabbing implement than a cutting one.
Like the earlier longer model, I bought this knife (on 28 February 2015) for diving use as the knife will not suffer from corrosion and would not require as much care as a regular stainless steel diving knife. The handle is also made of Kray-ExTM.
In case you didn't catch it in the other article, for diving-purpose steel knives, I use a special steel known as H1, which will not corrode and rust even in salty seawater conditions.
For more information on this steel, see the Spyderco Salt I C88SBK found in my collection as well.
Get It On eBay
---
At 1 oz, this is a very light knife, if it can be called one. It retails for US$12.99.
I have not tested it outdoors, but I am quite sure, as with products from Cold Steel, that it will not disappoint.
One just has to remember that it is not a steel-bladed knife. It will not cut paper or other materials like a regular knife would. Even so, this "knife" is restricted in Canada, Ireland and the United Kingdom.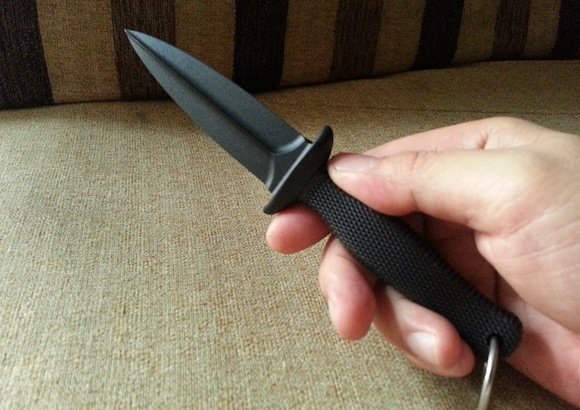 ---
COLD STEEL KNIVES
OTHER FOLDING AND FIXED BLADE KNIVES
GRIVORY PLASTIC KNIVES – NIGHTSHADE SERIES BY COLD STEEL
OTHER KNIVES BY COLD STEEL