This is a collage of the Cold Steel FGX Tai Pan 92FTP, with photos and description of this knife.

The sleek dual-edge dagger design of the Cold Steel FGX Tai Pan 92FTP was the first thing that caught my attention, and the next thing which did was its plastic blade.
DIMENSIONS:
Overall: 33.02 cm (13 in)
Weight: 104.9 g (3.7 oz)
BLADE:
Blade Length: 19.05 cm (71/2 in)
Thickness: 9.5 mm
Material: Grivory Plastic
Finish: Black
Grind: Hollow
Style: Dual-Edge Dagger
Edge: Plain
HANDLE:
Material: Kray-ExTM
Handle Length: 13.97 cm (51/2 in)
Yes, the blade of this knife, in fact the whole knife, is not made of steel. It is made of a reinforced fiberglass material known as Grivory Plastic. How does this perform as a knife?
It won't cut like your regular steel, but it has a rigid blade which still works effectively as a stabbing implement.
I bought this knife (on 25 February 2015) solely for diving use, and as there are no metal parts, the knife will not suffer from corrosion, and does not require as much care as a regular stainless steel diving knife.
For diving-purpose steel knives, I use a special steel known as H1, which will not corrode and rust even in salty seawater conditions. For a knife with such steel, see the Spyderco Salt I found in my collection as well.
Kray-Ex handle material provides an unfailing grip in dry or wet conditions.

The only metallic material on this wholly polymer knife is the steel ring on the pommel.

A closer look at the ridge and grind on the blade, and the elliptical tsuba or hand guard, all in Grivory plastic material.
Get It On eBay
---
The handle is also made of a kind of material known as Kray-ExTM. This deeply-chequered handle material is an innovation by Cold Steel since the early 1980s, and is molded directly to the blade tang. It offers a slightly tacky grip and is unaffected by heat, cold and moisture.
It never rusts, warps or cracks even in the most extreme of environment conditions – all good features of a knife handle that led to its being copied by competitor knife manufacturers.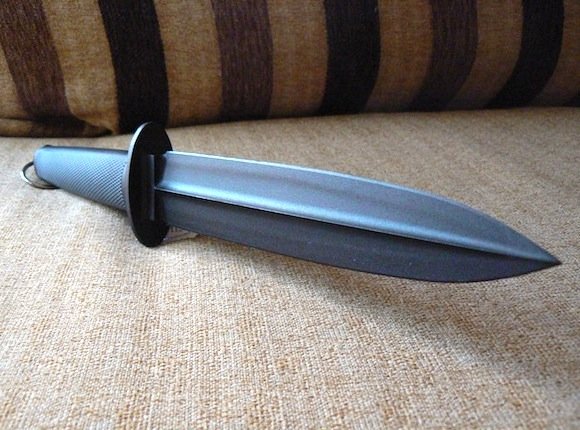 The Cold Steel FGX Tai Pan 92FTP retails for US$15.99. It is a polymer version of the beautifully-made 300-series stainless steel Tai Pan dagger, which retails for US$500.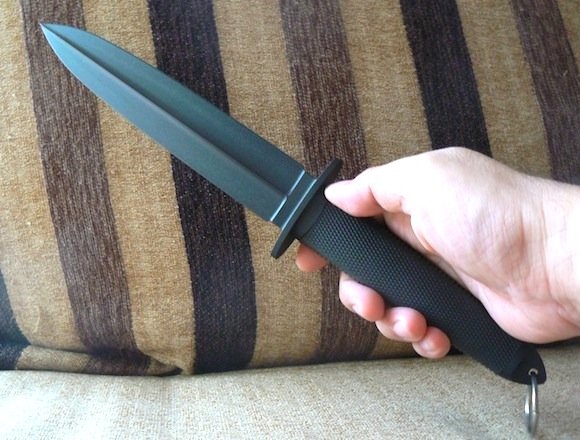 ---
COLD STEEL KNIVES
OTHER FOLDING AND FIXED BLADE KNIVES
GRIVORY PLASTIC KNIVES – NIGHTSHADE SERIES BY COLD STEEL
OTHER KNIVES BY COLD STEEL