This is a collage of the Spyderco Resilience C142GP, and features photos and description of this knife.

DIMENSIONS:
Overall: 93/8 in (23.8 cm)
Weight: 5.4 oz (154 g)
BLADE:
Blade Length: 41/4 in (10.8 cm)
Thickness: 3 mm
Hole Diameter: 13 mm
Material: 8Cr13MoV stainless steel
Finish: Satin
Grind: Full-Flat
Style: Modified Drop Point
Edge: Plain
HANDLE:
Material: Black G-10
Handle Length: 51/4 in (13.3 cm)
I was introduced to a line of Spyderco folding knives in the early 90s through the advertisements by this manufacturer in knife magazines then. I believe these knives were the Delica and Endura series – two of Spyderco's best sellers even today.
Spydercos, as I remember, was touted as the choice of law enforcement officers, and the partial serrated edge on many of their knives were useful for cutting through seat-belt material in times of emergencies.
Honestly, I was never fond of the odd leaf-shaped designs of Spyderco's line of knives, and thought the bulbous spines a little too much for my taste. It is one you either love or hate, and for the most part of my life, I found it hard to love.
When I came across the Spyderco Resilience recently (more than 20 years since my first encounter with a Spyderco), I actually found the knife to be quite well designed and built.
I have also read many great things about Spyderco over the years, and thought that it was high time I gave them a try.
The Spyderco Resilience value folder series also had a price tag which did not make it too expensive as a first folder under this brand. They retail for US$80, and one can find this model at a good discount at various online sources.
With a blade length of 4.25 inches, the Spyderco Resilience is the longest model of the four released by Spyderco under their value folder series. The other three, also named after admirable human traits, are the Tenacious, Persistence and Ambitious at blade lengths of 3.375-in, 2.75-in and 2.25-in respectively.
Having been accustomed to blade lengths of 4 inches these days (my Cold Steel Hold Out II comes to mind!), I find the Resilience's longer blade most desirable of the four in the series.
I was initially hoping to get a partial serrated edge because of what Spyderco were famous for in the earlier days, but this was not offered for the Resilience. At least, I couldn't find one.
The Tenacious however does come in both plain and combination edge options. In this purchase, I was more interested in a longer blade than the edge type and hence, went with the Resilience.
| | |
| --- | --- |
| Comfortable textured G10 scales held down by torx screws… | …on stainless steel liners separated by cylindrical steel standoffs. |
| Steel pocket clip with central hole for pivot screw or lanyard. 4 configurations, here with right-hander tip down… | …clip mounting screw holes for right-hander tip up, over larger hole for lanyard… |
| …clip mounting screw holes for left-hander tip down… | …and similar for left-hander tip up. |
| An aggressive thumb ramp jimping for knife held in the stabbing grip in blade open position… | The thumb ramp allows space for the thumb to rest in the blade close position. Not for thumb placement when used in kubotan strikes as initially thought, as the jimping is too aggressive and abrades the thumb uncomfortably upon impact. |
Get It On eBay
---
The Spyderco Resilience carries a full-flat ground 8Cr13MoV stainless steel blade, with plain cutting edge from tip to handle.
After having carried my Cold Steel Hold Out II, I find full-flat ground blades to be more desirable. No technical reasons for this, just that full-flats look more serious over their hollow-grind counterparts, though both have their own merits.
This though, is not my criteria of knife choice. I happen to carry other grinds quite often.
| | |
| --- | --- |
| Slightly off centre, but that's not an issue. Blade opens fast and locks up tight like a Spyderco! | Blade is an acceptable 8Cr13MoV stainless steel as stated next to the thumb ramp jimping. |
| A full-flat grind blade with a satin finish… | …with a full plain edge starting from the handle. |
| A 13-mm hole for blade deployment – for thumb or forefinger. Fits either digits well! | A steel liner lock with jimping at the right place to keep the blade locked open. |
| While the holes on the blades were originally designed for the thumb, I personally prefer to use the forefinger… | …to quickly flip the blade out into its open position. It doesn't work with all Spydercos, but it works very well with the Resilience. Requires some practice though. |
"The Spyderco Resilience has definitely made a good first impression, and certainly deserves its place in my line-up as a worthy EDC…"
The handle is made of black G-10 with skeletonised steel liners within, equipped with a Michael Walker LinerLock.
While its outward appearance may seem normal or even mundane, the pivot is treated with phosphor bronze washers and bushings, making blade open a smooth and effortless affair.
The hole diameter is a modest 13 mm, which is comfortable for the thumb during blade open. With screw holes at the right places, the pocket clip may be mounted blade tip up or tip down for right-hand or left-hand – a total of four configurations.
Dual thumb studs on the blade make the Resilience an ambidextrous knife.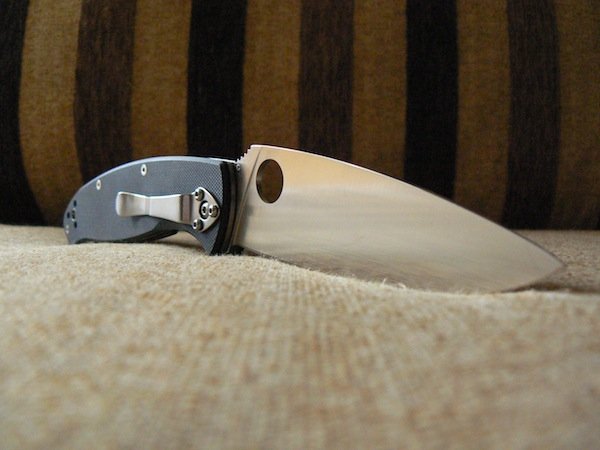 The Spyderco Resilience has definitely made a good first impression, and certainly deserves its place in my line-up as a worthy EDC.
At over 4 inches long of steel, it is not the choice for most people, let alone within the confines of the law, but Spyderco do make a number of other shorter and smaller options for purchase.
Despite initial reactions and impressions about this make, this I suspect, will not be the last Spyderco in the collection.
[UPDATE: Two new Spyderco folders make it to the collection – the Spyderco Salt I C88SBK and the Spyderco Byrd Cara Cara 2 BY03PSBK2.]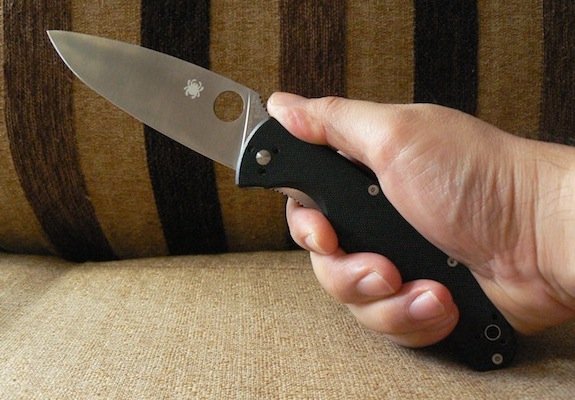 ---
SPYDERCO KNIVES
OTHER FOLDING AND FIXED BLADE KNIVES
SPYDERCO FOLDING KNIVES
OTHER SPYDERCO KNIVES