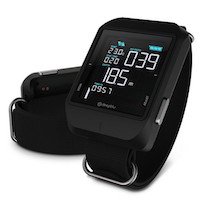 Visiting the recent Malaysia International Dive Expo (MIDE) in Kuala Lumpur on its last day on 31st July 2016 recently, I took home with me a brochure about a new product in the market. I didn't know what the brochure was at that time, and a few days after the Expo, as I was going through some old brochures, I noticed that I had unknowingly taken this one about a new dive computer. It is so new that there were not many online reviews about it at that time. Without knowing much about how it fared in the real world, I took a leap of faith and went ahead and bought the Deepblu COSMIQ Dive Companion from a local dealer.
I will try and give my best on what this new dive computer is about and how it measured up underwater.
FEATURES AT A GLANCE
2.2-inch high-contrast LCD screen with pixel-less EBTN technology.
Built-in clock and calendar.
Deepblu Decompression Algorithm based on Bühlmann ZH-L16C calculation model.
Three safety factor settings – Conservative, Normal and Progressive
Nitrox-capable – oxygen level (FO2) adjustable between 21% and 40%.
Measures all vital dive data and performs decompression, saturation and desaturation calculations for Standard Air and Nitrox dives.
Dive Plan function for planning dives in advance.
Freedive Mode specifically for Apnea / Freediving.
Gauge Mode for use as a depth gauge and timer.
Sound and visual alarm warnings.
Dive logbook saves data for up to 25 dives.
Bluetooth 4.0 for uploading data to Deepblu mobile app.
Digital dive logs and photos on Deepblu mobile app as social media sharing.
Setting adjustments performed via Deepblu mobile app through Bluetooth syncing.
Introduction
Deepblu is a new upstart based in Taiwan founded by a group of like-minded divers who saw the need for a new dive computer in the market. Their aim was to make dive experiences easy for divers, and to simplify the process of creating dive logs and sharing of photos and videos on their own social media platform known as the Deepblu mobile app available for download for iOS and Android smartphones.
Up until then, I had been using the Mares Matrix as my regular dive computer (and, sometimes watch) and have been very happy with it. The Mares Matrix retails for about US$650, and was bought in the last MIDE in 2015. It is feature-rich, and I truly didn't have any need for another dive computer. After researching on dive comps last year, I concluded that the Mares Matrix was the one to own and use. Still, there was something enticing about the COSMIQ which I will explain about later.
The COSMIQ Dive Companion retails for US$299 at the time of writing, and can be purchased from the company's website at https://shop.deepblu.com/products. Replacement accessories such as straps and magnetic USB charging cables are also available, if these are lost, worn or damaged.
Unboxing the Deepblu COSMIQ Dive Companion
The Deepblu COSMIQ comes in a shockproof hard EVA outer shell case, much like the ones that are normally used to store underwater cameras, GoPros and the like. A cardboard loop wraps around the box identifying the product within. Here are some photos of the case and its contents.
Trying Out The Deepblu COSMIQ on Land
My next dive session was about two weeks away when I decided to get this. Until then, I have a few days to see what this dive computer is capable of, before submerging it to 40m depths. I'll start by first removing the screen's protective film.
The Deepblu COSMIQ Dive Companion features a 2.2″ high-contrast LCD screen with pixel-less EBTN technology. EBTN stands for Enhanced Black Twisted Nematic, a technology which when applied on a Liquid Crystal Display offers a dark background with low light leakage, at a contrast that may go as high as 500:1. It has a wide operating temperature without the need for any temperature compensation. This sort of display is usually best suited for icons and 7-segment display such as those found on watches, measuring instrumentation…and the Deepblu COSMIQ Dive Companion.
Here are the modes and features of the Deepblu COSMIQ.
AS A WATCH (WATCH MODE)
A dive computer that doubles as a watch is a plus, and extends its usability beyond diving to be used when…not diving. However, as a daily watch, the Deepblu COSMIQ may be considered too large on the wrist for some, and depending on your fashion style (and need for attention), you may choose to only use this underwater and never on land. Still, this is not COSMIQ's raison d'être, but it's there if you'd like to draw attention to yourself, or maybe turn it into a conversation piece.
I wore it out to shopping malls during the first few days, but realised that it isn't as convenient as a regular watch, as you would need to push a button to read the time. The display will remain on for 20 seconds by default upon the push of either button, and will turn off into standby to conserve battery power. The display on duration can be changed in the setting via the Deepblu app. Call me old-fashioned, but I still prefer to read an analogue face at the turn of my wrist.
As a watch, the COSMIQ displays the time and date in bright, bold, readable numerics. The battery level is shown at the top right when the display is on.
---
AS A DIVE COMPUTER
(SCUBA MODE)
One of the key features which drew me to the COSMIQ was its backlight / self-illumination. This feature is normally found in higher-end dive computers at three times the price. However, Deepblu have found it necessary and possible to incorporate backlighting into a basic dive computer, while at the same time not being the most basic in the market. I was keen to see how the display would appear underwater, and have no doubts it will be a much appreciated feature for night diving.
The COSMIQ as a dive computer is explored in the section Trying the Deepblu COSMIQ in the Water further below.
---
AS A DEPTH GAUGE AND TIMER
(GAUGE MODE)
The COSMIQ Gauge feature is similar as in Scuba Mode (As a Dive Computer above), except that calculations on decompression, saturation and desaturation are not performed. As a safety precaution, the COSMIQ will be locked for 24 hours after a dive in Gauge Mode. This is to ensure that subsequent use of the COSMIQ does not present any false readings in regards to tissue saturation in the immediate following dive.
The COSMIQ Gauge Mode was not tested as all my dives were carried out in Scuba Mode.
---
AS A FREEDIVING TIMER
(FREEDIVE MODE)
For the freediver, the COSMIQ in Freedive Mode measures the current depth, dive time and water temperature. The Dive Time is also presented with higher precision than in Scuba Mode, as every second counts to the freediver. Maximum Depth and Maximum Time alarms can be set which will prove useful in regards to safety for the cautious freediver.
The COSMIQ Freedive Mode was not tested as I am not certified for freediving, although it is an activity I find rather interesting, and hope to attempt one day.
---
AS A LOGBOOK (LOG MODE)
In Log Mode, dive data from previous dive sessions can be accessed for reference. This mode displays the maximum depth, dive time, water temperature, entry time, date, and dive number for each dive session. These data can also be viewed in the Deepblu app, which provides a chart of the dive profile.
The COSMIQ is still new at this point and yet to register any data. In this mode, each dive session is numbered and the corresponding data such as water temperature, dive duration, maximum depth, time in and date are reflected on this screen for reference. The information and data are also transferred to the Deepblu mobile app when the COSMIQ is synced with the smartphone.
---
AS A SOCIAL MEDIA DEVICE (SYNC MODE)
Unlike other dive computers in the market, the COSMIQ is touted as a device that makes sharing your dive sessions and experience with dive peers and enthusiasts from around the world a convenient affair . At this moment, this remains the COSMIQ's most unique feature, and is certain to sit well with divers who are keen to share their dives with friends, family members and even strangers from across the globe.
At time of writing, the COSMIQ connects to an iPhone or Android smartphone via Bluetooth 4.0. The Deepblu mobile app is all you need and is downloadable from the App Store and Play Store. The app integrates with the dive comp rather well, and all of the dive comp's setting is configurable through this app once connected. The various settings which can be set are described in the next section below.
"Photos taken with your underwater camera may be uploaded to the platform as well, which intuitively tally with your dive session based on when the photo was taken, based on the date and time stamp of each photo in tandem with your dive profile. This is a very smart feature by the Deepblu team and deserves praise."
When connecting to the COSMIQ, the app requires that the Bluetooth and Location be turned on. While I can understand the need for the former to be turned on, I find it irritating that the app requires Location (or GPS) to be turned on as well. Often, I just needed to connect to change some settings, and I certainly don't require Location to be turned on for that. Still, it forces you to, otherwise it won't connect. Perhaps there's a reason for that, although at this moment, it seems rather unnecessary.
Upon successful connection, dive data is promptly synced and uploaded to the mobile app. Photos taken with your underwater camera may be uploaded to the platform as well, which intuitively tally with your dive session based on when the photo was taken, based on the date and time stamp of each photo in tandem with your dive profile. This is a very smart feature by the Deepblu team and deserves praise.
As the strength of social media climbs and the improvements made to integration with other personal digital devices, it is quite likely this feature will find its way into the future dive computers of other makes. Kudos to Deepblu for taking the lead in this.
The Deepblu Mobile App
The screenshots shown here are samples taken from the Deepblu mobile app on my Samsung Galaxy S7 Edge. Other than to serve as a social network platform, the app also allows the user to configure settings for the COSMIQ over a Bluetooth 4.0 connection. This is found under the Menu tab on the lower right corner of the app screen.
Under the Discover tab found on the bottom left corner of the app screen, users are able to browse and view the photos and videos uploaded by other divers around the world. Users may follow, like and comment on posts much like they already do on Facebook.
Trying the Deepblu COSMIQ in the Water
The COSMIQ was tested across nine dive sessions at Manado, North Sulawesi in the third week of August 2016. The COSMIQ works like a charm in the water. Like most dive comps, the COSMIQ automatically switches from watch mode to scuba or dive mode the moment you hit a certain depth, in this case at 1.2 m or 4 feet. You do not need to switch modes or push any buttons before descent, although you may do so if you wish. Tested at the swimming pool of the Cocotinos Resort and keeping it just slightly above the maximum pool depth of 1.2 metres, the COSMIQ did not switch over to dive mode once, hence no false switchover there.
The COSMIQ comes with 2 bar charts on both sides of its display.
The left side of the display is a bar chart that provides the diver with a visual representation of the ascent speed, which as any novice diver would know, is of critical importance. The COSMIQ's algorithm considers a rate of ascent exceeding 12 metres or 40 feet per minute to be unsafe, and an alarm will sound to remind the diver to reduce the ascent speed.
The right side of the display is a bar chart that provides a visual representation of the no deco time limit. Even though the no deco time limit is given in large numerics in the top right of the display, having a bar chart you can quickly take a glance at to gauge your limits can be helpful.
In summary:
The bar chart on the left indicating the rate of ascent is based on the following formula:

5 bars: faster than 12 metres/minute
4 bars: 10 – 12 metres/minute
3 bars: 8 – 10 metres/minute
2 bars: 6 – 8 metres/minute
1 bar: 4 – 6 metres/minute
0 bar: slower than 4 metres/minute

The bar chart on the right indicating the no deco time limit is based on the following formula:

5 bars: > 60 mins remaining
4 bars: 30 – 60 mins remaining
3 bars: 15 – 30 mins remaining
2 bars: 5 – 15 mins remaining
1 bar: 0 – 5 mins remaining
0 bar: No Deco Limit exceeded
In one of the few deep dives at Manado recently in an attempt to catch a glimpse of a nurse shark which resided in a cavern, this NDL bar chart came in handy as quick way to tell how much time was left for me to remain at that particular depth before I exceeded the no deco time limit. As the chart went down to last bar in red, I then began to check the no deco time limit in numbers given in the top right corner of the display, and began my ascent when the figure indicated one minute remaining.
Strange Occurrences with the Deepblu COSMIQ
A few strange and unexpected things happened whilst using the Deepblu COSMIQ Dive Companion.
In one of my dives (the 4th or 5th dive), I noticed that the COSMIQ did not automatically switch to dive mode even after descending past the 2-metre depth. After about 3 metres down, I decided to switch over to dive mode manually by pushing the left button. That solved the problem.
Strangely, during that same dive itself, as I was ascending to do a safety stop, I noticed that the depth gauge on the COSMIQ was off by about a metre when compared to the reading on the Mares Matrix. I double checked the depth on my Mares Mission II Submersible Pressure Gauge just to be sure. True enough, the COSMIQ was showing about a metre plus higher than actual depth. It was a concern at first, but the COSMIQ regained its accuracy on subsequent dives, putting my worries to rest. I can only conclude that this was an isolated incident, but still wondered if it will ever happen again in the future. Not a big deal really.
"For night divers, that means you won't need to shine a torch at it or push a button to turn on a backlit green display."
The third strange incident actually happened a few times. In the air! On my flight to and from Manado, as the plane was approaching its destinations on the descent, the COSMIQ automatically switched to scuba mode as shown on the displays below. I suspect this is a hardware (depth sensor) issue which is not likely solvable through the firmware. Maybe yes, maybe no. Again, not really a big issue, unless you don't like your display coming on in-flight. And by the way, the Deepblu COSMIQ should have been turned off during flights as suggested in the instruction manual. For safety reasons, due to the nature of rechargeable lithium-ion batteries, devices with such built-in batteries such as the Deepblu COSMIQ should be switched off before boarding and stored in the pressurised cabin (i.e. with you) during flights. I was then using it as a watch and had forgot to turn it off.
Conclusion
"The two buttons keep all dive comp operations simple, and allow the diver to focus only on the essentials."
The COSMIQ is a capable dive computer with above average features at a competitive price of US$299. Its decompression algorithm is based on calculations on the Bühlmann ZH-L16C model, with safety factor settings that can be adjusted to your preference, between conservative, normal and progressive. If you're a dive comp user, you would know what these are. It would serve a diver well in use, with all critical information easily visible on its backlit high-contrast display at a glance. For night divers, that means you won't need to shine a torch at it or push a button to turn on a backlit green display. The two buttons keep all dive comp operations simple, and allow the diver to focus only on the essentials.
"We want scuba divers and freedivers to have the best diving experience below AND above the surface. So we've created a group of products that make it easy for them to capture, preserve, and share their dive stories."
– Deepblu
The built-in rechargeable lithium battery means costly replacements and service will not be required, and caseback flooding will be a thing of the past. The battery life is highly commendable, as I turn on the Deepblu COSMIQ now after 4 months of shutdown since the last dive and noticed that there are 2 out of 3 bars of battery life remaining.
When I first bought the Deepblu COSMIQ Dive Companion, only two colours were available – the all-black and black-red. Deepblu has since added a new model – the COSMIQ+ with 3 other colour combination models to their catalogue to suit the diver's personal taste and style. COSMIQ+ is a new model based on the original COSMIQ reviewed above, with advanced bottom timer function for technical divers.
But what truly sets the Deepblu COSMIQ Dive Companion apart from other dive computers in the market is its ease of use and sharing of dive experience, photos and videos on a social network provided by a seamless platform via the Deepblu mobile app for smartphones. It has proven to be of great appeal and popularity, evident by the fact that the COSMIQ and COSMIQ+ in all its colours are currently sold out at the time of writing.
DIVE COMPUTERS
DEEPBLU COSMIQ on eBAY