This is a collage of The Nepalese Gurkha Kukri, with photos and description of this knife.
This knife was purchased in September 2014, and bears one of the most beautiful craftsmanship in my collection of fixed-blade knives.
Simple yet elegant, this kukri (or khukuri) is a modern variation of the classic design, and the blade draws visual interest with an etched texture that resembles water marks.
The kukri comes with a basic nylon sheath. Sheathing and unsheathing is a difficult and cumbersome due to the curved blade.

There is extensive jimping on the spine of the blade, which won't be of much use considering the way this knife is normally held.

The typical curved blade – the epitome of the Gurkha kukri.

The knife exhibits interesting contour and grind on its blade.
| | |
| --- | --- |
| A Chinese character pronounced ju (from the word ju hua meaning chrysanthemum flower) is lightly etched near the tang shoulder. Doesn't mean much but adds an exotic touch. | The handle is of comfortable Micarta with a bone-like contour and is gently textured enough to provide a good grip. A hole for a lanyard is found on the pommel. |
Get It On eBay
---
Note that a classic kukri doesn't quite look like this, and the shape of the blade is the closest thing here to the classic design. Some of the classic ones are presented in the Amazon links below. I reckon this blade would be well-suited for jungle ventures.
When I first bought this, I was holding and carrying it around the home, even if it was a quick trip to the kitchen, because the weight and balance felt exceptionally good in the hands – the warrior sentiment was evidently strong in the hands.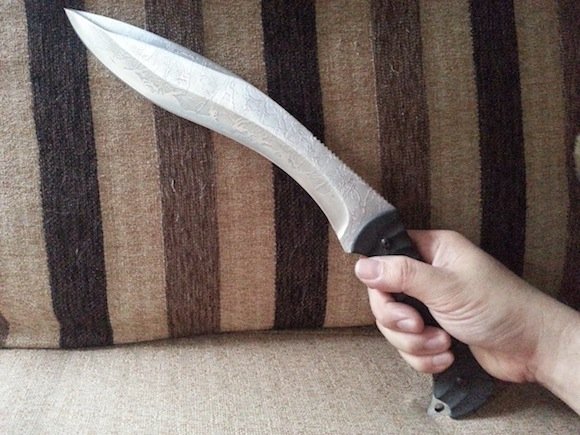 ---
SEE ALSO:
---
KUKRI BLADES
FOLDING AND FIXED BLADE KNIVES
KUKRI BLADES