This is a collage of the Aitor Oso Blanco, with photos and description of this knife.
DIMENSIONS:
Overall: 12.09 in (30.7 cm)
Weight: 1.3 lbs
BLADE:
Blade Length: 7.09 in (18.0 cm)
Thickness: 5.0 mm
Material: CrMoV Stainless Steel
Blade HRC: 55-58
Finish: Satin-polished
Grind: Hollow
Style: Original Spanish Army
Edge: Curved Plain with Double-Line Saw Tooth on Spine
HANDLE AND SHEATH:
Material: Rigid Polycarbonate and Fiberglass
The smaller sibling to the El Montero, this Aitor Oso Blanco model from Spain was given to me in 1993 by a security guard of the hostel where I used to live. He would come to my room every night to talk about knives and weapons of all sorts. He was eventually given the sack. No prizes for guessing why.
But thank you Raymond, for the friendship all those years!
The Aitor Oso Blanco follows the original Spanish Army Survival blade design, is of adequate weight and balance, and feels good in the hands.
Aitor Knives from Spain was founded in 1939 and makes great quality knives. The Oso Blanco, which has been around for close to 30 years, sells for about US$100.00 (£60.00 approx.) as at early 2015.
Aitor sheath – a combination of rigid plastics and soft nylon straps

Always liked the catch – secure yet easy to remove.

Does a heck of a hack job!

A bear near the blade head suggests strength and might!

Indentation on the blade from the Rockwell Hardness Test.

Saw teeth on the blade spine take on branches rigorously.

A rigid green plastic knurled grip in between reflective gold handguard and pommel.

An embossed deer head and antlers on the pommel.
Get It On eBay
---
Aitor exports 50% of its production to more than 50 countries around the world, which includes Germany, France, Italy, Argentina, Brasil and the USA.
Aitor also supplies to official organizations such as the UNESCO and the ONU. For the military market, Aitor has been an established supplier to the Spanish, German and Dutch Armies, as well as to Asian Armies of Indonesia and of my country, Malaysia.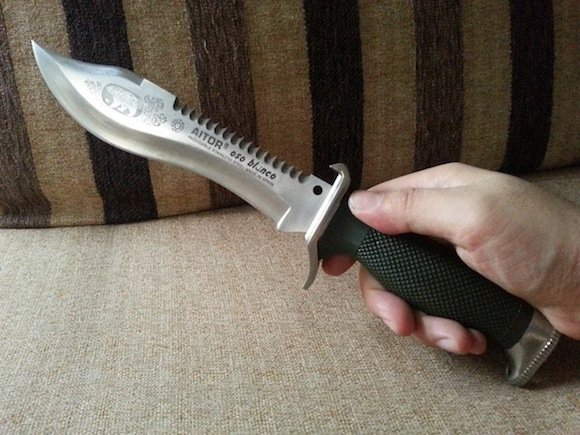 ---
SEE ALSO:
---
AITOR KNIVES
OTHER FOLDING AND FIXED BLADE KNIVES
AITOR KNIVES