This is a collage of The Japanese Tanto, with photos and description of this knife.
I saw this fixed blade Tanto through a window of a shop at City Hall in Singapore way back in 1993. Priced at about S$60. Something I gotta have. Bought it immediately.
It was quite similar to the Cold Steel Tanto of those days, but at a lower price and a fraction of the quality. A small fraction. Still, as a secondary school student, I couldn't afford big-name knives and couldn't be choosy.
The tanto in its very simple nylon sheath.

The tanto blade with its typical angular edge.

Rather thick tsuba in reflective gold.

Wrapped nylon cord has replaced the worn original.
This knife is still my first choice today when I go out to areas which require the use of a large fixed-blade knife. It is truly for rough and rugged use, but treated with respect without ever abusing it.
The title of this post mentions Japanese, only because it is descriptive of the tanto design, which originates from Japan. It is quite doubtful that this knife was made there.
The original handle of khaki green has since worn off and has been replaced with nylon cord of the same colour wound around it to preserve its original appearance.
This fixed-blade Tanto has served me well for over 20 years, and have been used both in the deep forest and open seas. Some areas have shown signs of corrosion, but the blade remains pristine to this day!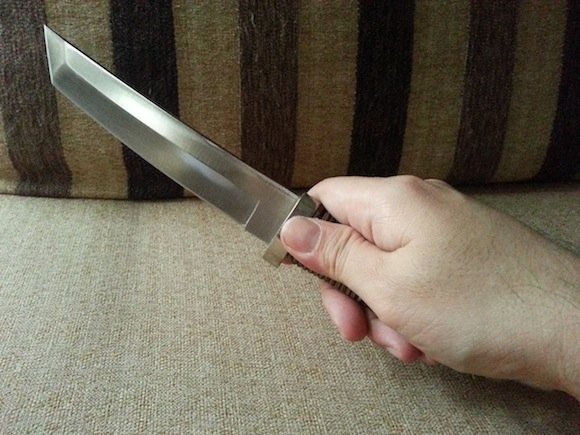 ---
SEE ALSO:
---
FIXED-BLADE AND FOLDING TANTO
OTHER FOLDING AND FIXED BLADE KNIVES
FIXED-BLADE TANTO