This is a collage of the Sanrenmu 7049LTE-PK Tanto Folding Knife, with photos and description of this knife.
If you have arrived here from a search engine, kindly note that this article is linked from The Devon Buy Collection of Knives and Bladed Instruments. To open the main page in a new browser tab, click here.
DIMENSIONS:
Overall: 6.46 in (16.4 cm)
Weight: 2.3 oz (65 g)
BLADE:
Blade Length: 2.68 in (6.8 cm)
Thickness: 2.5 mm
Material: 8Cr13MoV Stainless Steel
Blade HRC: 58
Finish: Polished Steel
Grind: Hollow
Style: Tanto
Edge: Straight Plain
HANDLE:
Material: Zytel with Carabiner Clip
The Sanrenmu 7049LTE-PK Tanto Folding Knife was purchased without much thought as I considered the design to be quite appealing. I paid US$11.99 for the knife, and an additional US$11.99 for shipping – not exactly great value when it adds up. Handle material is Zytel and quite appropriate for its visual appearance and overall design – lightweight and easy to carry around for quick simple tasks. A latch mechanism allows it to be hooked on easily to belt loops and keyrings. The signature of the designer on the blade adds a nice finishing touch.
What I find most innovative about this knife is the way the knife is held locked in its close position. Initially, I thought the blade was just clamped down too tightly about its pivot, and tried loosening it a little. This helped a little to make the blade easier to swivel open with a push on the thumb stud. Later on, I realised that a clever safe lock is part of the design to prevent unintentional opening of the blade. Opening the blade required the thumb stud to be first depressed downwards to disengage the blade from its detent on the liner, and the usual action on the thumb stud then swivels the blade out quite effortlessly. So, that's the reason for the thumb stud being a little loose, purposefully designed that way!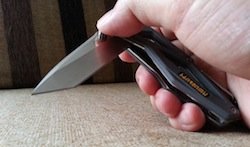 The Sanrenmu 7049LTE-PK Tanto Folding Knife is small and light enough to qualify it a good EDC, but it is too small in my opinion to be versatile enough for practical applications or to be taken seriously. It is nevertheless suitable for the tool box for quick cuts and package opening. Sanrenmu make a whole lot of other blades to suit a variety of purpose, and you're invited to check them out at their official website.
---
SANRENMU FOLDING KNIVES on eBAY
SANRENMU KNIVES on AMAZON
OTHER FOLDING KNIVES on AMAZON