This is a collage of the Ganzo G704 Folding Knife, with photos and description of this knife.
DIMENSIONS:
Overall: 7.87 in (20.0 cm)
Weight: 5.25 oz
BLADE:
Blade Length: 3.46 in (8.8 cm)
Thickness: 3.8 mm
Material: 440C Stainless Steel
Blade HRC: 58-60
Finish: Bead-Blast
Grind: Flat
Style: Drop Point
Edge: Plain
HANDLE:
I bought this for about RM60.00 (US$16.45 as at February 2015) after a strong bargain at a night market 5 years ago.
Here where I live, it is quite a hefty price to pay for a knife made in China, but after messing with the knife for a while, I realised that the knife was extremely well-made and presented great value.
I never pay more than RM30 for anything sold at a night market, but the quality of this knife seemed on par with the asking price. One could be forgiven for overlooking its Far East origin.
A high flat-grind blade with ambidextrous thumb studs near the spine.

The blade steel hardness of 440C is engraved near the tang handle.

The AXIS lock mechanism is similar to the ones found on some Benchmade knives and works well.

Sufficient jimping found on the angled spine for thumb comfort.
If you haven't yet noticed from the photos above, the Ganzo G704 Folding Knife is an exact copy of the Benchmade Heckler & Koch 14205 AXIS knife – the main difference being the blade material.
While the H&K is made of 154CM grade stainless steel, the Ganzo is of a more modest 440C (equivalent to 9Cr18MoV in China). The blade is of a bead-blast finish, giving it a satin appearance.
Get It On eBay
---
The lock mechanism, like the H&K and many other Benchmade folding knives, is the ambidextrous AXIS lock. The blade opens and locks tight on this knife, without any freeplay in its open position. It also springs back fast and tight during closing.
It was at one time my EDC knife. At a little over 5 oz with an under 4-inch blade, it is quite heavy, but doesn't really weigh down in your pockets. My current EDC, at over 9 oz, is a lot heavier than this at almost twice the weight!
There are two versions of the Ganzo G704 in the market. This one, which is made of 440C stainless steel, is superior over the older version made of 440 steel.
In conclusion, if you're in the market for a high-quality folder at a more than reasonable price, I would highly recommend this knife. It would definitely make a great EDC.
A Video Review
Gear Obsession has done an excellent review of this knife – there is no reason I should do another, and I will include it here for your viewing.
Here's another excellent video review by Lazy Lizard Gear on the Ganzo G704 with all the available handle colours at present.
Buying the Ganzo G704
Ganzo Knives are sold online by Exduct and may be reached at www.exduct.com. You may click the banner at right, or via one of the Amazon links provided at the end of this article below.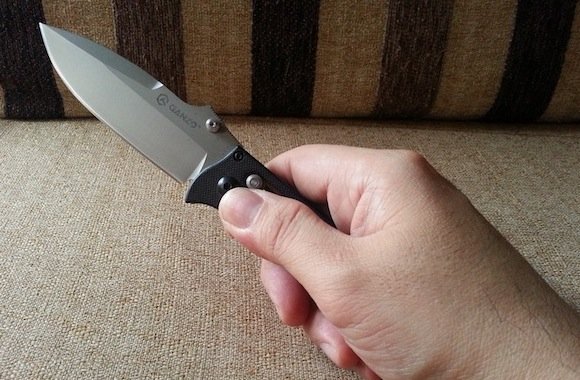 ---
SEE ALSO:
---
GANZO FOLDING KNIVES
GANZO KNIVES