Snapseed is a feature-rich photo editing app made for the iPhone, iPad and iPod touch. Brought to you by Nik Software, Snapseed makes any photograph taken on iOS devices come alive and extraordinary.
Photos can easily be improved and enhanced with just one tap. Photographs taken with the higher resolution camera on iOS devices such as the latest iPhones are already great to begin with, but there are always methods and steps to bring these great images closer to perfection.
"…although it has only been out a few days, Nik Software's new Snapseed is already my go-to photo app, and my hands down favorite…"
– Scott Kelby, President of National Association of Photoshop Professionals (NAPP)
Included with Snapseed are filters which automatically modify the photos to the settings you want. Take your pick from Drama, Vintage and Grunge.
A special feature is the ability to make adjustments at only certain areas using Snapseed's revolutionary control known as U Point technology, simply by using your finger to make precise selections and effects or enhancements. Just tap on an area in the photo and swipe side-to-side to adjust and modify. This is how brightness, contrast and saturation settings can be easily adjusted for a photograph.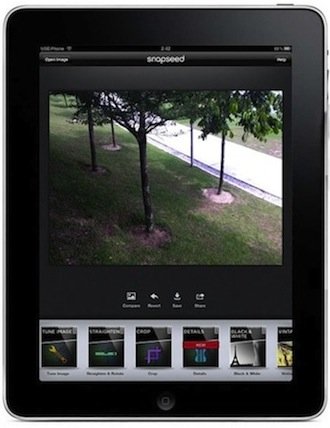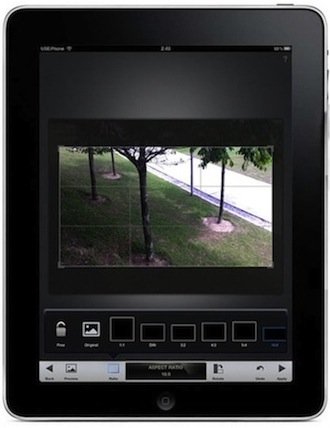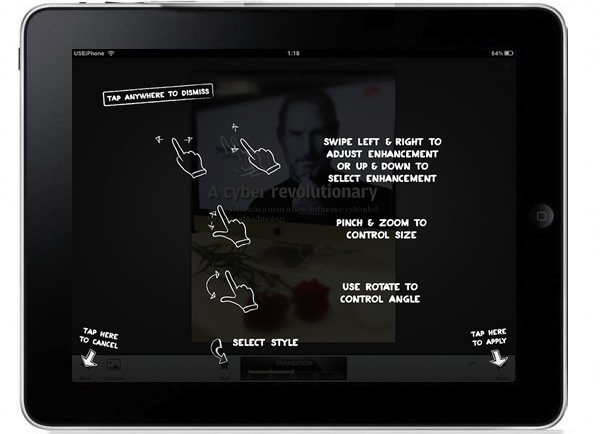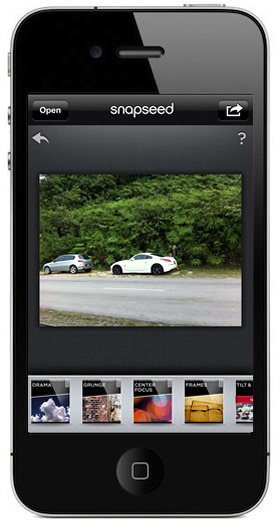 In Tune Image editing screen, adjustments can also be made for ambience and white balance. All modified images can be compared with the original by simply tapping on an image icon located at the upper right of the screen.
Upon successful modification, your photos can then be saved and shared with friends and family members via email and social network sites. And to make life more convenient, photos can also be printed directly from Snapseed!
"Snapseed app brings pro-level photo editing to iPad."
– Charlie Sorrel, WIRED
Other photo-editing tools include Automatic for auto contrast and colour correction, Selective Adjust for point control in brightness, contrast and saturation adjustments, Straighten & Rotate, Crop with preset aspect ratios, Details for sharpness and structure enhancement (including built-in loupe), auto photo filters for Black & White, Vintage, Drama and Grunge, Center Focus for enhancing focus on sample images, Organic Frames with a choice of 8 styles of frame borders, and Tilt & Shift for selective blurring and area-confined adjustments. Truly a wealth of editing tools at your fingertips!
"Snapseed…first-class photo-editing software."
– Roy Furchgott, New York Times
Snapseed is free and is available for all iOS devices running on iOS 5.1 onwards. Its well-designed user interface and ease of use as well as intuitive technology give it a 4.5 recommended rating, losing the maximum score only due to a lack of zoom feature for close-up editing, which I believe is unnecessary unless you require pixel-level editing or monitor the level of grain on dark photos (especially if taken on the iPad), something which should be done on a desktop photo editor instead. Perhaps an informed decision to prevent excessive drain on iOS computing resources? I suspect this is nothing the graphics engine cannot handle…
Features:
a wide variety of photo-editing tools (see above)
intuitive and easy to use
help overlay sheet an effective guide at first launch and available at any time
useful and practical presets for Crop, Organic Frames and others
compare button to quickly preview the changes made
revert button to discard changes if desired
excellent use of U Point technology from the original Viveza software for selective adjustments on sample images
wireless printing direct from the iPad and iPhone
easily share by email or on Facebook and Flickr websites
APPLE iPHONE
APPLE iPAD AIR and iPAD PRO
APPLE iPAD AIR and iPAD PRO