Camera+ does one thing great and that is making photos look fabulous! Photos taken on iOS device sometimes leave a little more to be desired, especially in low-lighting conditions, and Camera+ fills in the gap between a raw image and one which is polished and refined!
With special touch controls at your disposal, your photos can be adjusted with your finger until the proper results are obtained. Camera+ works on the iPad, iPhone and iPod touch running iOS 4.0 or later.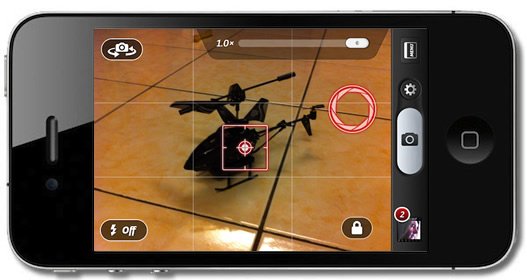 Camera+ allows you to gradually set the correct amount of exposure until the appropriate brightness and contrast have been achieved.
The LED flash on the iPhone 4 has been known to create disastrous over-exposed effect on your end results due to its bright burst of light, and this app also allows you the control of setting this LED flash to serve as a continuous fill light for improved photo quality, especially for macro and portrait shots.
If you have used flash on the iPhone 4 on close-up shots, you would understand the frustration over botched results.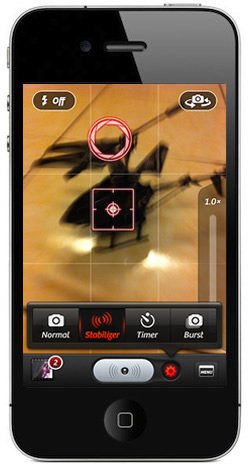 Camera+ also comes with a stabiliser to steady the camera so that the sharpest photos can be realised, making blurry shots almost a thing of the past when you get it right.
With the grid feature in Camera+, crooked photos can be eliminated by using these lines as reference for proper alignment. And if you think zoom doesn't work on digital offerings, you will be pleased to find that the 6x digital zoom on Camera+ is indeed more functional than a gimmick.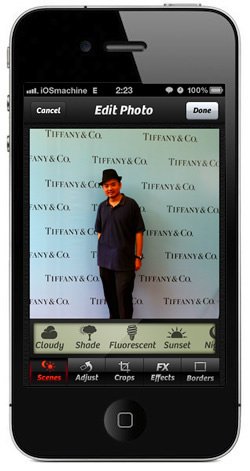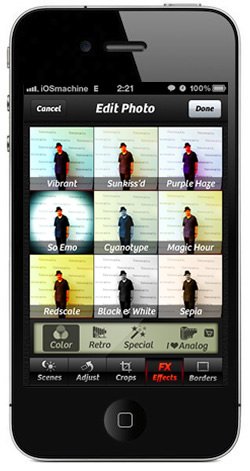 "If the iPhone's standard camera is like a digital point-and-shoot, the Camera+ app is like a high-quality SLR lens."
– TIME: 50 Best iPhone Apps 2011
If you're familiar with most point-and-shoots and dSLR, you'd notice that they usually come with a dial at the top that lets you operate the camera with automatic preset scene modes. Now with Camera+, you get the same facilities on your iOS device.
Easily choose one of the preset scene modes from backlit, sunset, night, portrait, beach and more!
Camera+ also comes with a crop feature, allowing you to crop your photos in-app before you even transfer it to your desktop image editing software.
Fixed sizes and aspect ratios are provided, allowing you to crop to preset dimensions of 4 x 6, 8 x 10 and more. Make passport portrait photographs on the move, will you?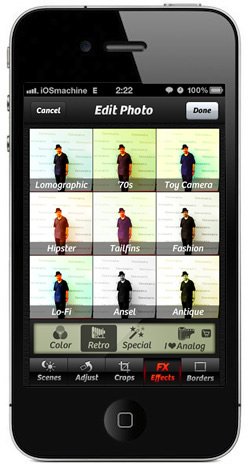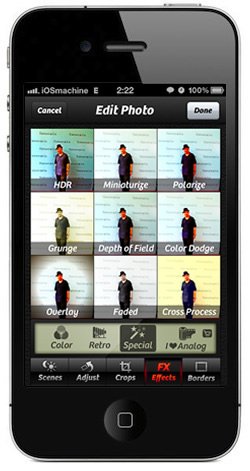 "Improves on almost every aspect of the built-in camera app."
– Charles Sorrel, WIRED
Should your creative side emerge, there are dozens (yes, you read that right…dozens!) of amazing effects that let you modify your photos with a single tap.
The developer of this app has partnered with professional photographer Lisa Bettany to come up with algorithms to add sizzle and effects to your otherwise mundane shots. Amongst some of the effects are HDR, Grunge and So Emo.
You could also use some built-in stylish borders to add the finishing touch to your masterpiece. Share your polished end product via social networking sites such as Facebook, Twitter and Flickr, or email it directly to your associates from within the app itself.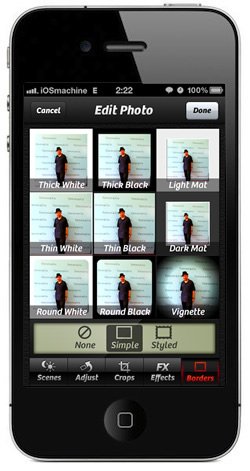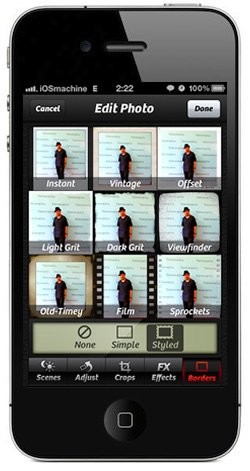 Update:
With the latest edition working with iOS 6.0 or later, Camera+ is downloadable on the App Store at USD4.99. Already over 10 million copies sold, this app is worth its price and more. With so many features and useful presets, it serves to extend the capabilities of your onboard camera by a mile.
Features:
an all-in-one app for great photography and some image editing
exposure adjustment and control with touch interface
sets LED flash on the iPhone 4 as a continuous fill light for a more diffused effect, especially useful in macro and portrait shots
stabiliser feature to get steady shots and eliminate blurry photos
grid lines to properly align photos to avoid crooked shots
high quality 6x digital zoom
preset scene modes such as portrait, beach, sunset, night etc. like your regular point-and-shoots and dSLR
built-in crop feature with preset crop sizes to cut out unwanted areas even before reaching your desktop image editing software
dozens of amazing effects at a single tap derived in collaboration with professional photographer Lisa Bettany
use stylish borders for the finishing touch and share via social networking sites and email
---
APPLE iPHONE
APPLE iPAD AIR and iPAD PRO
APPLE iPAD AIR and iPAD PRO