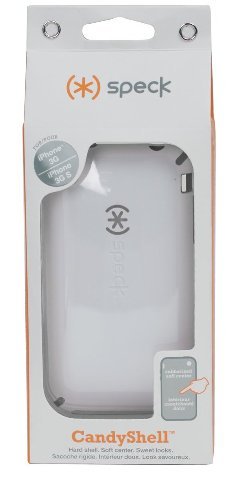 Speck cases have been around for awhile, and have provided superior protection for many of Apple products over the years. For the iPhone 3G and 3GS, the speck CandyShell cases are worth a second glance.
The speck CandyShell was the first case for my iPhone 3GS back in 2009. I found its design to be utterly appealing, and its sweet grey and lime green colour combo (below) and candy design was not only aesthetically pleasing, but of true protective function as well.
From a usage standpoint, the soft rubbery interior accorded the iPhone all the protection it truly deserved, while the hard glossy exterior not only protects the back from scratches, but makes it easy to slide in and out of pants pockets. Executives who carry their iPhones in their pants pockets will appreciate this convenience.
The soft but firm rubber interior is of contrasting colour to the shell exterior, and although the shell exterior is harder, the entire case is still rather flexible in the hands. You can certainly feel that this case will provide adequate protection to the iPhone in the event of a drop onto a hard surface.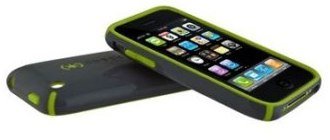 The speck CandyShell case is made of thermoplastic elastomer (TPE) and polycarbonate, and is designed with the openings for all ports, speakers, microphones, earphone jack and mute slide switch. The sleep/wake switch and volume sliders on the iPhone 3G/3GS however remained covered by the rubber interior so that these buttons can be easily depressed without much pressure.
The speck CandyShell
"…this case will provide adequate protection to the iPhone in the event of a drop onto a hard surface."
The CandyShell fits the iPhone 3G/3GS very snugly, and can be rather difficult to install.
However, it is more difficult to remove, and one must be careful during the removal of this case, as the thin polycarbonate section of the case just above the charging port is prone to breakage from the inevitable bending and twisting during removal.
This seems to be a common problem with this case, and in my case, both were found snapped and broken after awhile, most likely from the on and off removal of this case. The fashion-conscious amongst us should note that this case is not designed for the user who plans to change casing colours to match the clothes.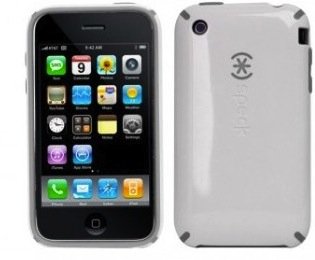 The speck CandyShell was voted Best of Show at MacWorld 2009 by iLounge and iProng.
At USD34.95, it is one of the more expensive cases around, and its premium feel is certainly evident once you have your iPhone 3GS encased within it. However, it is not designed for regular removal and replacement.
SEE ALSO:
---
APPLE iPAD AIR and iPAD PRO
SPECK CASES FOR IPHONE