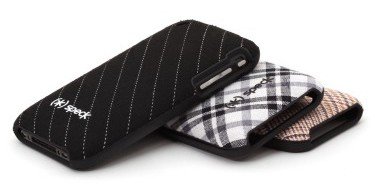 Fitted, an apt name for an apt case by speck.
While most iPhone cases on the shelves are made entirely or a combination of some form of rubber, silicon, plastic or polycarbonate, the speck Fitted case is set apart from other cases in the market by its unique use of fabric on the rear side of the iPhone 3G or 3GS. This gives a soft textured look and feel on an otherwise hard and solid mobile device. And I can tell you first hand, this thing feels great in the…hand!
speck Fitted iPhone 3GS Case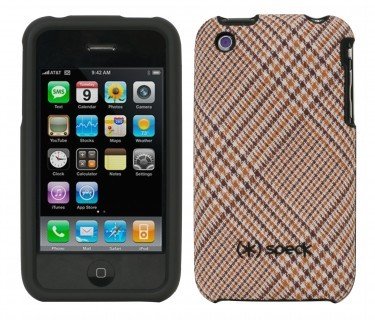 My first speck Fitted case for review was the Tan Houndstooth shown at right.
The speck Fitted comes in a variety of vivid colours and interesting designs.
In my test on the iPhone 3GS, I have found that the particular model I bought creaked a little as it is squeezed in my grip. The same case when fitted(pun not intended!) on an iPhone 3G did not creak at all.
I am not certain if this is the case(pun not intended again!) with all Fitted cases, but in any case (argghhhh!), do proceed with caution if you are planning to purchase this for the iPhone 3GS.
To be sure, it is best you try out a friend's case or at the shop before you buy. Is there a remote chance the iPhone 3G and iPhone 3GS were manufactured out of different molds? Quite doubtful. Shouldn't be.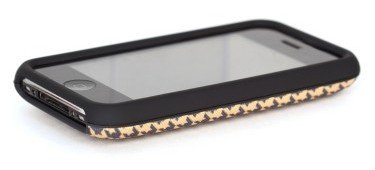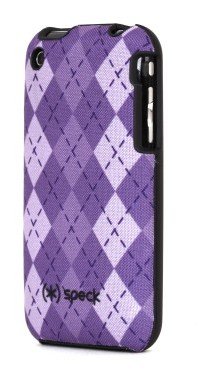 The speck Fitted comes in 2-piece joint-fitted snap-on polycarbonate frame for the front and soft polyester fabric for the rear. The black polycarbonate frame that outlines the screen is a favourable feature as it keeps the borders of the iPhone dark and does not detract attention from what's playing on the screen.
Once installed, the case remains firmly and sturdy in place, and is easily removed by flexing the polycarbonate frame slightly to dislodge it from the snap-on catch mechanism.
Potential buyers are to note that like all fabrics, the rear side may be subjected to dirt, and wear and tear. Dirt is washable, and it goes without saying the case must be removed from the iPhone before washing.
However, if you are one who takes good care of your iPhone, and that means not tossing it around, swirling it on the table and placing it on wet muddy soil, the Fitted case should last you a very long time.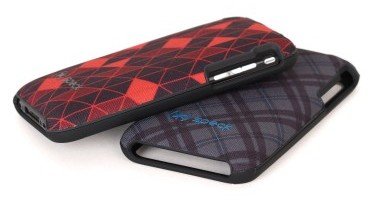 "…the speck Fitted case is set apart from other cases in the market by its unique use of fabric on the rear side…"
The speck Fitted case is well-constructed befitting speck's reputation, and is available for USD29.95. Check speck's website for details and pricing, as the price for certain Fitted designs have been known to be significantly discounted.
SEE ALSO:
---
APPLE iPAD AIR and iPAD PRO
SPECK CASES FOR IPHONE