The Elements: A Visual Exploration is a comprehensive reference app for elements of the periodic table. If you are a student aiming to get a better understanding of the periodic table or have a fancy for minerals and elements found on Earth, this visual approach by Theodore Gray, co-founder of Wolfram Research, Inc. should be a much appreciated addition to your iPad.
In fact, children will find this an easy and comprehensible way to grasp the mysteries of our earthly elements with the built-in real world applications of these elements.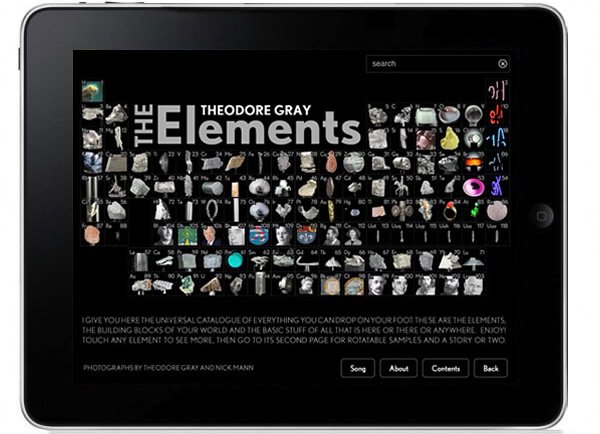 "This is the element book that in style and content outshines all element books! The photographs are fantastic in their mod layout on black. In the accompanying short texts, in a few choice words, Gray sketches utility, delves into history, and isn't afraid to make sharp comments about the world. My reaction: elemental delight."
– Roald Hoffmann, writer and winner of the Nobel Prize for Chemistry
This app starts off with an interesting song of the elements on first launch, and as each element is mentioned it is placed in its correct position on a periodic table.
The periodic table remains as the main home screen thereafter, with each element shown as an animation or rotating sample. Tapping on the element brings up an enlarged image of the animated sample, as well as information such as atomic number, radius and mass, crystal system, density, electronegativity, temperature limit points and other relevant data to the main screen as shown in the screenshots below.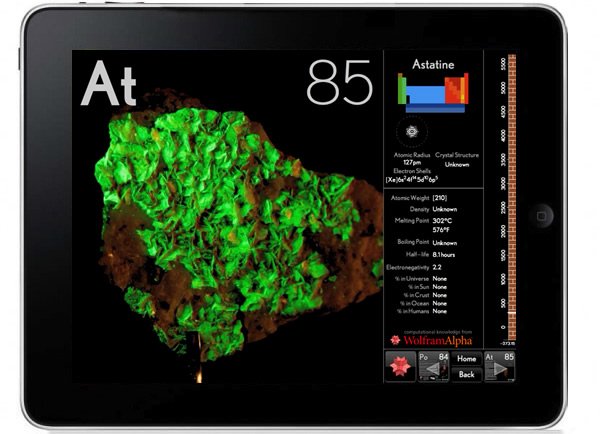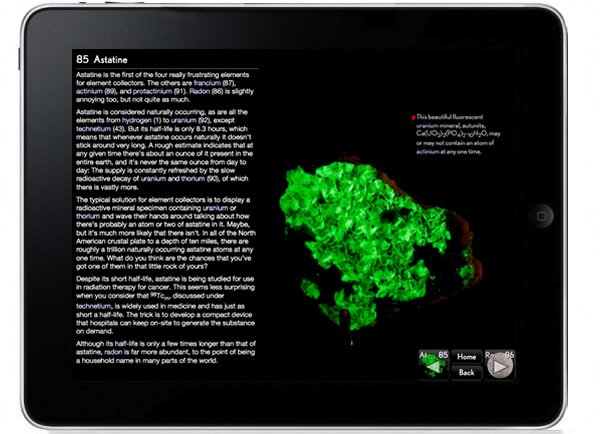 Get It On eBay
---
"The Elements for iPhone lets you experience the beauty and fascination of the building blocks of our universe in a way you've never seen before."
– MacWorld.com
And that is not where it ends.
The value of this app comes as the next button on the lower right is tapped. Tapping next brings further information to the fore, information not provided with your regular conventional periodic table. Based on the selected element above, the screenshots below show these extra tidbits of information: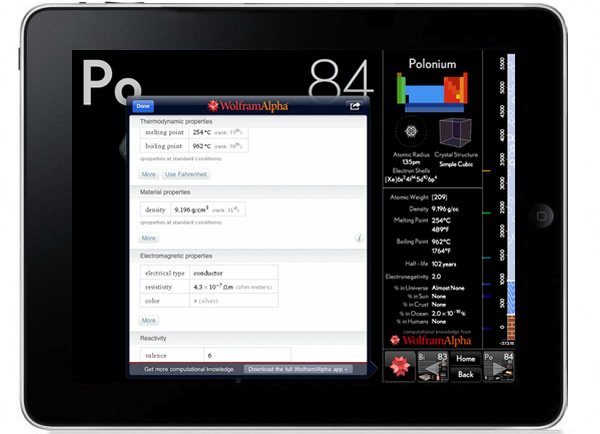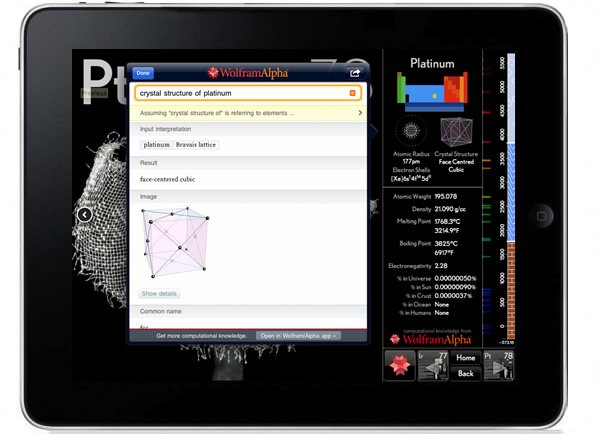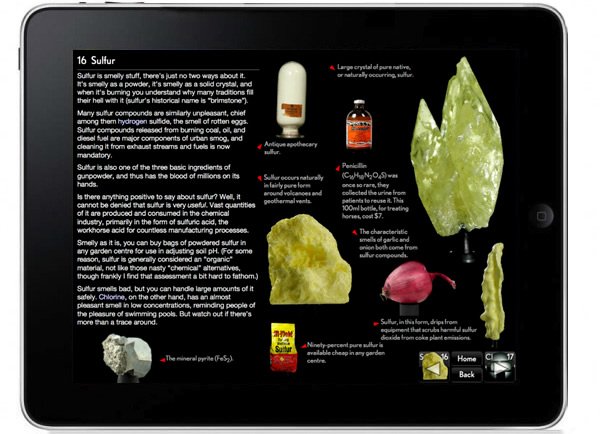 "This glorious book is more than just a guide to the elements; it will fundamentally deepen your appreciation of the substances that make up our world."
– Oliver Sacks, Author of Awakenings and Uncle Tungsten
The Elements: A Visual Exploration for the iPad is priced at USD12.99, and is available in 18 different languages. It is one of the more expensive apps, but remains a very worthwhile purchase given the wealth of information provided.
The app is well-authored and the premium feel is evident throughout. It also runs on the iPhone and iPod touch, making good use of its Retina Display to bring the world of the elements and their properties to your handheld mobile device, with the following screenshots: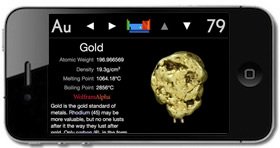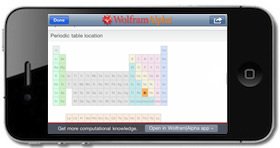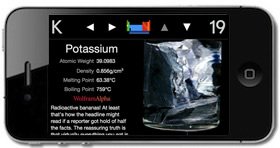 Summary of Features:
a visual approach to elements of the periodic table
comprehensive detailed information accompanied with 360° rotating samples and animation
offers examples of real world application for each element
built-in videos aid further understanding
available in English, Japanese, German and French (all separate versions)
---
APPLE iPAD AIR and iPAD PRO
APPLE iPAD AIR and iPAD PRO