If you are in search of a feature-rich project and task management app for the iPad, OmniFocus for the iPad comes highly recommended. It presents in-depth desktop-style task management features with the flexibility and mobility of the iPad. Task entries are especially easy with touchscreen input, and tapping actions bring up the required information quickly when you need them.
With the latest version, your data in OmniFocus can be synced with your other iOS devices via the Cloud, as OmniFocus is also available as a separate app for the Mac and the iPhone or iPod touch.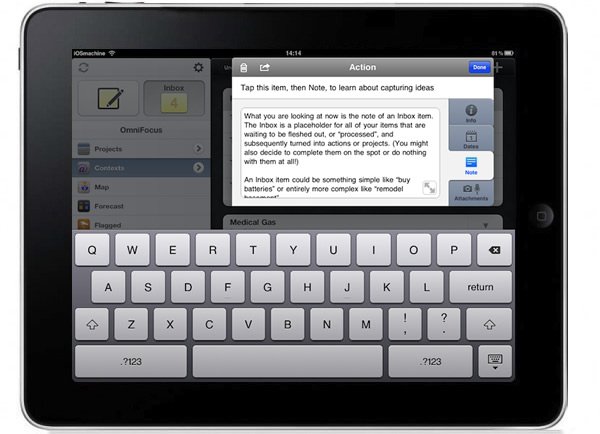 In the screenshots below, you will get a glimpse of my real-world experience using OmniFocus for the iPad in my project in developing and construction of a medical centre.
Although OmniFocus can be used to manage a number of concurrent projects on hand, I have only used OmniFocus to manage one single project to show what this app is capable of.
As you can see, projects will actually be listed on the left column, and tapping on the project brings up the next screen listing a number of subheadings within that project. In my case, these subheadings are a list of mechanical and electrical engineering services relevant to the medical centre.
Under each of these services, I have listed further time-sensitive outstanding works which require my attention, with a start and end time in a to-do format which can be marked as completed with a single tap at your discretion. Receive notifications when a task is due or when you happen to be near a context with available tasks.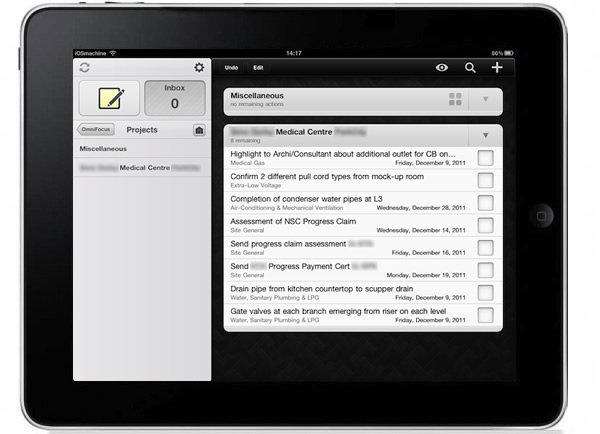 Without going into any specific folder, project or subheading, ideas that come to mind can be immediately captured by tapping on the quick entry button, which is indicated on the top left side of the screen as a notepad with a pencil icon, or as a "+" sign at the top right of the screen.
The entered ideas can then be later transferred to the correct and relevant project and subheading. This feature is one which is well thought of, as some task management app requires you to first locate the right folder, and in the midst of getting there, you may just forget exactly what you had wanted to enter.
Although in my example, I only had one main level of project and another sublevel of subheadings, tasks in OmniFocus can be organised into as many hierarchies as you require. This effectively enables you to break down large tasks into smaller manageable sub-tasks, or into tasks to be managed by different subordinates and assistants.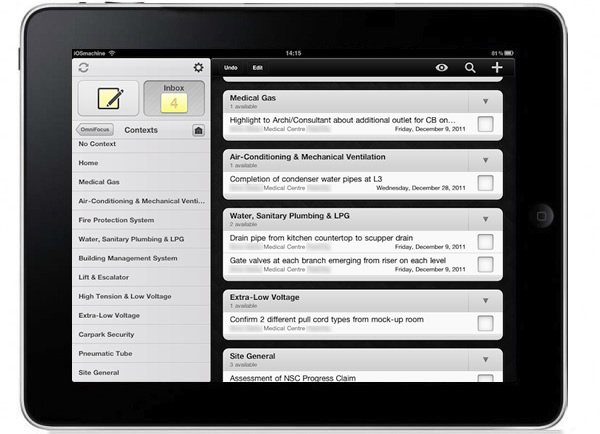 Tasks can be categorised and viewed by contexts based on location, people or energy level.
Speaking of location, especially if you are running a number of projects in a foreign country or in unfamiliar sub-urban locations, projects can be pinned to a map so that you are able to visualise the geographical distances of your projects and be reminded of tasks when those are within close proximity.
As shown in the screenshot below, due tasks, starting tasks and calendar events can be forecasted in a single view, showing what's upcoming.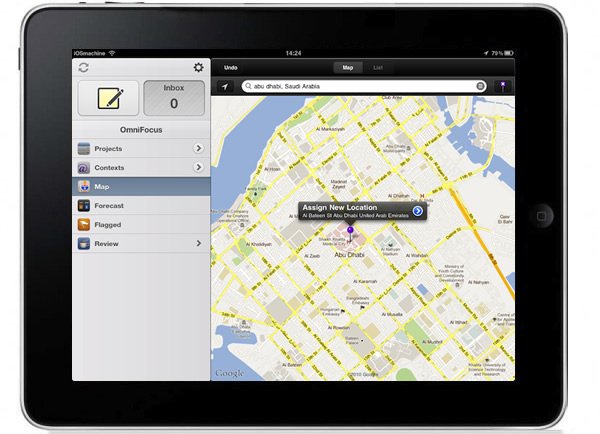 The Omni Group have provided users of their award-winning app with free Sync Server so that tasks can be synchronised across other copies of OmniFocus. Free customer support is also provided to users via email and phone.
For more information, videos are also provided by The Omni Group on their website at www.omnigroup.com.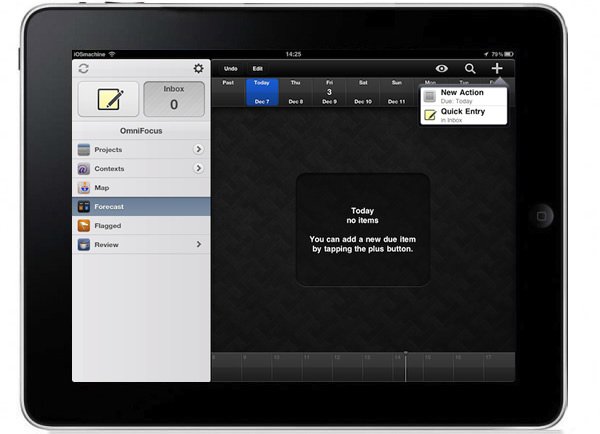 OmniFocus is free for download on the App Store with in-app purchase options. There is an iPhone version, but I find OmniFocus more suited to the larger screen of the iPad. If you do not own an iPad, you may want to consider OmniFocus for iPhone or iPod touch. For the feature-rich capabilities of this app, OmniFocus for the iPad garners a highly recommended rating of 5.0.
Summary of Features:
feature-rich and high capable project and task management app
quick and easy data entry for capturing immediate ideas within a few taps
projects, tasks and folders can be organised into multi-level hierarchy
use maps to visualise geographical proximities of multiple projects within close vicinity
forecast views within the week based on starting and due tasks
set and receive notifications when tasks are due
tasks can be synchronised across other copies of OmniFocus via The Omni Group's free Sync Server or other WebDAV servers
free and convenient customer support via email and phone
---
APPLE iPAD AIR and iPAD PRO
APPLE iPAD AIR and iPAD PRO