NIV Bible by Tecarta, Inc. is now available across all iOS devices and features all books of the Old and New Testaments, providing you with a portable Bible reference on the go. This is a feature-rich app, with ability to create hierarchical folders and store chapters and verses you require for future reference.
The latest version features cloud syncing, allowing you to synchronise all notes, bookmarks, margin notes and highlights across all your iOS devices, so that your handy references are also similarly found in your iPhone should you leave your iPad at home. Now with AirPrint support, you can print these notes wirelessly to your network printer.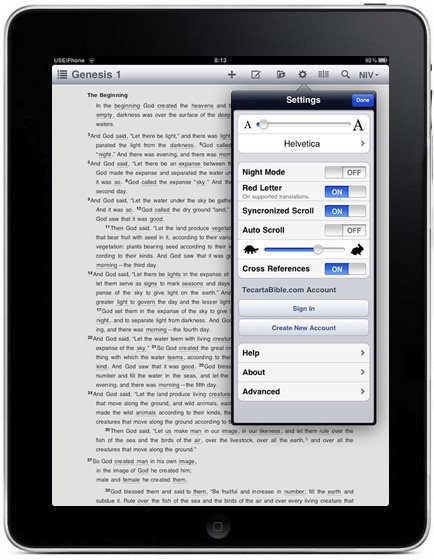 This New International Version Bible renders information fast, with user-friendly navigation and search capabilities. Users are able to copy and paste from the Bible to other apps within iOS devices, such as Messages and Mail.
All information is stored in device, so no internet connection is required during use, except for translations to other languages which is streamed online to the app free of charge.
If you require any of these languages to be stored permanently in your device, the language versions are available as in-app purchases from USD0.99 per language. Languages available are Chinese, Korean and Spanish, with other Bible versions available for purchase including English Standard Version, New King James Version, New Century Version, New Living Version and others.
At time of writing, the King James Version Bible is available as a free download within the app.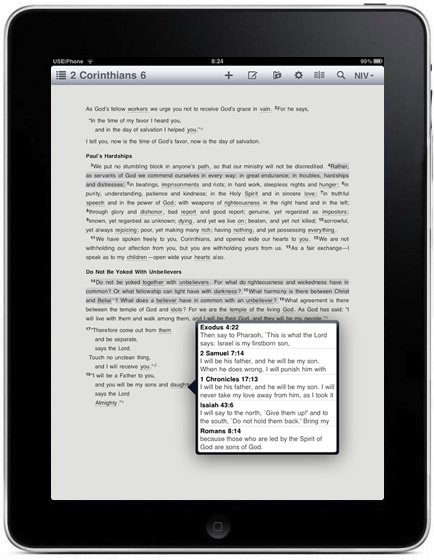 "The NIV is the most widely accepted contemporary Bible translation today. More people buy the NIV Bible than any other English-language translation. The NIV was created and is maintained with the mandate to accurately and faithfully translate the original Greek, Hebrew and Aramaic biblical texts in clearly understandable English."
Taking up only slightly over 13 MB, NIV Bible takes up relatively little space, and can be read in portrait or landscape orientation.
Night mode feature turns pages to light text on a dark background to reduce eye strain for reading before slumber. You can enable the autoscroll so that you don't have flip pages with your finger, with adjustable speed to suit your reading pace.
And unlike the hard copy counterpart sitting by your bedside table, font-type and text-size can also be adjusted to improve readability and user comfort.
If you find something of interest and need to share it with church-goers, friends and family, notes can easily be emailed out.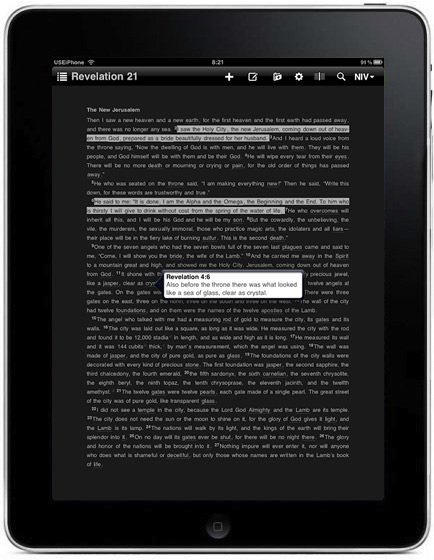 Don't deface your age-old trusty and faithful Bible with a yellow highlighter. Use the in-app highlighting feature by single tap to emphasize verses and passages for your own use or for showing it to someone.
Underlined words within the Old and New Testaments provide cross-references across the Bible simply by tap-and-holding on these words.
If you need to find a particular topic or verse, a full-text search enables you to do just that by typing in a keyword.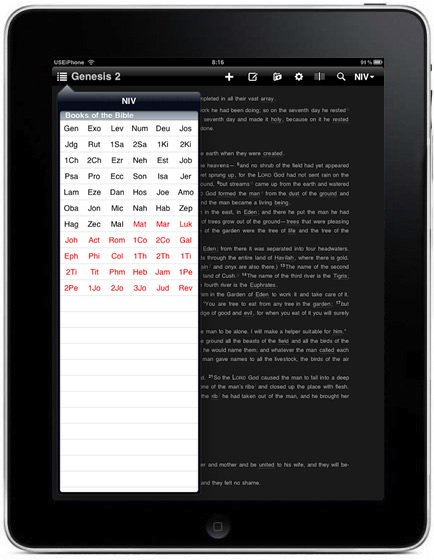 NIV Bible is available for free on the App Store and on Google Play for Android devices. Download and use it on all your iOS device. With its fast search and smooth implementation, NIV Bible garners a highly recommended 5.0 rating for what it is intended to do – to provide a user-friendly and feature-rich portable Bible reference on the go!
Quick Features:
faithful and accurate translation from the original Greek, Hebrew and Aramaic biblical texts in clear understandable English
adjustable font-type and text-size
autoscroll with adjustable speed for customised reading pace
fast and powerful full-text search and navigation features
margin notes for writing personal notes at selected passages
free streaming language translation for selected texts
email notes from within app to friends and family members
2-column reading for quick comparisons of alternate texts and versions
night mode for reading in the dark and reduced eye strain
built-in highlighting feature for emphasizing texts and verses
customisable hierarchical folders for storing notes and history
cloud syncing to synchronise bookmarks and margin notes across all personal iOS device
enabled AirPrint support for wireless printing of selected texts and verses
in-app purchase for other bible versions and bible in Chinese, Korean and Spanish
---
APPLE iPAD AIR and iPAD PRO
APPLE iPAD AIR and iPAD PRO