If you ever feel the rush to drive a hot and fast supercar but can't afford one in real life, give Need for Speed Hot Pursuit on the iPad, iPhone or iPod touch a go! And even if you do already own a Ferrari F430, there are reasons you could still want to play this game.
With cars like the Bugatti Veyron, Lamborghini Reventon and Pagani Zonda Cinque to choose from, gameplay is thrilling and realistic to a great extent, as each of these cars varies in acceleration, handling and speed, as they do in real life.
Fancy driving a Koenigsegg, BMW M3 E92 or Ford GT? There are a total of 20 real-world production cars to race in, and you have to work your way upwards and earn points to race the more advanced and sophisticated, and not to mention, expensive supercars along your driving career.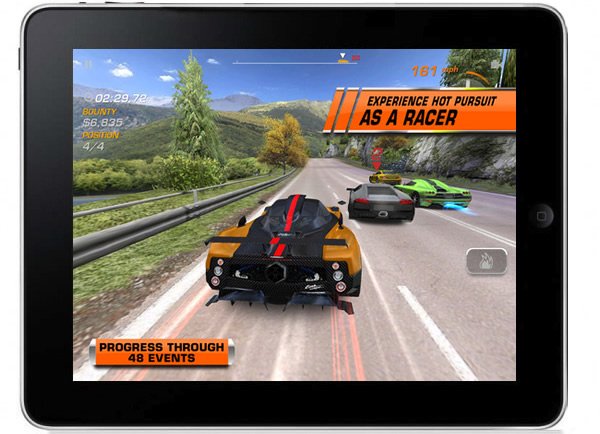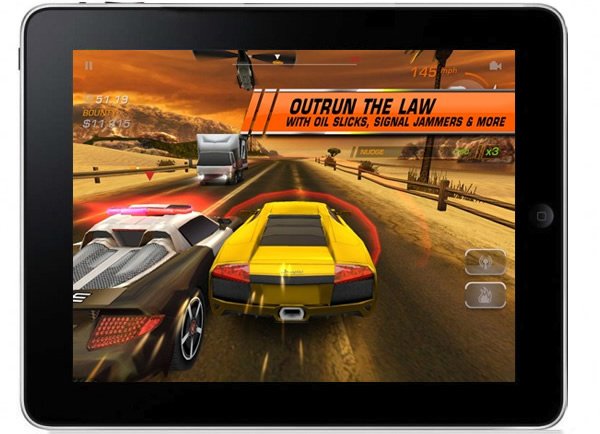 "Experience pulse-pounding action as you make the escape – or make the bust!"
You may choose to play as the criminal who tries to flee from the cop, or choose to play as the cop if good nature is your calling.
From my experience, it is more fun being the villian. Running away from the law just seems so much more fun. Really. Your cars are well-equipped with nitro, which you can deploy after each time they fully recharge, indicated by a dial on the upper right side of the screen.
There are a number of tricks you could pull, with combination of acceleration and brakes, and you certainly won't get them right the first time as these do take some practice. Nevertheless, the game on a high speed adrenaline drive alone without the fancy moves is itself already much excitement. Watch the speed lines glide past you in overdrive mode.
You do have to master scoring drift points as some levels require this to proceed. Other than that, feel free to nudge, grind and collide with cop cars to knock them off the road.
And whilst trying to escape, you would have to evade spike strips, oil slicks and prevent jamming of your electrical system by the EMP lock.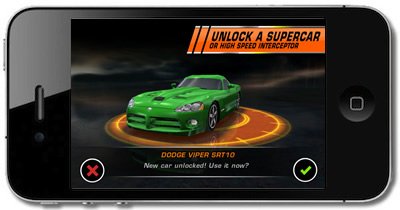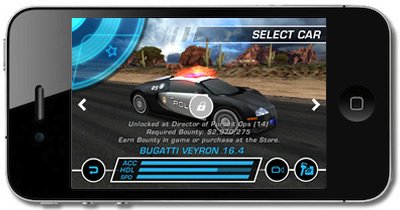 Your achievement in each level is marked by up to 3-star rating based on the elapsed time upon completion of a race, number of laps in leading position, maximum speed achieved at each speed trap and total number of drift points.
You could challenge or play with a friend via local wifi or bluetooth. Once you have completed the four main levels made up of a total of 24 career events, you could go back and play each level and try to attain 3-star rating for all levels and events. At least that was what I did, which made the USD4.99 price tag for this game on the iPad a worthwhile investment.
The iPhone version costs at an expected lower USD2.99, but nothing beats playing this game on the iPad with its larger screen. For an additional two bucks, it's worth the extra.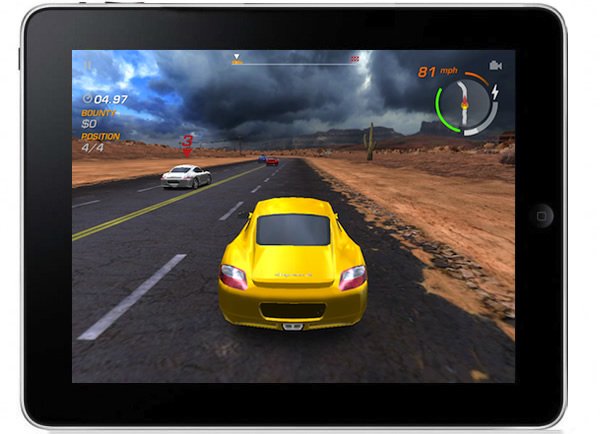 Need for Speed Hot Pursuit renders excellent graphics, visually-stunning environments covering coastal, mountain and desert terrain during the day, night and dusk in a surreal manner. A highly recommended game for your iPad with a rating of 5.0, if you have great enthusiasm for fast cars and driving recklessly without taking lives.
Download the latest version of Need for Speed on the App Store.
Pros:
dual mode playing style – play as fleeing criminal or law-enforcing cop
different drive styles to earn points and score higher ratings
4 locked levels with 24 career events
up to 20 real-world production cars with realistic characteristics to race in
all cars equipped with nitro and can be driven in overdrive mode for certain levels
visually-stunning race environments covering coastal, mountain and desert terrain with day, night and dusk hour settings
well-rendered on the large screen of the iPad
Cons:
Update: some may find the original price of USD9.99 a little too expensive – now at USD4.99 for the iPad, and USD2.99 for the iPhone.
it can be a little annoying that the cop car can be faster than you during a chase, even when you're ahead speeding down the road in a Pagani Zonda or Lamborghini Reventon. A little unrealistic, but the game just has to be that way!
---
APPLE iPAD AIR and iPAD PRO
APPLE iPAD AIR and iPAD PRO