This is a collage of the LionSteel TM1 Molletta with blade in satin finish and Micarta handle, with photos and description of this knife.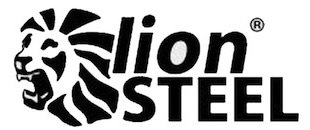 I first came to know about LionSteel when I was searching for a D2-bladed knife and stumbled upon the LionSteel SR-1A in orange handle with a satin D2 steel blade. I was about to put money down on this knife when I came across another one of their creations – the LionSteel TM1 Molletta.
DIMENSIONS:
Overall: 20.5 cm (8.07 in)
Weight: 130 g (4.59 oz)
BLADE:
Blade Length: 9.0 cm (3.54 in)
Thickness: 4.5 mm (0.18 in)
Material: Uddeholm Sleipner
Blade HRC: 60-61
Finish: Satin
Grind: Flat
Style: Modified Drop Point
Edge: Plain
HANDLE AND LOCK:
Length: 11.5 cm (4.53 in)
Material: Micarta SOLID®
Liner: None
Lock: Lockback
In comparison, although the SR-1A has an arguably better handle with a Rotoblock Frame Lock in aluminium, the TM1 sports a more interesting one with a one-piece Micarta, and definitely a better blade in Uddeholm Sleipner steel. Yeah, I know. I've not heard of this steel until I came across this knife.
Both these features, the one-piece handle and the Sleipner steel, are mainly the reasons this knife commands a price tag of €210.00 (US$233.00 as at 24 May 2015).
No less a reason is also the fact that the LionSteel TM1 is a creation of established designer Michele Pensato, also fondly known as Molletta, hence the moniker for this knife model. Oh, did I also mention that LionSteel is known for producing high-quality knives of excellent fit and finish out of its plant in Maniago, Italy? No less another reason.
Let's take a look at the knife emerging from its packaging.
| | |
| --- | --- |
| The label at the side states TM1 MS. That's the model TM1 in Micarta handle and Satin blade finish. | Packaging is simple for this knife – a slip of document…and the knife. |
| The document is a form of a quality certificate… | …as well as with instructions on how to activate its warranty. |
| | |
| | |
Variance
LionSteel offers the TM1 in four variants, from a combination of two blade finishes (satin or black) and two handle materials (Micarta or carbon fibre). These variants are shown below.
Micarta handle,
in satin (MS) or black (MB) finish blade.

Carbon fibre handle,
in satin (CS) or black (CB) finish blade.
LionSteel uses two alphabets to indicate the model variance, and I decided to go with MS – Micarta/satin.
I opted for the Micarta because of its unique wood-like grain and texture which arouse visual interest, and while the carbon fibre may be lighter and appear more elegant, it is also over US$100 more expensive.
Honestly, the Micarta looks just as good, and some may even consider it better-looking than the carbon fibre. Eye of the beholder applies.
Initial Impressions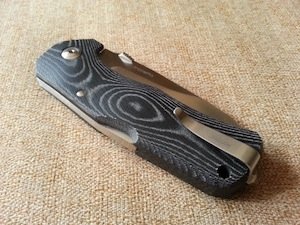 Looking at the LionSteel TM1, there were a few features that I wasn't particularly fond of initially.
For starters, the blade deployment was by means of a thumb disc, which is the least favourite of mine, for reasons I will go into shortly. Another is the lock back, also the least favourite of mine.
I must stress at this point that these are personal reasons and preferences out of habit over the years, and by no means should be taken to mean the shortcomings of the knife.
We will discuss and look at the individual features of the LionSteel TM1 as follows.
Handle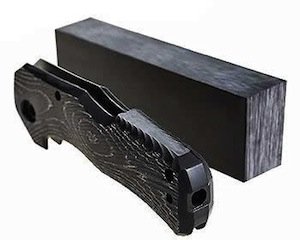 There is much to marvel over the handle of the TM1.
Straight out of the box, you will notice that there are no seams or joints on the handle – it is, as LionSteel describes it, a monolithic construction, milled from a single solid block of Micarta, manufactured using LionSteel's four-centreline machining stations.
It would be inaccurate to call them scales, which is usually the case with Micarta. For one, there are no steel liners, and the handle doesn't creak or flex very much under pressure from the fingers and gripping. This results in a lighter knife that it appears to be, yet rigid enough to be practical.
The TM1's monolithic construction is obvious when viewed from this angle, where the spine of the handle does not show any joints or seams. Here, it is milled from a single block of Micarta. Skeletonised ridges on the spine towards the back or pommel of the handle provides traction when sitting in the palm.

I believe the handle is made of linen Micarta, which is milled and contoured down…

…to reveal unique grain patterns of almost "no-two-are-alike".
The wooden grain-like pattern on the handle is also a form of personalisation straight out from the manufacturing process. Like the G-Mascus handle on the Hogue EX-04 reviewed earlier, every TM1 handle carries a different pattern of grain, hence giving it an almost "no two are alike" attribute. This is the very least a production knife could ask for in having its own identity without the use of exotic natural materials.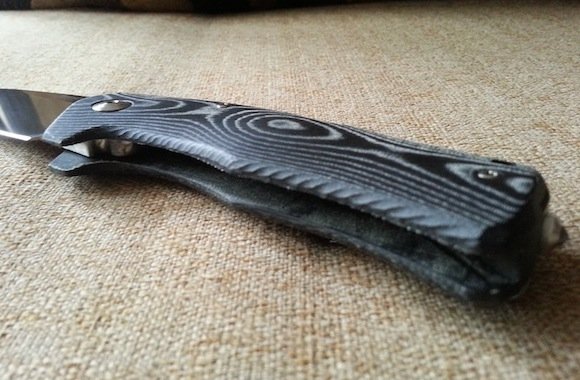 The handle is also contoured to fit in the palm nicely, and the overall dimensions bring good ergonomics to the package.
The two-tone Micarta is milled down to resemble wood grain and texture, and one could be forgiven for mistaking it to be of tree origin.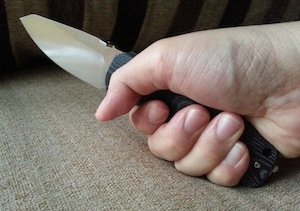 Fit and finish is excellent, and the steel back lockbar is totally fit flush with the adjoining surface of the handle spine, so smooth that you can't feel the seam by touch.
You'd think the lockbar and handle were levelled down simultaneously. Whether that's true or not, I have to say at this point, great job LionSteel!
Get It On eBay
---
Blade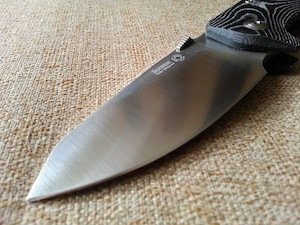 The blade is one of the main reasons I went with the TM1 instead of the aforementioned SR-1A. While the SR-1A blade seems to be more inclined for slicing work, the TM1 with its modified drop point blade excels as both a slicing tool and a stabbing implement.
Some would term this as a reverse tanto, given its angular drop at the spine towards the tip, but I am a little uncomfortable calling this so, because the words reverse tanto seems to insinuate that the cutting edge is also found on the angular edge on the spine, as the angular edge on the tanto is also its cutting edge.
Also, the angular drop here is a short one. An angular wharncliffe blade like the Mantis MT-9 would look more like a reverse tanto than this modified drop point. But that's just me and terminology. Po-teh-toh po-tah-toh.
The blade is made of a relatively new steel from Böhler-Uddeholm known as Sleipner.
It is a chromium-molybdenum-vanadium alloyed tool steel with a rather low 8% chromium content, and has been described as a worthy replacement to AISI D2 and AISI A2 tool steels, with significantly better chip resistance, higher wear resistance, and marginally better corrosion resistance.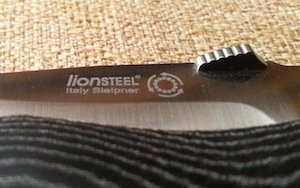 It maintains an edge better and is also easier to sharpen than D2. Due to its finer grain structure, Sleipner steel can be sharpened to a high degree of sharpness and can achieve upper levels of hardness of up to 64 HRC after hardening and high-temperature tempering.
On the TM1, the steel is heat-treated to Rockwell hardness of 60 to 61 HRC. That's about the hardest steel in my collection of blades and knives. LionSteel stated that the Sleipner is "the best steel we have ever used", and that they "would like to introduce this steel in all our range of knives".
Thumb Disc and other Thumb Things
While we're on the blade, let's take a look at the thumb disc.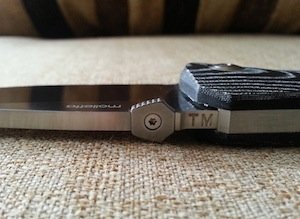 Personally, I do not favour thumb discs as mode of blade deployment, for a number of reasons. A knife I previously own suffered from the disc coming off loose occasionally, and it's easy to understand why – the direction of force exerted on the disc by the thumb is in the same line as the axis of the screw keeping the disc in place.
Every time the disc is pushed, the thumb imposes a prying action on the disc, as opposed to a thumb stud where the direction of force is perpendicular to the screw axis. Having said that, the knife I previously used was a cheap and poorly constructed one, and I would expect the disc on the TM1 to perform significantly better.
| | |
| --- | --- |
| The make, country of manufacture, blade steel type, and IKBS bearing logo appears on this side of the blade… | …while the reverse side is printed with the nickname of the knife designer Michel Pensato, otherwise known as "Molletta". Read more about him below. |
Now that we've got my personal preference out of the way, let's discuss the thumb disc on the TM1 proper.
The thumb disc here is not the usual circular one as normally expected, but one of an irregular hexagonal shape, with a little jimping on the two forward sides of the hexagon, each side to cater to the left- and right-hander. This jimping provides traction for the thumb in the blade close position.
| | |
| --- | --- |
| Personally, thumb discs are a little harder to use than thumb studs and flippers… | …but with practice, they become just as easy! |
There is probably a good reason to go with a thumb disc here instead of other modes like thumb studs or thumb hole, and I suspect this is for reasons of design and aesthetics. A thumb disc takes away little from the gorgeous lines on this knife and disrupts the flow minimally, a flow which would otherwise be marred by a stud or hole.
The thumb disc is held on the blade spine by a tiny torx screw, and should be easy enough to tighten if necessary.
| | |
| --- | --- |
| There isn't any jimping on the blade spine, but… | …a levelled-out depression and slight ramp make for a good jimping replacement. |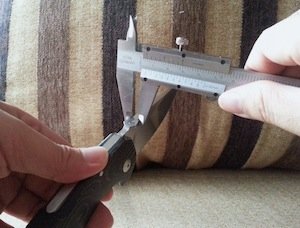 The TM1 doesn't sport any jimping on its spine. Instead, what it has is a small levelled-out depression on the blade spine immediately after the handle, followed by a slight thumb ramp that helps to keep the thumb from sliding forward.
The model name TM is engraved on this small levelled-out surface. It serves as a good jimping replacement. Proportion-wise, the blade at 4.5 mm (0.18 inch) is considered thick for a knife this size.
Pivot and Bearings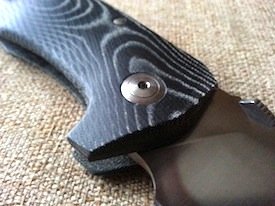 I think LionSteel got it right this time with a pivot screw that doesn't require a special proprietary tool to tighten or loosen, as was the case with their earlier SR-1 and SR-2 series.
Many users complained about the need for a special tool for adjusting the pivot (and pocket clip) on those models, and this is an issue you won't encounter with the TM1.
It looks like the adjustment of the pivot screw here requires a standard torx bit, though I have not tried adjusting it. Haven't had a need to do it just yet.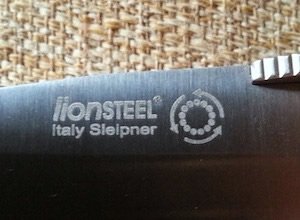 Anyway, what's more interesting and important is that an IKBS bearing runs the blade swivel at the pivot point.
The TM1 is the first LionSteel knife to utilise IKBS bearing, which turned out to be a good call. In fact, the LionSteel TM1 is the first knife in the world with a lockback that runs on bearings at its pivot.
And this, I have found, was critically important enough to make a huge difference. I will tell you why shortly.
Since I mentioned lockback, we'll talk about this next.
Lockback (also known as Back Lock)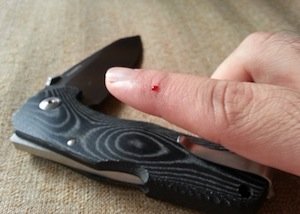 As mentioned earlier, the lockback isn't my favourite lock on a folding knife. Compared to liner- and frame locks, I find that lockbacks make a folding knife somewhat unwieldy during blade closing.
True enough, as I was first trying this knife out for size, I had accidentally cut my finger during a blade close. I had just squeezed the lockback, and as the blade swivelled inwards, it landed on my forefinger, and it did so gently I might add. That was all it took to draw blood from flesh (see right).
Nevertheless, this was also an indication of two other things: IKBS bearing systems are so smooth that swivels are truly unrestricted, and super sharp edges are attainable on Sleipner steels.
| | |
| --- | --- |
| If you're not careful, you may accidentally cut a finger that is in the way during a blade close. Extremely sharp edges can be attained with Sleipner steels due to its finer grain structure. | Using two hands may be safer in closing a lockback knife, but that's not the reason we buy single-hand operating knives like this one. |
Devising a Proper Way to Close the Blade
After being cut, I devised a proper way of closing this knife.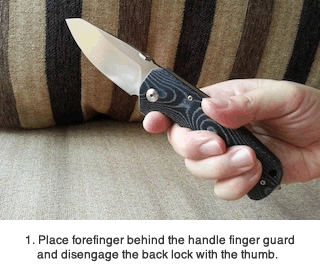 The trick is to allow the IKBS bearing to work its magic, and to place the forefinger at the appropriate place. Here, it is at the finger guard of the handle, so that when the blade falls after the lockback is disengaged, the blade finger choil would find itself resting on the forefinger hidden behind the handle's finger guard.
The blade can then be manually closed with the thumb or other fingers (see right). I can now close the blade as fast as I do with my frame lock knives.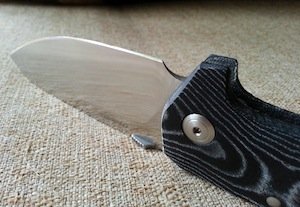 I realised that I had never needed to do this with my other lockback knives like my Cold Steel Hold Out II, because those other lockback knives were simply not running on any bearing system, which made a huge difference.
Closing with one hand was difficult but not impossible with such knives, and two hands were always most necessary and safer.
The LionSteel TM1 is the first lockback knife in the world that implements pivot bearings. Incidentally, the TM1 is also LionSteel's first knife that uses IKBS bearings. This makes closing a lockback knife with one hand easier.
| | |
| --- | --- |
| The lockback bar is kept in tension by two spring rods… | …that is cantilevered from within the Micarta handle. |
Lockbacks are ambidextrous, and although I'm mostly a right-hander, this would come in handy at times when only my left hand is available for use.
With the blade closing method I "devised" above (and I am sure it's not original as other people could have figured this out way before I did), I could close the blade almost as fast and efficiently with my left hand as I do with my right.
The Pommel End of Things – Pocket Clip and Glass Breaker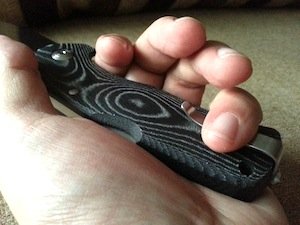 The pocket clip is the least favourite feature for me on this knife. I found the sudden upward bend towards its tip a bit too much for my taste. Furthermore, it provided a little hotspot for the third or ring finger when switched to the less dominating hand.
Of course, the clip is removable and switchable to the other side of the handle, but for those moments when your dominating hand is busy and you have to use the other hand, it would be nice to have a pocket clip that has less of a hotspot, in either hand. The pocket clip found on my Hogue EX-04 is one such example.
The upward bend is probably necessary, to provide sufficient space for a finger to move in and pry the clip upward when clipping on or off.
Still, I find the pocket clip to be quite awkward, and will likely remove it from the knife in due course.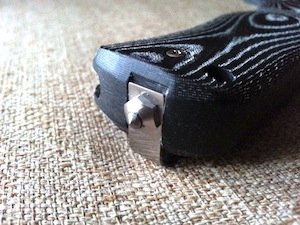 The pommel end sports an incredibly hard tungsten carbide tip which serves as a glass breaker.
I love it that LionSteel incorporated this on the TM1, and it is sometimes the reason why I choose this knife over the others to carry with me. Such a tip on the pommel part of the handle is very inconspicuous – it's hardly visible, but becomes very handy when needed. A glass breaker can be used to break car windshields in the event of an accident, or a locked glass door or window when saving someone trapped in a building.
There are many real-life stories of such tools coming in handy in life or death emergency situations. If you don't use it to break glass, you could still use it to crunch skulls. It hurts the head even if just tapped on slightly. I tried it on my own head just to gauge the kind of damage that can be inflicted on another person's head when used in that manner for self-defense. It has the potential to cause serious injury, that much I can tell.
ABOUT THE DESIGNER AND THE COMPANY
ABOUT THE DESIGNER MICHELE "MOLLETTA" PENSATO
Michele Pensato – aka 'molletta', his nickname in Italian – is a very active designer with years of experience. His previous life as an excursion lover and a passion for archaeology had him spending most of his experiences in the great outdoors, where he soon got to understand how a great knife should really be and what it should be capable of achieving. He led the Nexus production group and the group that was created at the MCKF Forum. A keen student of the steel industry, he stands out for his new approach to the use of materials and experimentation in thermal treatment applications.
An advanced user of design software such as Catià, Solidworks, Inventor, he applies FEA to design and aims to create yet more solid and innovative products.
ABOUT THE COMPANY LIONSTEEL
LionSteel Knives was founded in 1969 in Maniago, Italy by Gino Pauletta and his wife Cesarina. The company continues today under the direction of their sons; Gianni, Daniele and Massimo. The brand Lionsteel was inspired from a lion steel sculpture, handmade by Gino's grandfather.
It was in the 19th century when the Lionsteel history began. Chisel workers were climbing Mount Jouf, just over Maniago, to cut stones that would then be used to create unique sculptures. These brave men were equipped with sled and chisel, but especially with a lot of good will and nerve. One of the results was the native stone lion sculpture made by Gino Pauletta's grandfather. Young Gino was afraid of this lion and resolved to cut its tail with a saw, thus angering his father. However, he then decided to follow the Maniago's knife tradition, and in 1969 he founded, with his wife Cesarina, his own knife company. In the 1980s, when he needed a new name for his growing business, he decided to redeem himself towards the stone lion with the broken tail, dedicating the name of his company to it. Since the core activity was working steel, he chose the name Lionsteel.
Initial production mainly revolved around hunting knives made for the Italian market. Modern LionSteel dates to the end of the 20th century, when Gino's sons Daniele, Gianni and Massimo began working in the company. They brought new and fresh ideas which led to a renewal in the product line and in the production process: new CNC technologies, advanced design software and IT solutions were adopted. The first years of the 21st century also marked a shift in the product range: EDC (Every Day Carry) knives, which are ideal for everyday life and "live" in the pocket or in the bag of their users, became the core products.
With the new SOLID® knife technology LionSteel heralds a new era in the utility knife production process. The handles are made of a single piece to achieve the ultimate hard-wearing and sturdy knife handle. The cornerstones of LionSteel are still the artisans who work in the company. While using cutting edge technology, LionSteel is more about the people who make every product special. The company now employees about 20 specialized workers and is present in 34 countries. The LionSteel mission ensures all knives are manufactured in its factory in Maniago: no third-party products are sold, and no production is outsourced. All products are proudly Made in Maniago, Italy. This ensures a meticulous and fanatical check over product quality.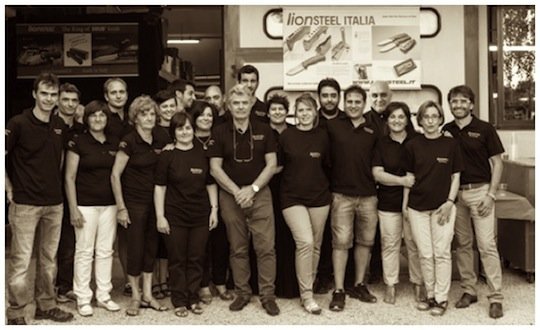 LionSteel continues to introduce designs that are advances in technology and quality. The LionSteel SR-1 knife is the first production folding knife to include a full integral titanium handle. The process to create an integral handle in titanium is both time consuming and requires extensive machinery tool investments. The result is a stunning knife that is both extremely attractive yet incredibly strong. The LionSteel knife model SR-1 was awarded the coveted "Most Innovative Imported Design" at the 2010 Blade Show in Atlanta, with the "Most Innovative Imported Design 2012" for the knife T3 made in collaboration with DPG Gear.
During the Blade Show 2014 in Atlanta, LionSteel won two other awards – "Best Manufacturing Quality Award 2014" and "Overall Knife of the Year 2014".
The philosophy of LionSteel knife company is to produce knives using the highest quality materials under world class quality control.
– information obtained and extracted from LionSteel website
Noteworthy Online Video Reviews
Here's a video review by Blade HQ, giving an overview of the LionSteel TM1 and all its model variants.
Full-Size Photographs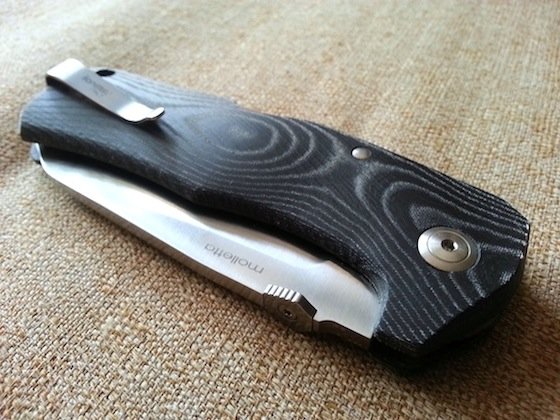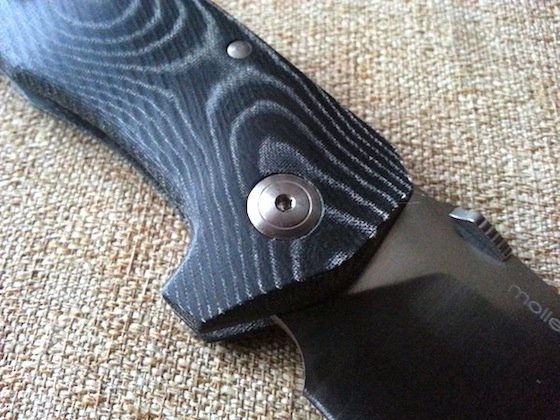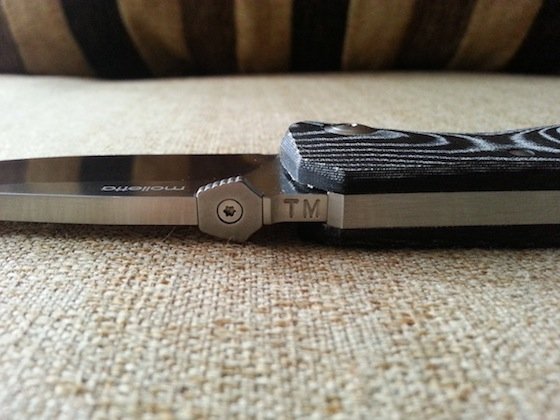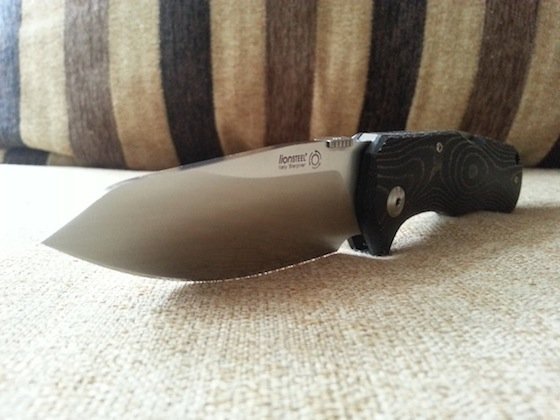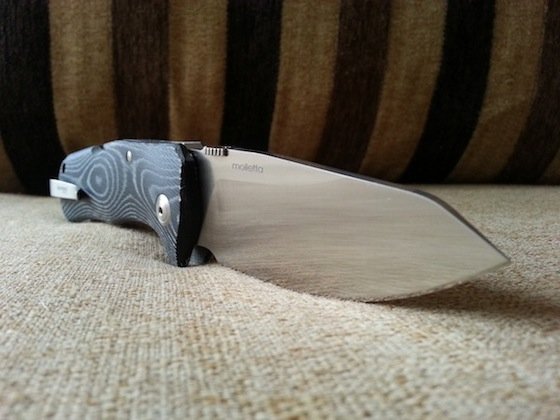 Conclusion
"Monolithic Micarta construction makes for a solid sturdy handle, contoured for great ergonomics; premium Swedish Sleipner steel satisfies even the snobbiest of steel snobs; and an IKBS bearing system makes blade deployment smooth and blade closing on a lockback knife with one hand safe and easy."
The LionSteel TM1 is not so much large as it is broad.
Personally, I would prefer a slightly longer blade, by another quarter or half-inch over the current 3.5-inch. Still, the 3.5-inch is a pretty good size, making the open knife neither too large nor too small, and offers a good balance between practicality and portability.
Overall, the TM1 is an excellent knife, both in quality and in aesthetics.
The designer and company made good decisions over the choice of materials for the handle as well as the steel.
The TM1 exhibits great attention to detail in its construction and manufacturing process. This is evident in its dead centre blade centering when close, and its rigid blade with no freeplay when open.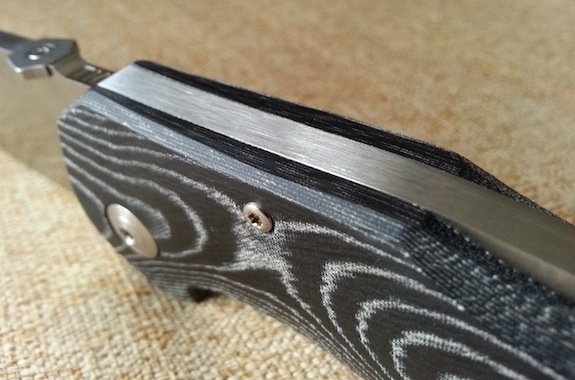 Also, the lock back bar is so evenly flush and level with the surrounding handle, that it appears as if the metal and the Micarta were ground down at the same time. I don't know if it is, but it certainly looks that way!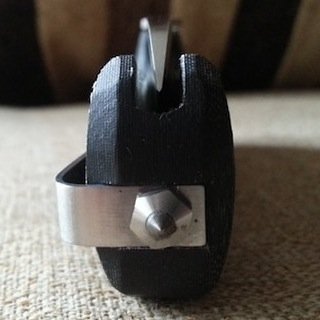 Retailing at €210.00, the LionSteel TM1 doesn't come cheap – good quality rarely does so anyway. Monolithic Micarta construction makes for a solid sturdy handle, contoured for great ergonomics; premium Swedish Sleipner steel satisfies even the snobbiest of steel snobs; and an IKBS bearing system makes blade deployment smooth and blade closing on a lockback knife with one hand safe and easy.
An incorporated tungsten carbide tip makes this knife a breaker as well as a cutter. All in all, a top-notch quality knife of adequate size that makes a versatile EDC.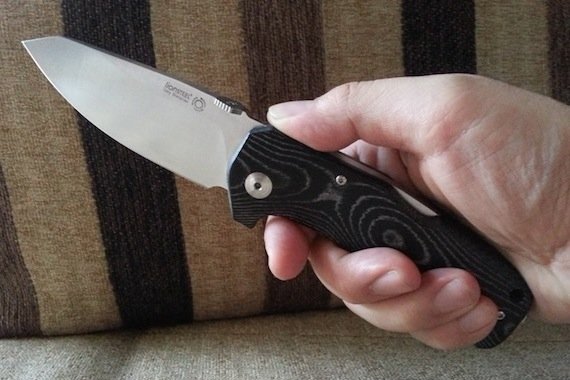 ---
LIONSTEEL KNIVES
OTHER FOLDING AND FIXED BLADE KNIVES
LIONSTEEL FOLDING KNIVES
LIONSTEEL SR-1 AND SR-2 SERIES
LIONSTEEL FIXED BLADE KNIVES
OTHER LIONSTEEL KNIVES