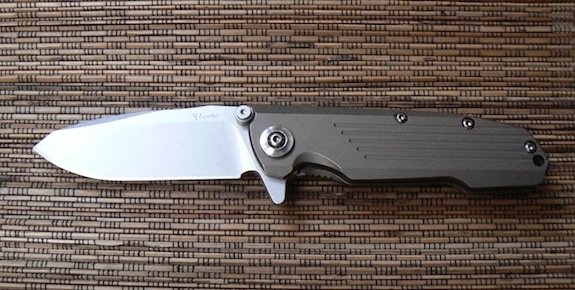 DIMENSIONS:
Overall: 21.8 cm (8.60 in)
Weight: 211.2 g (7.45 oz)
BLADE:
Blade Length: 9.5 cm (3.75 in)
Thickness: 4.0 mm (0.157 in)
Material: CPM-S35VN
Blade HRC: 59
Finish: Stonewash
Grind: Flat
Style: Modified Drop Point
Edge: Plain
Deployment: Flipper, Thumb Stud; ambidextrous
Lock Type: Frame Lock with over-travel limiter
HANDLE:
Length: 12.3 cm (4.85 in)
Thickness: 13.7 mm (0.54 in)
Material: 6AL4V titanium alloy
Finish: Grey-Bronze-Gold, tumbled
POCKET CLIP:
Style: 3D-machined
Finish: Matte Gold, anodised
Configuration: Tip-up only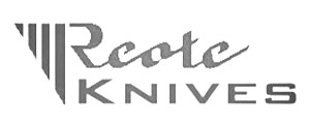 If I am asked for a word to describe the Reate District 9A, the first word that comes to my mind would be…utilitarian. And even then, that's not the most accurate term, because while utilitarian suggests that it is only useful and practical rather than attractive, the Reate District 9A is in my opinion, breathtakingly attractive.
As always, I came across a picture of this knife online while shopping for my next EDC, and the name Reate didn't immediately strike a chord. There's a reason for that – Reate is a relatively newcomer. Reate is founded by David Deng who hails from China. As a knife enthusiast for a big part of his life, Reate just seemed to be his inescapable life's calling. I am fortunate and honoured to be an acquaintance of David on Facebook. More about David and Reate Knives in the inset box towards the end of this article.
The China market is unfortunately flooded with many merchandises counterfeited, cloned and copied. In a way, this has diluted the faith and trust the world has on products of China origin, if not almost completely eroded. Hence, when I first saw a photo of this knife at a price tag of US$230.00, it piqued my curiosity enough to want to find out more about it. Seriously, what knife manufactured in China could be worth more than some of the established premium knives made in other parts of the world? As I eventually found out, if there was going to be one, this was definitely it!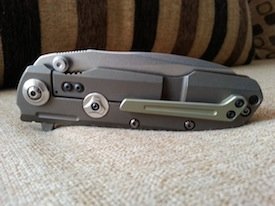 I did quite a bit of research prior to buying this knife. Admittedly, I had my doubts, but all the video and online reviews I came across only spoke volumes of praise about Reate knives, and in particular the District series. Eventually the weeks of research only led to one conclusion – either I leave this knife at the back of my mind and forget about it entirely, or buy one and experience it first-hand. With all the good comments and the time already spent on discovering this knife virtually, I found myself duty-bound to go with the latter. I ended up buying one.
| | |
| --- | --- |
| | |
I contacted David in China to order the Reate District 9A, and he promptly replied that it was out of stock at his factory, and advised that I tried a sole retailer in my country. I paid the local shop a visit, and they too were out of stock! It seemed the knife sold well, very well indeed! They had the District 9B with the modified tanto blade, but that was not the model I had wanted. I then decided to get it from my regular knife supplier in the US, and that I did. The 3-week wait was longer than usual, a wait in eager anticipation, and when it finally arrived, I practically went through the package in a frenzy!
This is my take on the Reate District 9A.
First Generation vs Second Generation
It seems there has been a number of incarnations of the Reate District 9A, and if you do a research online on this model long enough, you may come across, like I have, two main versions of this knife. There may be more than two variations of this knife (Storm, marked, unmarked etc.), but for discussion, the two versions show some distinct differences as described in the figures shown below:
The main differences between the two generations are in the bevel grind of the blade and the design of the titanium pocket clip. Personally, I prefer the design of the First Generation blade grind, with its sloping bevel line that ends in a gentler sweep towards the flipper, although the higher flat grind on the Second Generation blade actually aids better in cutting due to less resistance from a more acute or steeper blade grind. The pocket clip is definitely an upgrade in the Second Generation, as a 3D-machined pocket clip just seemed as if more thought and care has gone into its design. All in all, both differences are definitely upgrades in that respect.
The Blade
The blade was the very first feature which caught my attention, even when from the photograph prior to purchase, for it is a very beautifully designed drop point blade. It is actually a modified drop point, with its steep angular drop sloping towards the tip. I did however find this drop to be too steep for my taste – a decrease in 5 degrees would have been ideal. A gentler slope with a swedge starts from the mid-section of the blade spine to the start of the drop point. These subtle features do in fact give the blade its appeal and handsome appearance.
The stout blade is a robust pry-bar type of even stonewash finish, with a plain edge that is razor-sharp out of the factory. The blade's stonewash finish prevents fingerprints and smudges from showing on its surface. The blade steel is made of premium CPM-S35VN steel, a production of Crucible Industries from the US. I believe the steel is one of a number of reasons this knife is highly rated amongst users. Let's try to understand this steel a little, from a technical viewpoint.
A Premium Steel in CPM-S35VN
There are many different kinds of steel used in knife-making, and each has its own advantage and disadvantage. However, some steels are regarded to be higher grade than others for properties we will go into shortly, and the S35VN is one of a number of steel types which falls in this category. For starters, S35VN is well-known for its excellent toughness and edge retention when compared to other steels at around the same grade. The chemical composition of S35VN is 1.4% carbon, 14.0% chromium, 2.0% vanadium, 0.5% niobium, and 3.0% vanadium. Due to the addition of 0.5% niobium, niobium carbide is formed, making it better at holding an edge. S35VN may be regarded as a tougher version of another well-known steel, the S30V, which is only short of niobium in the mix. Looking at the following chart from www.simplytoolsteel.com, it is easy to understand why S35VN is a favourable steel.
In summary, the toughness of this steel is remarkably high in comparison with the other steels, which leads to great strength and rigidity. Its wear resistance is also reasonable and matches those of other steels, such that a blunt or worn edge can be easily sharpened, making edge maintenance by the casual user a convenient affair. For the maker, that means this steel is easy to grind, machine and polish. Its corrosion resistance is also quite high on the scale, making this an ideal steel for both the knife maker as well as the knife user.
One other thing that needs to be mentioned is its prefix: CPM. CPM stands for Crucible Particle Metallurgy, and describes the process by which it is manufactured. Briefly, CPM steels exhibit uniform distribution of tiny carbides, resulting in fine-grained microstructure and improved toughness. The advantages of CPM can be summarised in the table below:
| Knife User Advantages | Knife Maker Advantages |
| --- | --- |
| Higher alloy grades available | Consistent heat treatment response |
| Improved wear resistance | Predictable size change on heat treatment |
| Improved toughness (less chipping) | Excellent, stable substrate for coatings |
| Consistent performance | Improved machinability |
| Good grindability (for resharpening) | Good grindability (for bevel and edging) |
[NOTE TO SELF: Transfer all these technical mumbo-jumbo to another article dedicated to steel, but leave it here for the time being, so that buyers and users of this knife can learn to appreciate the steel used!]
Now that we've got the technical bits for the blade steel in perspective, let's proceed on with the other parts of the Reate District 9A.
The Handle
If there is another thing that makes this knife as critically acclaimed as it is, it's the handle. The handle on the Reate District 9A is made of 3D-machined 6AL4V titanium. Seriously, you'd be hard-pressed to find another folding knife with a handle of similar titanium alloy sold for US$200 and under. The titanium handle of the District 9A is anodised to a nice greyish-bronze finish with a slight hint of gold, and given an apt tumbled treatment to match the stonewashed blade.
The front side of the handle is milled with five parallel grooves that run to the pommel, grooves that are both aesthetically pleasing as well as functional by serving as gentle traction for gripping. The reverse side sports a 3D machined pocket clip in matching matte gold, more on this in a later section below. The backspacer between the two halves of the titanium handle is also made of titanium, in similar matte gold which blends well with the overall handle, and ends in the pommel with a series of seemingly deep grooves in highlights of Cobalt blue. These blueish highlight lends the knife its custom appearance somewhat. It took awhile, but I gradually began to appreciate this stark contrast of striking blue over the rustic grey-bronze-gold finish of the handle, although this was not initially the case.
The Pivot and Lock
The 2.5-mm hex pivot screw is circumvallated with a chrome-finish oversized pivot collar of concave relief, completing the entire assembly stylishly. One could easily imagine how a smaller pivot could detract from the overall visual appeal of this knife. Underneath, a ball bearing system ensures reduced swivel resistance for a smooth flipping action.
"It's easy to understand why the Reate District 9A is my main EDC today. Let's start with two reasons: CPM-S35VN and 6AL4V…"
The lock is a robust frame lock which forms part of the handle on the reverse side. A stainless steel lockbar insert is mounted on the frame lock by two hex screws. This replaceable lockbar insert prevents the premature wearing down of the frame lock. Without it, the titanium frame would instead be worn from the regular grinding with the relatively harder blade steel, during repeated blade opening and closing. Titanium alloys such as the 6AL4V which the handle is made of, although having excellent strength-to-weight ratio in keeping the knife lighter, have a relatively lower wear resistance and hardness hovering around 40 HRC. In comparison, the S35VN steel of the blade has a hardness of 59 HRC. Having a replaceable steel insert ensures the longevity of the titanium handle.
Another interesting feature is the over-travel limiter disc, which resembles a RotoBlock. The disc prevents the frame lock from extending beyond its flex point. I have not been able to lock the frame lock with it as a RotoBlock would, which should make it permanently locked like a fixed blade knife.
The Pocket Clip
The pocket clip is 3D-machined titanium of matte gold colour with a matching groove running midway along its length. The pocket clip works well without being too grippy on the pocket when you're pulling the knife out for use. This pocket clip is an improvement to the flat bent one found on the First Generation as mentioned earlier.
The Bundled Accessories
Remember when I mentioned I had opened the package in a frenzy after a 3-week wait? I meant it. In the excitement of messing with the knife, I had accidentally misplaced the packet of accessories which came with the knife. I will not be able to post any picture of this packet, but the contents are a spare stainless steel lockbar insert and some replacement screws. The knife also came with a zippered rigid nylon case as shown.
ABOUT DAVID DENG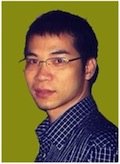 "We design and make our own knives. We believe good quality and innovation is the key to development. We will stick to this philosophy by continuously producing high quality knives with variety of innovative designs…"
– David Deng
Reate is a newly built brand for high quality knives. The founder is a long-term knife enthusiast. With a background of mechanical design and manufacturing major, David seeks detailed perfection for the design and making of the knives. Reate are capable of manufacturing high quality knives with professional production equipment including CNC high-speed engraving machine, milling, CNC grinding and low-temperature tempering furnace.
Reate use steel from America, Germany and Japan. Commonly used steels are Bohler-M390, S35VN, S30V, S90V, VG10, RWL34, and Damascus. Handle materials used in the production of knives include 6AL4V titanium alloy, carbon fiber, G10, copper, aluminium, wood and various kinds of natural materials.
Other than designing and making their own knives, Reate also accept orders for customised knives. They commit themselves to provide the best quality knives with dedicated customised service.
– information obtained and extracted from www.reateknives.com
Noteworthy Online Video Reviews
The following video review was produced by Blade HQ, and talks about not only the District 9A, but the other in the series – the District 9B with the modified tanto blade.
Full-Size Photos
Conclusion
The Reate District 9A is in every single way the ideal knife for me – drop point blade design, flipper deployment, frame lock, full titanium alloy handle, and a premium blade steel. At slightly over 200 grams in weight, it is one of my heavier folders. Despite the weight, the load is not a burden, and is easily outweighed and superceded by its superb ergonomics, resulting in its current favourite EDC status.
While the flipper is smooth, it does require a little loosening to achieve the resistance I prefer. This is easily done with two 2.5-mm hex bit moving in opposite directions on both sides of the pivot screw. The blade loses its dead centre position slightly, but it's a small price to pay for a more positive flipping action. Nevertheless, the detent on this knife is very strong.
On a final note, one of the things I love about the Reate District 9A, apart from all the positive features mentioned above, is its stonewashed finish and tumbled appearance. It may give the knife its rustic and rugged appearance, but it will also aid in concealing blemishes and markings from use, which include fingerprints, scratches and minor dents. The knife, I reckon, would more or less look the way it is today as it will be in two years. The Reate District 9A is, in every way it was designed and born to be, a truebred working knife – utilitarian and beautiful!
[UPDATE: Reate Knives will be at the Atlanta Blade Show from 5th to 7th June 2015, at Booth #306]
---
on eBAY
REATE FOLDING KNIVES
BOOKS ON KNIVES