Fans of Star Trek will be pleased to find that they can now obtain a simulation of the Personal Access Display Device, familiarly known as PADD by Trekkers, on their iPads.
Okudagram graphics and matching sound effects are used throughout the app, ensuring that the realism and style true to the movie theme are maintained. A little movie trivia is in order.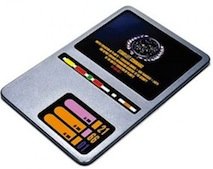 The PADD is a portable handheld computer commonly used between the 22nd and the 24th century.
In the movie, the PADD was an indispensable tool for logging manifests, entering and retrieving personal data, compiling duty rosters, accessing diagnostic reports, and accessing library computer systems using the LCARS interface.
PADDs were commonly seen to display schematics and subspace transmissions, and like the iPads of today, were also capable of wireless computer networking, audio and movie playbacks, and recording voice memos and logs.
PADDs are the default device of space-faring organisations such as Starfleet, Romulan Star Empire, Klingon Empire, Andorian Imperial Guard and Vulcan High Command, amongst others.
PADDs vary in shape and size, and are distinguished by the species and user, with the flat rectangular model used by United Earth and Federation Starfleet versus the angular models used by the Klingons and Cardassians.
So what does the iPad version of the PADD really does?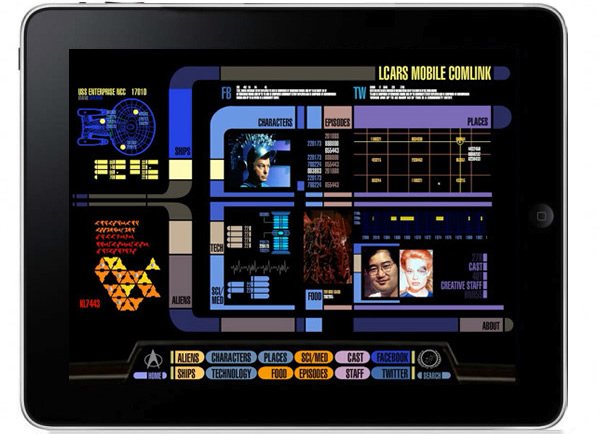 The Star Trek PADD is an app for the iPad filled with a rich interactive database of Star Trek images, trivia and information, including aliens, ships, places, technologies and episode guide.
It features an authentic reproduction of the LCARS styled interface first seen in the Star Trek: The Next Generation series, in tandem with computer sound effects and voice familiar to Trekkers and movie fans around the world.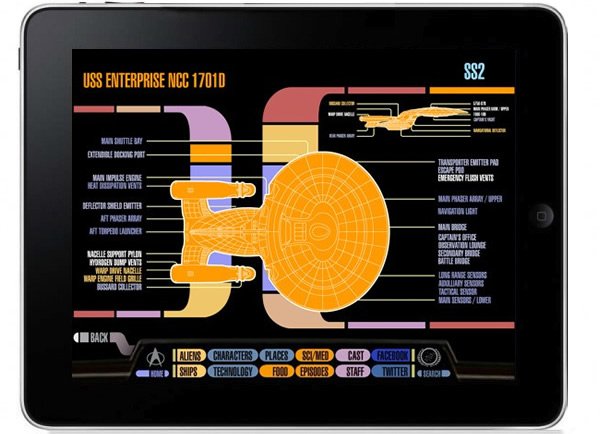 You could also read the latest news from the Star Trek Facebook page and Twitter feed.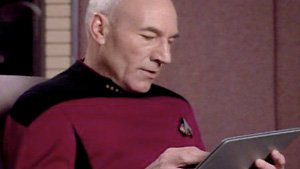 The app does not include all information within the Star Trek Universe, but updates to the database are constantly added by the developer when they become available.
A previous complaint by users regarding the random instead of touch-activated sounds which can be rather annoying has also been addressed, with the option to toggle it on or off via iPad Settings.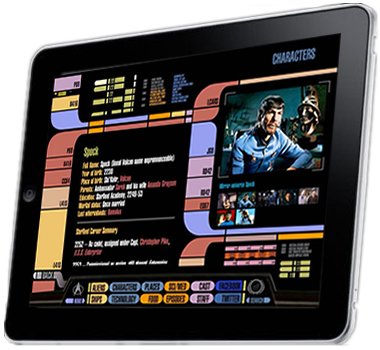 The Star Trek PADD is available for download for USD1.99 (reduced from its original price of USD4.99) from the App Store. All in all, it is now an improved version of the original release of the Star Trek PADD, which is compatible with iOS 5.0 or later, and is now optimized for the latest iOS on the iPad.
If you are a Trekker who happens to own an iPad, it becomes almost an obligation. It garners a recommended rating of 4.5 for its wealth of information and realistic styling true to the graphics and theme of the original movie that we all love.
Pros:
rich interactive database of the Star Trek Universe
relevant images, trivia and information, including aliens, ships, places, technologies and episode guide
realistic okudagram styled graphics, sound effects and LCARS interface consistent with the movie theme
access to latest news from the Star Trek Facebook page and Twitter feed within the app
Cons:
does not include all information in the Star Trek Universe, although updates to the database are provided when available