This is a collage of an unknown Tanto Folding Knife, with photos and description of this knife.
This tanto was purchased from a retail shop more than 10 years ago. I cannot remember where I got it from, but it remains in the collection to this day.
At a closed length of almost 5 inches, it is quite large, and sports a thick metal handle of steel – making it a little too heavy for an EDC. However, it was the all-steel handle with a skeletonised pattern which appealed to me when I bought it then.
The thumb stud is more of a disc placed flat on the spine, which is not my ideal attachment for opening the blade.
I find this disc-like appendages prone to getting caught in clothing and pocket lining. Plus, the way they are mounted on blade spine doesn't spell confidence, especially when the direction of force exerted by the thumb is a lever prying action on the mounting screw (as opposed to the usual thumb stud where the opening force is perpendicular to the axis of the screw).
While the disc hasn't popped off the blade spine, it has started to rock a little.
Get It On eBay
---
The steel handle has since shown very minor signs of corrosion and pitting at a few areas, and the knife has been retired to the collection box for safekeeping.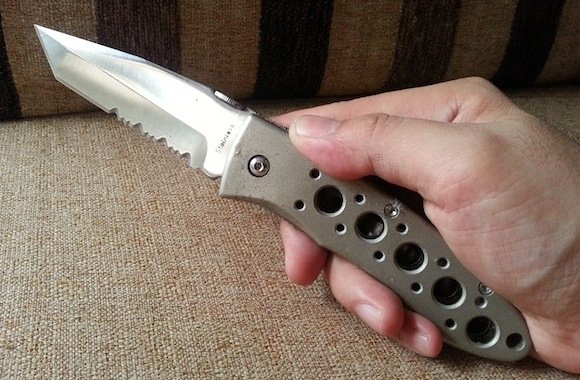 ---
SEE ALSO:
---
TANTO FOLDING KNIVES
TANTO FIXED-BLADE KNIVES
TANTO FOLDING KNIVES