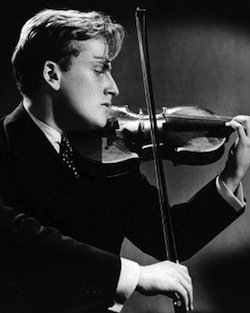 Yehudi Menuhin OM, KBE (22 April 1916 – 12 March 1999) was considered one of the greatest violinist of the 20th century. He was born in New York City, USA to Jewish parents who emigrated from Belarus, and he became a citizen of Switzerland in 1970 and of the United Kingdom in 1985.
Through his father Moshe Menuhin, Yehudi Menuhin was descended from a distinguished rabibinical dynasty.
Menuhin was given the first name Yehudi not by chance. In an interview in 2004, Menuhin explained the origin of his name:
"Obliged to find an apartment of their own, my parents searched the neighbourhood and chose one within walking distance of the park. Showing them out after they had viewed it, the landlady said: "And you'll be glad to know I don't take Jews." Her mistake made clear to her, the antisemitic landlady was renounced, and another apartment found. But her blunder left its mark. Back on the street my mother made a vow. Her unborn baby would have a label proclaiming his race to the world. He would be called The Jew."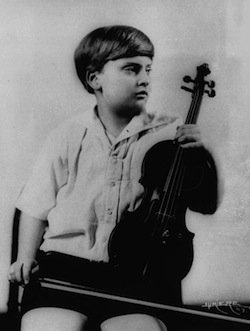 Menuhin was fascinated by the violin from the very tender age of three-and-a-half, after having watched a concert by the San Francisco Symphony Orchestra, then led by the concertmaster Louis Persinger. He began violin lessons at age 4 shoftly after, under the tutelage of Sigmund Anker.
As revealed by Menuhin in a video interview, Menuhin never fancied his first teacher, and his first choice for a violin teacher had been Louis Persinger. However, Persinger had refused teaching the young Menuhin despite his parents' request, and it was only at age seven after a solo violin performance with the San Francisco Symphony Orchestra when Persinger decided to teach Menuhin.
"I remember that day in 1999 when with violin in my hand, I was due to perform with the orchestra when I received the news of his death. Many of us who heard this tragic news felt a deep sense of loss in the music world, no doubt."
Menuhin's other teachers in his later years were to include George Enescu and Adolf Busch. He did have one lesson with Eugène Ysaÿe at Persinger's suggestion.
Major highlights of his career included a performance of the Bach, Brahms and Beethoven violin concerti under Bruno Walter's baton in Berlin in 1929, as well as the monumental HMV recording in London of the Elgar Violin Concerto in B minor with Elgar himself conducting.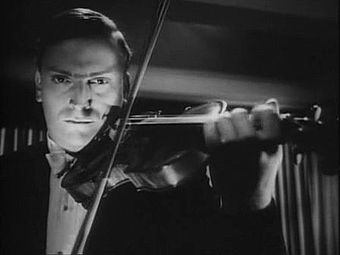 Like Ruggiero Ricci, Yehudi Menuhin was also a violinist who performed for soldiers during the Second World War.
In a daring move, he performed with the Berlin Philharmonic Orchestra under the baton of Wilhelm Furtwängler in Germany in 1947, as an act of reconciliation – the first Jewish musician to make such a statement following the Holocaust. He travelled and played extensively during this period, which had become one of the main cause for his problems in performing not long after.
He tried yoga and meditation to help overcome these difficulties, but was never completely successful at correcting them completely, which he attributed also to the less than ideal way in which he had held the bow for over 30 years.
Menuhin's Violins
"Yehudi Menuhin was the 20th century's greatest violinist. As famous as any Hollywood star, so famous, they wrote songs about him…"
Menuhin had many important violins, amongst them the Giovanni Grancino of 1695, the Guarneri filius Andrea of 1703, the Guarneri del Gesù of 1739, and especially the "Prince Khevenhuller" Stradivari of 1733 and the "Lord Wilton" Guarneri del Gesù of 1742. The "Soil" Stradivari of 1714 which Menuhin owned since 1950 was later sold to Itzhak Perlman in 1986. Read up about Menuhin's Violins at tarisio.com.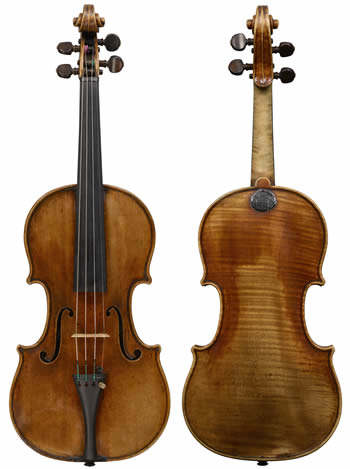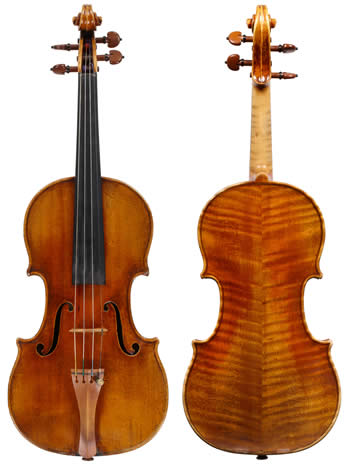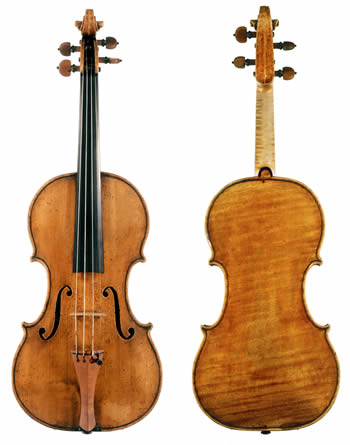 Collaborations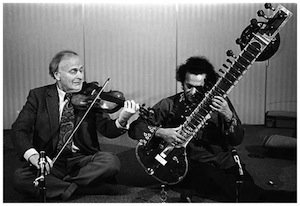 Menuhin was associated with a number of famous musicians, amongst them the jazz violinist Stéphane Grappelli and the famous sitarist Ravi Shankar. He was also one of Nigel Kennedy's first teacher, after having established the Yehudi Menuhin School in Stoke d'Abernon, Surrey in 1962.
Menuhin received an honorary knighthood from the British monarchy in 1965. His recordings with EMI lasted almost 70 years and is the longest in the music industry history, starting with the first in November 1929, and the last in 1999 when he was 83. EMI released in 2009 a 51-CD set of Menuhin's recording career titled Yehudi Menuhin: The Great EMI Recordings, 10 years after his death due to bronchitis. I remember that day in 1999 when with violin in my hand, I was due to perform with the Kuala Lumpur Symphony Orchestra, when I received the news of his death. Many of us who heard this tragic news felt a deep sense of loss in the music world, no doubt.
YEHUDI MENUHIN DVD on EBAY
---
Menuhin in Performance
An excerpt of Menuhin playing the Mendelssohn Violin Concerto in E minor, with the Hollywood Symphonic Orchestra conducted by Antal Dorati at the Charlie Chaplin Studios, Hollywood in 1947.
An intense rendition of an excerpt of the Bach Chaconne for solo violin.
Getting to Know Yehudi Menuhin
One of the best video documentaries available that tells of Yehudi Menuhin's life and career is this one produced by the BBC titled "Who's Yehudi?".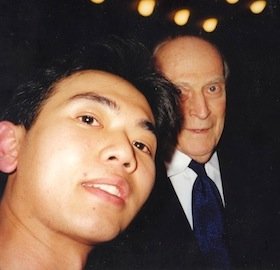 I first had the pleasure of meeting Yehudi Menuhin at Barbican Hall, London just 2 years before his death, after a Maxim Vengerov concert in 1997. I bumped into Menuhin whilst on my way backstage to meet Vengerov, and I remember very clearly hearing him say to me in that unmistakable tone of voice, "That's a very ingenious way of taking a photograph". I had a camera in hand, and with no one around who would help me, I resorted to the next best thing – flipping the camera around and shooting the both of us! As you can see in the photo on the left, it was very fortunate that both our faces ended up in the frame.
Menuhin had a strong impact on me in my earlier days of violin playing, and while his playing suffered a lot in his later years of performance, his wunderkind childhood and precocious talents were undeniable.
His most outstanding performances were recorded and immortalised in the EMI video biography The Violin of the Century – Yehudi Menuhin released in 2000, of which I am fortunate to own in both video cassette tape and DVD. To purchase this DVD, see the link below.
---
YEHUDI MENUHIN MUSIC CD AND DVD
RECOMMENDED ALBUMS FOR LISTENING
RECOMMENDED DVDs FOR VIEWING
RECOMMENDED BOOKS FOR READING