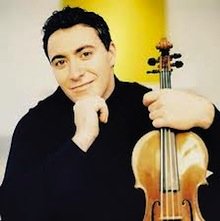 Maxim Vengerov (b. 20 August 1974) is an acclaimed violinist, violist and conductor who was born in Novosibirsk, Russia to a musical Jewish family. He began violin lessons at the age of five, and at seven began learning from the famous pedagogue Zakhar Bron.
With a daily practice schedule of seven hours, Vengerov managed to hone his skill to a very high degree and went on to win first place at the International Karol Lipinski and Henryk Wieniawski Violin Competition in 1984 when he was 10.
Six years later, he proved himself yet again when at the age of 16 he won top place at the prestigious International Carl Flesch Competition in London.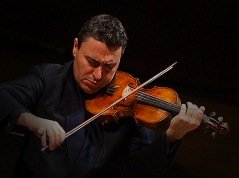 At about the time when I had met Vengerov for the first time in 1997, he was already appointed as UNICEF's Envoy for Music and his many trips to various parts of the world performing for children is well documented in his video recordings. Some of his video recordings also feature him in masterclasses coaching young musicians to play and interpret music in an interesting visual sort of way. Mstislav Rostropovich and Daniel Barenboim count as some of his music mentors.
Vengerov is a Stradivari player, with a 1724 Stradivari on the first CD recording that I own. At time of writing, he plays on the "ex-Kreutzer" Stradivari of 1727. I remember having read this violin making waves at a Christie's auction in 1998.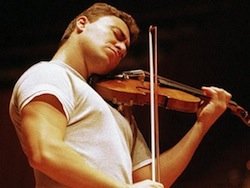 "In a single night, I spoke to Maxim Vengerov and both his parents, the cellist and conductor Mstislav Rostropovich, the composer James MacMillan…and the legendary violinist Lord Yehudi Menuhin. All within the confines of the Barbican Hall in London in a single night…"

– Devon Buy, September 1997
ANECDOTES:
Maxim Vengerov was to travel to Los Angeles in 1987 to perform for then-acknowledged as the world's greatest violinist Jascha Heifetz. However, the Soviet government cancelled the trip at the last minute. Heifetz died towards the end of 1987 before he could hear Vengerov play. Heifetz's biographer, the entrepreneur Herbert Axelrod was then given a violin bow by Heifetz, who said that he should pass the bow to whom he thought would deserve it most and be the worthy successor. Axelrod passed the bow to Vengerov after his New York recital debut in 1991, believing at that time he was about the closest to Heifetz in perfection.
Maxim Vengerov once leapt off a mountain in a hang glider for Swiss television, playing his multi-million dollar Stradivari violin in midair, in an effort to bring classical music and the violin to the masses and the younger generation. Wondered what the insurance premium for that would have cost!
I first heard of Vengerov when I chanced upon his CD at a music store, the album titled Virtuoso Vengerov, which featured works by Wieniawski, Paganini, Sarasate, Bazzini and others. I remember the first track, the Wieniawski Polonaise Brillante No.1 creating such an impression, as it was the first time I was introduced to this piece.
As the name of the album suggested, it was Vengerov in true virtuoso style. It demonstrated Vengerov's brilliant technical wizardry on the violin convincingly, and his charming good looks sure helped a great deal.
I started buying a number of his CD albums thereafter, all of which did not disappoint. A few of his recommended albums are attached at the bottom of this page. Regrettably, some of his albums were stolen from my flat and I never recovered them.
Vengerov has since 2008 taken to the concert stage as a conductor, as an accident whilst weightlifting had caused him injury and affected his violin playing critically. He came back in 2012 after a 4-year hiatus, not ready to give up on a solo career which he was seemingly born for, commanding a performance fee of USD40,000 per concert, "no way José"! Read the anecdote – see inset above!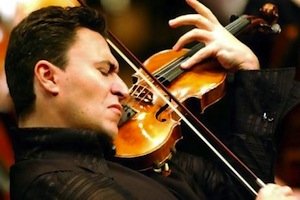 MAXIM VENGEROV DVD on EBAY
---
Vengerov in Performance
The following almost hour-long documentary titled Playing by Heart gives us a comprehensive look into Vengerov's life and career, his masterclasses, his musical journey, captured when the maestro was 23.
To buy a copy of this DVD, click here or see the links at the bottom of this page.
Here's Vengerov performing Thais Meditation by Jules Massenet with the Classic FM M-Tel Radio Symphony Orchestra, conducted by Luciano Di Martino at a concert on 13 March 2006.
And a more virtuosic piece by Wieniawski – Variations Op.15.
Tchaikovsky at The Barbican Hall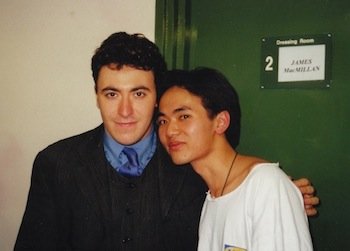 Vengerov performed the Tchaikovsky Violin Concerto at The Barbican Hall in London on 28 September 1997, a concert which I was fortunate to have attended.
Backstage, I met with him and spoke to both his parents, and also got to meet Mstislav Rostropovich who had just conducted the London Symphony Orchestra, and the composer James MacMillan.
Outside, I ran into the legendary Yehudi Menuhin, who was refused entry to backstage as the security guards did not recognise him. How I managed to get backstage and Menuhin did not, I cannot understand.
What I remember was that Vengerov performed the Tchaikovsky brilliantly, and was most gracious when we met. A very humble and down-to-earth person by nature, he insisted that we took another shot of a proper photo together, after a first botched attempt.
---
MAXIM VENGEROV MUSIC CD AND DVD
RECOMMENDED ALBUMS FOR LISTENING
RECOMMENDED DVDs FOR VIEWING